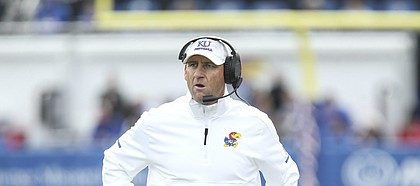 As former University of Kansas football coach David Beaty's legal pursuit of his $3 million buyout continues, his attorneys are now seeking raw footage from a TV series starring his replacement.
Beaty, through counsel Brent Coverdale of Kansas City, Mo., on Monday filed a notice of intent to issue subpoenas, accompanied by the lists of what he's asking video production companies to provide.
The subpoenas ask ESPN to provide unedited, raw footage for all episodes of "Miles to Go," the documentary-style series that aims to give fans a behind-the-scenes look at current coach Les Miles' rebuild of the football program.
The show began filming prior to Athletic Director Jeff Long's Nov. 18, 2018, announcement of Miles' hire. It premiered Aug. 29, 2019.
Beaty filed the lawsuit in March 2019 in U.S. District Court for the District of Kansas after KU fired him without cause in November 2018. Case documents state that Long confirmed publicly and privately that Beaty was being fired without cause, which entitled him to a $3 million buyout, per a contract extension he'd signed in 2016.
However, about a month later, Beaty received a letter stating that Kansas Athletics Inc. would be suspending any upcoming severance payments pending the completion of an NCAA investigation into violations that Beaty allegedly committed, according to documents in the case.
The NCAA alleged that Beaty didn't demonstrate that he monitored the KU football staff because he knew that a noncoaching staff member acted in a coaching role with the quarterbacks on the team, both in position meetings and during practices, from December 2017 through October 2018.
In a Nov. 21, 2019, letter to Beaty, Long wrote that he had reviewed the NCAA's investigation and factual records and found the allegations to be true, and that the effective date of Beaty's termination remained Nov. 24, 2018, according to documents in the case.
In a recent filing, Beaty contends that KAI cannot "retroactively and unilaterally re-terminate the contracts (this time supposedly with cause) under the unambiguous terms of the parties' contracts."
"Miles to Go" was produced by JM Associates Inc. and Sport & Story LLC, both Arkansas-based companies, and streamed on ESPN+, as the Journal-World and KUSports.com have reported.
The subpoenas ask ESPN, JM Associates and Sport & Story to produce their unedited, raw footage for all episodes of the show, documents reflecting communications with Kansas Athletics Inc., Long or KU concerning the show, contracts, and releases signed by Long, Miles, Matt Baty and Chris Freet for the show.
Baty was the director of the Williams Education Fund from August 2016 through November 2018. Freet was named KU's deputy athletics director for external engagement in September 2018.
In addition, the subpoenas ask ESPN and XOS Digital Inc., a Wilmington, Mass., video editing software company, to provide unedited, raw footage for all of the football team's practices and/or games in 2019.
The show has followed Miles through his voyage to Kansas, recruiting visits, practices and KU's 2019 season, during which the team went 3-9.
The notice of intent to issue the subpoenas says that Beaty's legal team is requesting that the recipients provide all documents and footage on or before Feb. 15.
The NCAA's detailed Notice of Allegations, which KU received Sept. 23, 2019, states that Beaty's staffer provided the quarterbacks instruction in the film room and in occasional text messages. In a statement issued the same day, Long noted that the university "self-reported the violations from the previous football staff."
In the same news release from KU, Miles said he is "confident in the University's process" leading to the self-reported violations.
---
Related coverage
• Dec. 23, 2019: David Beaty's lawyers file partial motion for summary judgment on lawsuit
• Sept. 23, 2019: Alleged KU football violations involve misuse of Beaty staff member
• Aug. 8, 2019: Judge denies motion to dismiss lawsuit by former KU football coach David Beaty
• July 22, 2019: David Beaty's lawyers file response to Kansas Athletics' motion to dismiss lawsuit
• May 20, 2019: Motion filed by KU aims to dismiss David Beaty's lawsuit
• March 26, 2019: Report: David Beaty calls KU's claims he refused to cooperate with investigation 'verifiably false'
• March 12, 2019: Former KU football coach David Beaty suing Kansas Athletics for $3 million
• Nov. 5, 2018: David Beaty: Decision to remain KU football coach for final 3 games 'very, very easy'
• Nov. 4, 2018: KU not retaining football coach David Beaty