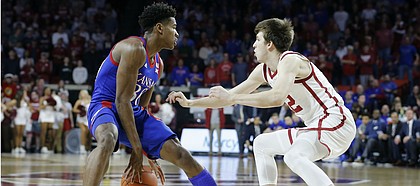 Norman, Okla. — Tuesday's 66-52 Kansas basketball victory over Oklahoma at Lloyd Noble Center snapped a two-game losing streak at Oklahoma's home arena and pushed the Jayhawks' all-time record in the building to 20-19.
"This was a big win," KU junior Marcus Garrett said after turning in 15 points, 5 rebounds and 5 assists in 38 minutes. "I haven't won here since I've been here so this was a big win for us, knowing we didn't have our point guard."
With sophomore Devon Dotson sidelined because of a hip pointer he suffered in last weekend's loss to Baylor, Garrett handled the role of primary ball handler and did it while deliver his typically strong defensive effort, as well.
OU shot just 31% from the floor for the game and was outscored 38-25 in the decisive second half.
The Jayhawks currently have a winning record in seven of the nine road venues in the Big 12 Conference since the conference was formed in 1996-97.
Only West Virginia's WVU Coliseum (2-5) and Oklahoma State's Gallagher-Iba Arena (7-8) have proven to be consistently problematic for the visiting Jayhawks.
Baylor's Ferrell Center and TCU's Schollmaier Arena have been the kindest road venues, with the Jayhawks going 13-3 in Waco, Texas, and 5-1 in Fort Worth.
In that same time frame, KU is 18-5 at Kansas State, 11-5 at Texas Tech, 16-8 at Iowa State, 9-6 at Texas and now 10-7 at Oklahoma.
The Jayhawks are now 135-59 (.696) on the road in Big 12 play since the inception of the Big 12. The conference team with the next highest winning percentage is Texas, which is 86-108 (.443) away from home in the Big 12 era.
Related document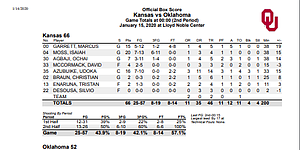 Box score: Kansas 66, OU 52 ( .PDF )
The Jayhawks have been particularly stout on the road since head coach Bill Self's arrival in 2003-04. Only one Big 12 foe has put together a streak of more than three consecutive home wins against Self's Jayhawks. The Mountaineers won four in a row from 2014-17.
Oklahoma State (2014-16), Texas (2004-08) and Texas Tech (2005-09) all boast streaks of three consecutive home victories against KU. Kansas State, Iowa State and OU have never won more than two in a row over Self and Kansas. And neither Baylor nor TCU has even been able to make it two in a row since the 2003-04 season. In the 23-year history of the Big 12, Baylor has only knocked off KU in Waco three times, in 2001, 2013 and 2019. TCU, meanwhile, has only won in its home arena once, in 2013.
The Jayhawks are the only team in the conference to finish a season unbeaten on the road (2001-02). And KU has had a winning record in Big 12 play on the road in 20 of the 23 seasons before this one.
Self a Chiefs fan
Although he missed the first half of Sunday's wild playoff win over the Houston Texans to watch film and meet with his team, KU coach Bill Self saw the second half and found out plenty about the Chiefs' incredible 51-31 victory that put them in the AFC Championship game for the second year in a row.
"I guess there was two games within a half and then of course I watched the second half," Self noted. "I don't know who could stop us when we get on a roll like that."
Although the Chiefs' 51-7 spurt that answered the Texans' 24-0 start is incredibly rare in football, Self, who has been a big supporter of the Chiefs and Kansas City Royals throughout his time at Kansas, said he could recall a handful of KU games he has coached in that have followed a similar outline.
"That's happened to us a lot," he said.
The one that came to mind first took place in 2013, in the second round of the NCAA Tournament, when North Carolina and Roy Williams had the Jayhawks down 30-19 late in the first half before top-seeded KU responded with a 35-10 run to flip the game.
KU won that game, 70-58, before losing in the next round to Michigan in Dallas.
"It seems like it would be easier to occur in basketball where you can have the big flip than maybe football," Self said. "But I guess when you can score three touchdowns in three minutes or whatever it is, I guess that helps quite a bit."
The Chiefs will play the Tennessee Titans at 2:05 p.m. Sunday, with the winner earning a spot in the Super Bowl. KU is at Texas on Saturday to play the Longhorns at 1 p.m.
"Top Daug" returns
Away from the program for the past 16 years, former Oklahoma Sooners mascot "Top Daug" made his return to Lloyd Noble Center on Tuesday night.
The zany, floppy-eared dog mascot who was brought to OU in the mid-1980s by former Oklahoma coach Billy Tubbs as a symbol of the Sooners' rise to the top of the Big Eight Conference, was officially retired in 2004. He made one appearance at a game in 2008 during the Sooners' 20-year anniversary celebration of the 1988 Final Four — where they lost to Danny Manning and Kansas — and was brought back this season by OU Athletic Director Joe Castiglione.
"We're familiar with the history of it," OU coach Lon Kruger told The Oklahoman last week. "I remember back in the day (as the head coach at Kansas State) when we played here with Top Daug. So that will be exciting and hopefully folks can jump in there and have fun with it."
Earlier this week, the veteran OU coach and native Kansan posted a video on Twitter seeking a strong home-court advantage.
"Hey Sooner students, welcome back to school," Kruger's message began. "Hope everyone had a great holiday season. Huge game Tuesday night. The University of Kansas comes to town, hats to the first 500 students, Top Daug is back, huge game in conference play. We need you there. We need you boisterous. We need you affecting the outcome of the game. Enjoy it, have a great time, bring a friend, Boomer Sooner."
Kruger's Twitter feed — @LonKruger — is full of videos of him communicating with fans about upcoming OU events.
This and that...
Kansas now leads the overall series with Oklahoma 149-68, including a 53-44 edge in games played in Norman and a 20-19 mark at Lloyd Noble Center... The Jayhawks are now 3-1 or better in Big 12 play for the seventh consecutive season and the 16th time in the Self era... KU is now 3-1 in true road games this season, has won two in a row on the road in conference play and is 7-2 in games played outside of Allen Fieldhouse... Self is now 21-7 all-time against the Sooners, including a 21-5 mark while at Kansas.