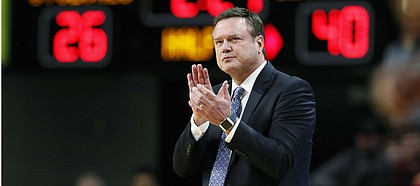 Ames, Iowa — Kansas basketball coach Bill Self does not have ESPN+ and is not afraid to tell you that he doesn't really know how to get it.
Considering where he sits on game nights, he also doesn't need it.
But that has not stopped Self from forming his own thoughts about the streaming service that, after Wednesday's 79-53 Kansas victory over Iowa State at Hilton Coliseum, already has shown eight KU games this season and has two more still to go before the postseason arrives.
The frustration that several KU fans have voiced about the Big 12 Now/ESPN+ platform is derived from both the subscription element and the quality standpoint of the broadcast.
But Self is paying attention to it for a totally different reason.
"I know the wave of the future is streaming and that sort of stuff, so maybe we're ahead of the curve a little bit," Self said. "So you can't look at it as all negative. But the one thing that is a little bit more difficult is you're not seen by recruits and recruits' families as much nationwide. … I'm just curious, of the top 100 (recruits) in the country and their families, how many are subscribers?"
Although that exposure hurdle might make recruiting slightly more difficult for KU's coaching staff, Self acknowledged that he was aware of and sympathized with the reasons for the frustration from KU fans.
He also said "the jury's still out," about whether it will be good or bad for Kansas basketball in the long run.
"It's not ideal," he acknowledged. "But, who knows; two or three years from now, it may be a very clever move to have done it to get ahead of the curve. So I don't think anybody can bash anybody about it, it's just kind of a change of times and how it works. But I can certainly appreciate the frustration by fans.
"Even though I know it certainly affects fan bases everywhere, it has ours because some (fans) aren't quite as equipped to handle some of the modern technology as what others are. And nobody likes that, but it's just kind of what the league has decided to do. You can't say it's bad now because we haven't given it time to determine if it's going to be good or bad."
The Jayhawks' next nine games will be nationally televised on either CBS or ESPN's cable networks. After that, two of KU's final eight games of the regular season (Feb. 12 at West Virginia and March 4 vs. TCU) will be on Big 12 Now/ESPN+, bringing KU's total of stream-exclusive games this season to 10, including the two exhibition games.
"(I'm) not excited about that," said Self, noting that 10 was "a pretty big number."
"But it may be better for us than some other folks because other folks may have more games on there," Self said. "You can get it. I don't know how, but you can get it. I mean, based on what I've been told, you've got to go through a little bit of stuff, but you can get it."
Wild road success
KU's victory on Wednesday night pushed the Jayhawks' record in conference road openers under Self to 16-1.
Until last season's road loss to Iowa State in early January, which opened their Big 12 road slate in 2018-19, the Jayhawks had won their conference road opener in 27 consecutive seasons, including the first 15 under Self.
Related document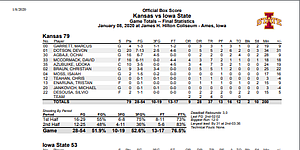 Box score: Kansas 79, ISU 53 ( .PDF )
Prior to last season, the last time Kansas lost a conference road opener was during the 1990-91 season, when they fell to Oklahoma, 88-82, in Norman. That also was the last time KU lost a conference opener.
The Jayhawks are now 28-1 in their last 29 conference openers on the road.
Former KU coach Roy Williams, Self's predecessor, was 14-1 in road openers during his 15 seasons in Lawrence.
Watch lists
The John R. Wooden Award on Wednesday announced that Kansas senior Udoka Azubuike and sophomore point guard Devon Dotson both had been named to the Midseason Top 25 Watch List.
Azubuike, who leads the nation in field goal percentage at 81.1 percent, also leads the Jayhawks in rebounding (8.9 boards per game) and blocks, with 28. He entered Wednesday's game averaging 13.3 points per game and had pushed his rebounding average to 11.4 per game during the Jayhawks five games leading up to Wednesday night.
That run included the first three-game streak of double-digit rebounds in his college career.
Dotson, meanwhile, entered Wednesday night leading the Big 12 in scoring at 18.5 points per game. He also held the team lead with 57 assists, 31 steals and 70 free throws made entering Wednesday night.
Wednesday opponent Tyrese Haliburton, a sophomore at Iowa State, also cracked the list, pushing the number of players on the Wooden Award watch list that the Jayhawks have faced thus far to five.
This and that...
KU now leads the all-time series with Iowa State, 183-66, including a 71-40 edge in games played in Ames and a 27-22 mark at Hilton Coliseum... The Jayhawks are now 12-2 or better for the second consecutive season and the 10th time in the 17-year Self era... Kansas is now 2-1 in true road games this season and 5-2 in games played outside of Allen Fieldhouse... Class of 2020 KU signee Tyon Grant-Foster, who plays junior college ball in Ottumwa, Iowa, about 120 miles from Ames, was in attendance on Wednesday, wearing a black KU jacket.