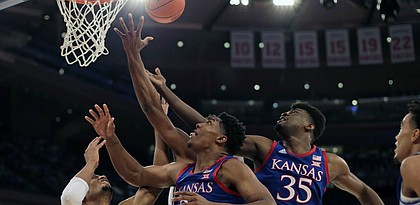 No. 3 Kansas Jayhawks (10-2 overall, 0-0 Big 12) vs. No. 16 West Virginia Mountaineers (11-1 overall, 0-0 Big 12)
Time: 3 p.m. | Location: Allen Fieldhouse, Lawrence, Kansas
TV: Big 12 Now/ESPN+ | Radio: IMG Jayhawk Radio Network
Sign up for ESPN+ and watch your Hawks on the go.
Log on to KUsports.com for our live game blog coverage and follow the KUsports.com staff on Twitter: @KUSports @mctait @bentonasmith @SJacksonLJW & @ByBradenShaw
Keys for Kansas
1. Own the defensive glass
West Virginia sophomore Derek Culver and freshman Oscar Tshiebwe enter the game as the two most dominant rebounders in the Big 12 Conference to date.
And it will be up to KU's starting big men — Udoka Azubuike and David McCormack — along with Silvio De Sousa off the bench, to keep them in check in this one.
"I think we've got three capable big men who will do a really good job keeping those guys off the glass," KU freshman Christian Braun said of the WVU matchup after last weekend's win over Stanford.
The rebounding aspect of this matchup goes well beyond the 9.4 boards per game that Culver averages and the 8.8 rebounds per game by Tshiebwe.
Kansas, as a team, must do whatever is required to keep the Mountaineers off the offensive glass.
West Virginia, which owns a +7.7 rebounding margin overall, ranks eighth in the nation in offensive rebounding, getting a whopping 38% of available offensive rebounds per KenPom.com. And Tshiebwe is the nation's individual leader in that category, rebounding on the offensive end at a clip of 26.2% of available offensive rebounds.
The Mountaineers' ability to get second- and third-chance buckets off the offensive glass (to the tune of 13.3 points per game) goes a long way toward helping this team's offense put up points. Without them, a WVU team that enters today averaging 74.8 points per game would be averaging in the low 60s.
It's worth noting that the Jayhawks have been good on the glass all season and were outstanding in that area in their most recent game at Stanford. In addition to being +8.4 in total rebounding margin, KU ranks 35th in the country in allowing offensive rebounds.
KU's opponents are getting offensive boards at a 23.6% rate so far this season. The national average is 28.2%.
"As a big, we love physical matchups," McCormack said Thursday. "Just kind of having a dominating trait (to show) I'm more of a bully than you are, just trying to play bully ball and defend your ground and say that you're better, more powerful."
2. Poise vs. WVU's pressure
You've heard the moniker, and you know what it looks like. And after a one-year hiatus, "Press Virginia" is back in full force this season.
For as long as the Mountaineers have been in the Big 12 Conference, opponents have had to focus first on figuring out a way to survive their stifling press.
Designed to speed teams up, take them out of their comfort zone and create unforced turnovers, the WVU press is as much a mental challenge as it is physically taxing.
There are a few players on this Kansas team who know that — Marcus Garrett, De Sousa and Azubuike most notably — but the rest will be seeing it for the first time.
Although sophomores Devon Dotson, Ochai Agbaji and McCormack faced the Mountaineers three times a season ago, they did not get a true taste of that West Virginia press because injuries and WVU's personnel did not allow Bob Huggins' club to play it like they're used to playing it.
That's no longer the case, and the Jayhawks are well aware of that heading into this one.
"Handling the pressure — that's the biggest key going into the game any time you play West Virginia," Agbaji said this week. "It really comes down to decision-making."
Asked to explain what makes the WVU press so tough to handle, Agbaji pointed to its knack for forcing teams to change the way they play.
"When they take us out of our game (and) really speed us up and force us to take shots we're not really used to taking, that's when it's working in their favor," he said.
3. Focus on getting good shots
Kansas currently leads the Big 12 in 3-point shooting (36.9%), and when the Jayhawks get good shots they often go in.
Getting good looks will be tougher to do against the West Virginia press and even in half-court sets, but being locked in and avoiding careless passes or taking unnecessary risks will go a long way toward helping KU's offense run smoothly.
West Virginia's defense ranks as the best in the Big 12 at defending the 3-point shot, giving up just 25.4% success from behind the arc to opponents so far this season.
But it's not just behind the 3-point line where these two offenses and defenses differ and collide.
KU's offense as a whole is second in the country, per KenPom, in effective field goal percentage at 57.2%. The Mountaineers rank third nationally in effective field goal percentage defense at 40.5%.
Not only will points and offensive flow be tough to come by in this one, but the Jayhawks have to make sure that when they do get into their sets they work for good shots and open looks instead of taking the first opportunity they see.
"Just (have to be) patient," Agbaji said. "Getting the right shot, creating for the other person to be able to get an open look and just being aggressive really."
Pounding the ball inside to Azubuike and McCormack, if they're able to, should loosen up opportunities elsewhere and the Jayhawks have played with good ball movement and the ability to attack the rim off the dribble from multiple positions throughout the season thus far.
Marquee Matchup
KU's defense vs. West Virginia's offense
The Mountaineers rank in the bottom half of the Big 12 in scoring offense, field goal percentage, free throw percentage, 3-point percentage and assists per game.
The Kansas defense, meanwhile, ranks in the top half in field goal defense, 3-point defense, rebounding margin and blocked shots.
So no matter how much the Jayhawks struggle to handle West Virginia's pressure defense, a path to success in the game remains through their defense.
KU coach Bill Self was thrilled with the way his team defended last weekend in a win at Stanford. And KenPom.com ranks the Jayhawks second in the nation in adjusted defensive efficiency. In fact, it's the KU defense that has the Jayhawks ranked second overall in KenPom's team rankings.
West Virginia ranks ninth in KenPom's adjusted defensive efficiency, but just 52nd in offensive efficiency. So it's safe to project that this one could be one of the more intense defensive showdowns Kansas has played in so far this season.
KenPom.com has a projected final score of KU winning 75-65 and if that proves to be accurate, it will be KU's defense as much as anything it does on the offense end that leads the Jayhawks to a 1-0 start in Big 12 play.
Jayhawk Pulse
For the past 14 seasons, the Kansas men's basketball team has opened conference play with the idea of extending its streak of consecutive Big 12 regular season titles as one of its team goals.
But then last year happened, K-State and Texas Tech tied for the Big 12 crown and the Jayhawks' streak ended at 14.
While the end of the title run hurt the Jayhawks at the time, it stands to benefit them from this point forward. And instead of being the hunted, they get to slide into a new role as the hunter.
"It's obviously a different position or different perspective going into this year," Agbaji said. "But, I mean, we can play that role."
That fact, along with the arrival of what Self always has called "the second season," has the KU coach as excited as ever for the start of Big 12 play.
"Every year it gets me fired up," Self said. "In our nonconference, there's about six games, seven games that you circle, saying, 'These are the most important games of nonconference.' And you get to the league and you can say, 'Well, here's 18 games that you circle that are the most important games in the league,' because they're all equally important."
Kansas leads the all-time series with West Virginia, 12-5, and the Jayhawks have won six of the last seven meetings.
The Jayhawks also have won 28 consecutive conference openers, dating back to the 1991-92 season, with 11 of those wins coming at Allen Fieldhouse and 17 happening on the road.
The last time KU lost a conference opener came on Jan. 8, 1991, when the Jayhawks fell at Oklahoma, 88-82.
Today's game will mark the first time Kansas has faced West Virginia in a conference opener.
Probable Starters
No. 3 Kansas
G – Devon Dotson, 6-2, 185, Soph.
G – Ochai Agbaji, 6-5, 210, Soph.
G – Marcus Garrett, 6-5, 195, Jr.
F – David McCormack, 6-10, 265, Soph.
C – Udoka Azubuike, 7-0, 265, Sr.
No. 16 West Virginia
G – Jordan McCabe, 6-0, 188, Soph.
G – Jermaine Haley, 6-7, 215, Sr.
F – Emmitt Matthews Jr., 6-7, 210, Soph.
F – Oscar Tshiebwe, 6-9, 258, Fr.
F – Derek Culver, 6-10, 255, Soph.