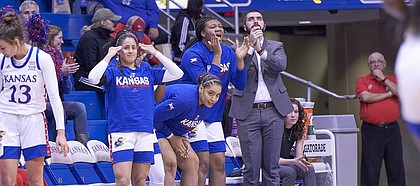 For the first time in 14 years, the Kansas women's basketball team will enter Big 12 play with an undefeated record.
The Jayhawks (11-0) are one of nine unbeaten squads in the country. Considering how the 2019-20 campaign started, though, that might surprise some people.
KU dropped a 90-82 decision to Pittsburg State in the exhibition opener on Oct. 27, which doesn't count on the team's official record. The Gorillas have since started their year with a 6-4 clip.
Yet KU head coach Brandon Schneider isn't shocked by his team's ability to respond with a flawless run through nonconference play, especially given the circumstances leading up to the debut of his fifth season at the helm.
"I don't look at it like that," Schneider told the Journal-World after Monday's win over Wofford. "What I'm proud of is that we had two players who were very important to our team go down with season-ending injuries days before that exhibition game. Following that loss, I thought our group did a great job of recalibrating and making a decision that they weren't going to let that determine the course of their season."
Because of what Kansas has accomplished over the last two months, Schneider shouldn't worry about a result that ultimately didn't go down in the record book. But it has really helped define this strong start.
The Jayhawks trailed for 31-plus minutes in their 8-point loss to the Gorillas. Rather than let things spiral out of control before the season even began, KU players and the coaching staff took some time to regroup and focus on ways to grow as a unit.
"We got together and talked about things we need to improve on," senior forward Mariane De Carvalho said. "Things that we can control like effort and communication. We need to be together and be tough. That's something we have to do everyday, not just one game."
So while KU's first game without freshman and prized recruit Chandler Prater and sophomore center Brittany Franklin didn't go as planned, it served as a valuable lesson for the Jayhawks.
"I think it was important for us to know our place and we have to work hard everyday," De Carvalho said. "We lost two players in the preseason and that was bad. I think that got us together more, and we are still getting better."
Since then, all the Jayhawks have done is win. They have won by an average margin of 18.7 points per game, which trails only 22 teams in the country. Kansas is the 54th-ranked squad in the nation via Her Hoop Stats on overall team ratings. The Jayhawks rank 55th on offense and 64th on defense.
For comparison, Kansas was 45th overall in the same metric last year. This year's team has picked up two wins against top-100 teams via Her Hoop Stats. Saint Mary's is 67th in that system, while Saint Louis is listed at 74th.
But Kansas has made strides in nonconference play, showcasing the ability to play in tough situations. Against Saint Mary's, KU was down by 5 with 74 seconds to play before pulling out an 86-81 win. The Jayhawks then outlasted Saint Louis on the road for a 68-60 overtime win one week later.
The Jayhawks have also had plenty of balance through 11 games. Sophomore guard Brooklyn Mitchell (12.7 points per game), sophomore guard Aniya Thomas (12.6), freshman guard Holly Kersgieter (11.8), De Carvalho (11.5), freshman guard Zakiyah Franklin (11.1) and junior forward Tina Stephen (10.5) are all averaging in double figures for Kansas.
"I feel like every practice, I see somebody stepping up," De Carvalho said. "We have a good group. We don't have a star, and that's really good for us. I think that's our biggest strength."
Now the stakes will get higher for the Jayhawks, who have struggled against league foes as of late. KU has not won more than three games against Big 12 opponents in each of the previous four seasons, including a 2-16 clip in its league slate a year ago.
Oklahoma State, which is ranked 29th via Her Hoop Stats overall team ratings, figures to be KU's toughest test yet. And the rest of the Big 12 schedule won't get any easier, with defending national champion Baylor being the prohibitive favorite to win the conference.
Kansas will travel to OSU (9-3) at 2 p.m. Saturday.