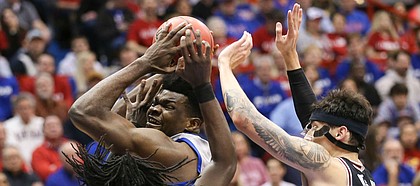 The words "Big Monday" used to arrive with some anticipation. At least when it came to the Kansas basketball schedule.
Even though the Jayhawks have dominated for years on ESPN's late Monday time slot, at least one or two of those showcase matchups are a safe bet to go down as one of the most entertaining and/or heated games of the season.
Not this year.
The Big 12 and its TV partner airballed on putting together this year's Big Monday slate for KU, the conference's always and forever preeminent basketball powerhouse, which pounded Oklahoma State, 83-58, on Monday night at Allen Fieldhouse.
No marquee showdowns, gritty road tests or even a rivalry game was to be found on the 2020 Big Monday calendar for KU this time around.
The schedule-makers brought viewers this year Kansas home dates versus Texas and Iowa State, as well as, for some reason, both of KU's regular-season meetings with Oklahoma State.
The league's coaches in their annual preseason poll slotted Texas fourth, Oklahoma State sixth and Iowa State seventh.
It's no fault of the schedule-makers that all three of those teams happened to be underperforming even those projections entering this week, with Texas 7-8 in conference games, OSU (4-11) in eighth place and ISU (4-10 versus the Big 12) ninth.
Photo Gallery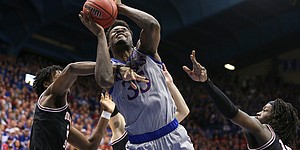 Kansas basketball v. Oklahoma State
View a gallery of images from Monday night's game between the Jayhawks and the Cowboys at Allen Fieldhouse.
And, no, they can't put every appealing game the league has to offer on Monday nights.
But the Big 12 did no favors for its Monday night basketball lovers by failing to have KU — in at least one of its four appearances — face Baylor, Texas Tech or West Virginia.
Instead, fans watched arguably the best team in college basketball make quick work of Texas, ISU and OSU (twice). Little to no drama accompanied these minor Monday affairs.
At least the Big 12 got this past weekend's KU-Baylor showdown a national stage, even if it was an early Saturday tipoff. Meanwhile, both KU-WVU games aired on ESPN's streaming platform, ESPN+.
Part of the blame for these trivial Monday night matchups for the Jayhawks belongs to the ebbs and flows that come year after year for every college program. It just so happened that the 2019-20 season turned into a down year for most of the league. The balance of competitiveness that has made the Big 12 so entertaining in recent seasons is nonexistent during this campaign.
There's KU and Baylor. And then there's everybody else.
Even if you like what West Virginia and Texas Tech have done — they're both in the top 15 at KenPom.com — neither has achieved enough to come within striking distance of this year's kings of the conference. WVU fell to 7-8 in the league with its Monday loss at Texas, while Tech is currently 9-5.
And there's another visible gap in the quality of teams outside the Big 12's top four.
The Jayhawks ended up with a more than favorable Big Monday draw this season. Credit the faithful who routinely pack Allen Fieldhouse for not viewing it that way, though.
Related document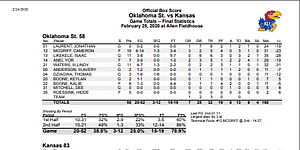 The fans were at full throat and the students had a bounce in their collective sea of hopping steps just before tipoff, regardless of the blah-factor that no doubt attached a KU-OSU game for casual fans flipping by ESPN or checking it out on their phones and tablets.
The KU addicts out there live for the highs of victories. And there's no sure fix quite like the Bill Self-coached Jayhawks on Big Monday.
With the home win over OSU, KU went 4-0 in ESPN's prime-time Monday spot for the fourth season in a row. It was the eighth time the Jayhawks have pulled that off under Self. His KU teams are now 54-12 overall on Big Monday and a perfect 32-0 at home.
The Jayhawks have won 18 Big Monday games in a row, and improved to 73-18 all-time (43-1 in the fieldhouse), since the league's inception, in 1996.
Maybe Mondays on ESPN will be a little more buzzworthy for the Jayhawks in 2021.