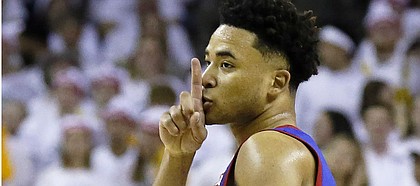 Devon Dotson didn't answer with as much bravado as his in-game celebrations might have suggested.
Throughout KU's 64-61 win over No. 1 Baylor, the sophomore point guard was as animated as anyone on the court after a big play by the third-ranked Jayhawks. Dotson even shushed the Baylor faithful following a 3-pointer within the first seven minutes of a heavyweight battle Saturday afternoon inside the Ferrell Center.
But when asked what type of statement Kansas made with its 12th consecutive win, which also happened to move the team into a tie for first place in the Big 12 standings, Dotson's response was much more tame than expected.
"We are solid," Dotson said. "And a team that can make a run late in March."
It is more than that, however. With Saturday's win, the Jayhawks (24-3, 13-1 Big 12) have emerged as the team to beat in college basketball. And with four games remaining in the regular season, that supreme status comes at an opportune time.
Before this weekend, that title probably belonged to Baylor. The Bears (24-2, 13-1 Big 12) were No. 1 in the AP Poll for five consecutive weeks, which matched the nation's longest streak since 2015 (Kentucky) and was the longest by a team from the state of Texas since Houston was No. 1 for eight weeks of the 1968 season.
Baylor also won 23 consecutive games before falling to KU at home, a streak that set the Big 12 record for most consecutive victories. KU previously held the mark with 22 straight wins during the 1996-97 campaign.
"I think it meant a lot to our guys," Kansas coach Bill Self said. "I think we were pretty motivated to play a highly competitive game in a great atmosphere with a lot of eyeballs watching it today."
KU's motivation was on display from the very beginning. Baylor jumped out to a 5-0 advantage in front of a raucous crowd. MaCio Teague, who missed the previous two games with a wrist injury, drilled a 3-pointer on the opening possession before finishing with 8 points in 28 minutes.
Kansas eventually answered with a 9-0 run to jump out in front. Not long after, Dotson connected on a 3-pointer to spot KU a 12-7 advantage. He then made a shushing motion toward the Baylor crowd.
"It was a big win," Dotson said. "We know they beat us at our place earlier in the season, and we just wanted to get them back."
That they did. The Jayhawks led for 35 minutes, 46 seconds — and by as many as 11 points — in their rematch with the Bears. Baylor, which never trailed by more than 2 points at home prior to Saturday, had led for all but 12:38 of its previous 12 home games this season.
A big reason why Kansas got the best of Baylor in the second meeting was the play of senior center Udoka Azubuike. In 36 minutes of action, Azubuike finished with 23 points to go along with a career-high 19 rebounds.
Azubuike was limited to just 6 points on as many shot attempts in KU's 67-55 loss to BU on Jan. 11. But Kansas ran more ball screens in the middle, which led to eight dunks by Azubuike. It was a perfect adjustment by Self, who has only been swept by one Big 12 team in a regular-season home-and-home series at Kansas.
"I think Baylor is the best team that we have played against since I've been in the league the last 17 years," Self said.
Related document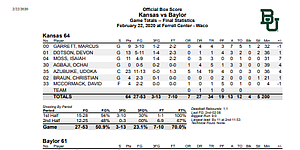 Box score: Kansas 64, Baylor 61 ( .PDF )
The win wasn't without drama, of course. After being down double digits with over six minutes left, Baylor had a shot to send it to overtime in the final seconds. With Dotson guarding the ball, Jared Butler misfired on his game-tying 3-point attempt at the buzzer.
It was a situation that last year's KU team might have squandered. The Jayhawks are now 8-1 in true road games this season after going 3-8 in such contests last year. And it is all the more reason to trust this year's version of the Jayhawks.
In a year where there is a narrative about the lack of elite college basketball teams, Kansas has proven that it should be considered the favorite to cut down the nets. In fact, KU now has the best odds (+800) to win the 2020 title via FanDuel's Sportsbook.
On Tuesday, Darren Rovell of the Action Network tweeted out that 29% of the bets placed via the DraftKings Sportsbook were on Kansas to win it all. No other team had more than 7% of the bets. After a win over the top-ranked Bears, that number might actually go up.
Baylor might very well be one of the few true contenders as well. It is certainly plausible that these two teams could meet another two times in the Big 12 championship game and the NCAA Tournament.
Given what transpired in Waco, Texas, on Saturday, though, it would be hard to pick against Kansas right now.
"We are not going to (become) complacent from this one," Dotson said. "We are going to build off it."