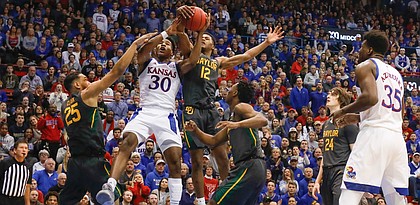 Kansas basketball coach Bill Self has a checklist of things he'd like to see in Saturday's matchup with No. 1 Baylor that are different from the 67-55 loss his team suffered at Allen Fieldhouse in mid-January.
"I would like to run good offense, I'd like to attack them better, I'd like to not have live-ball turnovers that lead to 20 points. There's a lot of things we didn't do in the first game," Self explained on Thursday before KU's practice. "But it wasn't as much what we didn't do as what they did do."
The most glaring of all of Self's memories from the first meeting was the turnovers.
Podcast
The KU Sports Hour
With the game of the year between No. 1 Baylor and No. 3 Kansas now right around the corner — ...
In the January matchup between Big 12 powers, the Bears (24-1 overall, 13-0 Big 12) forced the Jayhawks (23-3, 12-1) into 14 turnovers and scored 21 points off of those KU miscues.
Many of them came on a 22-4 Baylor run to close the first half that put the Bears up by 13 at halftime and inspired Self to use the word "debacle" to describe his team's play late in the first half.
"I think we had some unforced errors that led to some baskets," Self said of the first matchup. "But I also think they guarded us well and took us out of any rhythm we had."
The Jayhawks, meanwhile, forced just five Baylor turnovers and scored just 2 points off them.
Senior center Udoka Azubuike and sophomore point guard Devon Dotson also both pointed to their team's turnovers in the first meeting, saying that Kansas had to take better care of the basketball this time around if it hoped to leave Waco, Texas, with a victory and its Big 12 title hopes in tact.
And while the Jayhawks have gone over all of the specifics of their modified game plan in meetings and practices this week, Self said his players did not need any kind of reminder about the magnitude of Saturday's game.
"I don't have to do that," Self said. "They know. They know how many games are left in league, and I'm not approaching it like (it's for the) league race. I'm approaching it like an opportunity to play a terrific team on a big stage away from home."

Kansas is 0-2 against top-10 teams this season (Duke and Baylor), but the Jayhawks have won 20 of their last 24 regular-season games and eight of their last nine true road games against teams ranked in the AP top 10.
KU is 8-16 all-time against teams ranked No. 1 in the Associated Press Top 25. But the Jayhawks are 6-5 against top-ranked foes since the 1989-90 season and are 3-2 versus No. 1 in the Self era.
Kansas has not played a No. 1-ranked team on the road since March 10, 1958, when the Jayhawks knocked off then-No. 1 Kansas State, 61-44 in Manhattan.
Baylor, meanwhile, enters this one riding a Big 12-record, 23-game winning streak. The Bears' win Tuesday over Oklahoma moved them past the 1996-97 Kansas team that won 22 in a row for longest winning streak by a Big 12 team.

Azubuike and Dotson had slightly different opinions on what Saturday's game meant and how they were preparing for it.
"We lost to them earlier in the season," Dotson said. "So that has something to do with (adding) a little more edge and motivation."
Both players said the general feeling inside the KU locker room was one of focus and excitement for what is being billed as one of the games of the year in college basketball this season.
"I guess you could say a lot's on the line this game," Dotson said. "But we're going to prepare like it's another game. We can't let the emotion get the best of us. We have to just play our game, (do) what we like to do and just execute our game plan. … I feel like we're all hungry in the locker room and competitive and want to win."
Added Azubuike, who scored 6 points and grabbed 11 boards while blocking seven shots against the Bears in January: "I mean, for me it's just a game. You just have to go out there and play. I'm not going to think about it much."