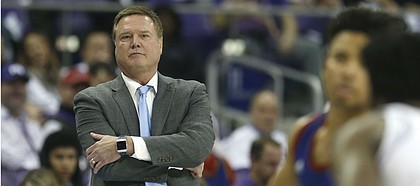 Fort Worth, Texas — Never one to gush over personal milestones, Kansas coach Bill Self picked up a pretty big one with Saturday's 60-46 victory over TCU at Ed & Rae Schollmaier Arena.
The win, which moved the third-ranked Jayhawks to 20-3 on the season and 9-1 in Big 12 play, was the 700th of Self's Hall of Fame career, making him the 32nd men's college basketball coach to reach that mark and the second fastest to do it behind legendary coach Bobby Knight.
Self, who turned 57 in December, reached 700 wins for his career just nine months behind the age at which Knight got his, and is now one of eight active coaches in the 700 win club. Self is now 700-214 for his career and 493-109 while at Kansas.
To commemorate the moment, KU Athletic Director Jeff Long presented Self with a special basketball in the locker room after Saturday's victory, and Self's 2-year-old granddaughter, Ella, was on hand to take pictures with her grandpa after the achievement.
Together, the two recreated a photo of former KU coach Phog Allen and his granddaughter after Allen's 700th victory several decades ago. Allen finished his 50-year career with 746 wins.
While moments like those made Self smile and caught him a little off guard — "I was surprised he was able to get that done in like seven minutes after the game," Self joked of Long's gift — the big picture of his latest coaching achievement did not mean quite as much.
"It's nice," Self acknowledged. "That's a lot of wins. But, certainly, I would be much more concerned about just beating TCU and playing well at West Virginia (on Wednesday) than I am any of that other stuff."
That's not to say those around him weren't a little more impressed.
"That's a big accomplishment for him," said point guard Devon Dotson after scoring 18 points and dishing a career-high 11 assists to help Self snag the milestone victory. "Over the years, his dedication and hard work, that's kind of the payoff. But I know he's not content. He's going to keep it going. As he should. I mean, he's been great."
Added KU sophomore David McCormack: "I think it all just falls back on coach and how much time and effort he's invested into the program. It just proves how good of a coach he is, and to get that 700th win is definitely something big."
Self joins names like Knight, Mike Krzyzewski, Jim Boeheim, Bob Huggins, Roy Williams, Jim Calhoun, Dean Smith and other all-time greats, along with his mentor, Eddie Sutton, whom Self referenced after Saturday's victory.
But not because the two were now in the same club, with Self sitting on 700 wins in 27 seasons and Sutton finishing his career with 806 in 37.
Instead, it was one key lesson that Sutton once taught Self that helped him guide his Jayhawks to victory on a day when only a few things went right.
Related document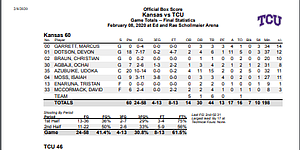 Kansas 60, TCU 46 ( .PDF )
"You don't have to be better than the other team for 40 minutes," noted Self, sharing Sutton's wisdom. "You can kind of stay even or whatever, and then have that one spurt where you can be a lot better (and win the game). Fortunately, for us, we had two spurts (against TCU)."
The first came with the Jayhawks trailing and off to a rough start in the early going. After missing their first eight field goal attempts of the game and trailing, 6-2, the Jayhawks responded with a 10-2 run to take a 12-8 lead. They never trailed again en route to winning their eighth consecutive game and fifth road game in conference play so far this season.
Despite the slow start, which both Dotson and McCormack said was a product of the 11 a.m. tipoff time, the Jayhawks responded quickly and rode senior center Udoka Azubuike the rest of the half to a 31-18 lead at the break.
Azubuike scored 12 of the game's next 21 points during that spurt — all on shots right at the rim — and finished the day with the first 20-point, 15-rebound, five-block game for a Kansas player since Nick Collison recorded 24 points, 16 rebounds and 7 blocks in 2003.
Azubuike became just the sixth player in Big 12 history to post a line of at least 20-15-5 in conference play.
"Amazing," Dotson said when asked about Azubuike's big day. "He worked hard to get his spots down low and when he did he converted. He was dominant."
Azubuike finished 10-of-14 from the floor and grabbed four offensive rebounds and 11 on the defensive glass while blocking three shots in the first half and two more in the second.
"Him getting 14 shots will always be good for us because he'll make a high percentage because of where he shoots it from," Self said. "I thought he played terrific."
After maintaining a double-digit advantage for the first six minutes of the second half, the Jayhawks, who held TCU to the lowest road point total in the Self era — tying Texas Tech's mark from a KU win in 2013 — saw their lead disappear midway through the second half.
TCU's 16-7 run from the 15:47 mark to 7:03 cut the Kansas lead to 44-40.
And it was there that the Jayhawks closed things out by playing to near perfection in the one area of the game that Self always has prided himself on most — defense.
Back-to-back steals from Dotson and Ochai Agbaji led to 5 quick points and pushed the KU lead to 49-40. Things only ballooned from there and the Kansas offense actually looked its most comfortable, across the board, in the final few minutes.
"When they cut it to 44-40, with the ball, we locked in and guarded," Self said. "And that, to me, was the biggest difference in the game, that two- to three-minute stretch."
KU shot just 41.4% — 30.8% from 3-point range — for the game and turned it over 16 times.
The Kansas defense, however, limited TCU (13-10, 4-6) to 35.2% from the floor, 22.7% from 3-point range and forced 17 turnovers.
The Jayhawks also outdid the Horned Frogs in points in the paint (36-26), second-chance points (12-5), fast break points (17-7) and bench scoring (15-12).
"It's a great day," Self said, emphasizing the latest win more than the milestone. "If you'd (have told us) we'd win by 14 coming down here, I'd be ecstatic. But the way the game kind of ended and everything, it leaves you out of here thinking, 'I'm glad we won, but gosh dang it, we've got to be better in certain areas, too.'"
As for whether the 700th win would be a special number that he always would cherish, Self shrugged.
"Eight hundred might be," he said. "Because that means I've really been around a long time."
At the rate Self is going, winning games at a clip of roughly 27 per season, the next major milestone might not be as far in the distance as he made it seem.