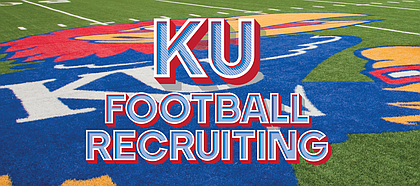 National Signing Day looked relatively uneventful for the Kansas football program for a while Wednesday morning, as the program's 2020 recruits validated their commitments with signatures as planned.
The scene heated up by midday, though, as the Jayhawks officially added three of its targets to the class.
First, cornerback Ra'Mello Dotson and defensive end Clinton Anokwuru signed. Then even more surprising, JaCobee Bryant, who decommitted from the Jayhawks eight days earlier, signed with the KU program he had seemed ready to spurn.
During his prep career at Hillcrest High in Evergreen, Ala., Bryant picked up scholarship offers from several Power Five programs, including Ole Miss, Kentucky, Tennessee, Virginia and Virginia Tech.
A 6-foot, 170-pound cornerback, Bryant is a three-star talent and rated by Rivals as the No. 27 overall prospect in the state of Alabama for 2020.
Anokwuru, a 6-foot-3, 235-pound recruit considered a three-star weakside D-end by Rivals, chose KU over Washington State, Virginia Tech, Colorado State and Louisiana-Lafayette.
This past season, Anokwuru racked up 43 total tackles, 13.5 tackles for loss, four fumble recoveries and three sacks at Fort Bend Bush High, in Richmond, Texas.
Dotson, a 6-foot-1 and 170-pound two-star recruit, made five interceptions and 46 total tackles during his senior season at Mainland High in Daytona Beach, Fla.
Much earlier in the day, Jackson Satterwhite, a three-star the offensive lineman prospect from Miami, Okla., became the first of the known members of KU's 2020 class to sign during the February period, and others soon followed.
Kenean Caldwell, a three-star defensive lineman from Oak Grove, La., and Bryce Cabeldue, a two-star O-lineman from Clovis, N.M., signed, as well. And KU announced the signing of Kyler Pearson, a two-star receiver from Tulsa, Okla.
The Jayhawks missed out, however, on three-star defensive end Philip Blidi. The D-lineman from New Mexico, who had been committed to Texas Tech, signed with the Red Raiders just two days after reopening his recruitment and identifying KU as one of his top two choices.
Elsewhere, former KU commit Da'Vonshai Harden, a two-star quarterback from Topeka, signed with Northern Iowa.
KU football also announced Wednesday the official additions of some preferred walk-ons:
• Jared Casey - FB from Plainville
• Quentin Skinner - WR from Claremore, Okla.
• Reis Vernon - P from Bixby, Okla.
• Danny Robinson - OL from Overland Park
KU football 2020 recruiting class
(Rivals recruiting rankings listed)
National Signing Day announced signees
√ Kenean Caldwell - 3-star DT from Louisiana; 6-2, 295 pounds
√ Clinton Anokwuru - 3-star DE from Texas; 6-3, 235
√ JaCobee Bryant - 3-star CB from Alabama; 6-0, 170
√ Jackson Satterwhite - 3-star OL from Oklahoma; 6-5, 285 pounds
√ Ra'Mello Dotson - 2-star CB from Florida; 6-1, 170
√ Bryce Cabeldue - 2-star OL from New Mexico; 6-6, 245 pounds
√ Kyler Pearson - 2-star WR from Oklahoma; 5-8, 170 pounds
Early signing period announced signees
√ Garrett Jones - 3-star OL from Michigan; 6-4, 285 pounds
√ Will Huggins - 3-star TE from Kansas; 6-7, 235 pounds
√ Caleb Taylor - 3-star DE from Missouri; 6-2, 255 pounds
√ Trevor Kardell - 3-star TE from Lee's Missouri; 6-5, 225 pounds
√ Krishawn Brown - 3-star LB from Oklahoma; 6-1, 200 pounds
√ Taiwan Berryhill - 3-star LB from Louisiana; 6-2, 200 pounds
√ Steven McBride - 3-star WR from Louisiana; 6-0, 160 pounds
√ Johnquai Lewis - 3-star CB from Florida; 6-0, 185 pounds
√ Tristan Golightly - 3-star WR/TE from Texas; 6-4, 200 pounds
√ Lawrence Arnold - 3-star WR from Texas; 6-3, 185 pounds
√ Malik Johnson - 3-star WR from Texas; 5-9, 180 pounds
√ Nicholas Martinez - 3-star OL from California; 6-5, 285 pounds
√ Duece Mayberry - 3-star CB from Oklahoma; 6-0, 185 pounds
√ Alonso Person - 3-star LB from California; 6-3, 200 pounds
√ Luke Grimm - 3-star WR from Missouri; 6-0, 170 pounds
√ Daniel Hishaw Jr. - 2-star athlete from Oklahoma; 5-10, 200 pounds
√ Armaj Adams-Reed - 2-star OL from Texas; 6-5, 350 pounds
√ Karon Prunty - 2-star CB from Virginia; 6-1, 190 pounds
√ Jalon Daniels - 2-star QB from California; 6-0, 207 pounds