The story of the game between third-ranked Kansas and visiting Texas on the aptly named Big Monday at Allen Fieldhouse was the battle of the big men.
Sophomore David McCormack started in place of KU senior Udoka Azubuike and both had their hands full with Texas junior Jericho Sims – when he was in there.
The result, on a gritty, physical evening in the Big 12, was a game that threw away all concerns about style and morphed into a battle of which team could simply survive.
Thanks to some clutch individual plays from several different Jayhawks at key moments in the second half, Kansas was that team, winning 69-58 to move to 19-3 overall and 8-1 in Big 12 play.
Texas shot just 37.7% from the floor, including a 4-of-24 clip from 3-point range.
"When you're playing against Kansas, they can make it tough on you at the rim, so you have to be able to mix in some outside shots," UT coach Shaka Smart said after the loss. "When you shoot 4-for-24 from 3, it's going to be tough."
While the Longhorns might've thought they caught a bit of an early break with Azubuike starting Monday's game on the bench, their matchup situation turned scary in a hurry early in the first half.
After UT junior Jericho Sims (17 points, nine rebounds in 29 minutes) scored 4 quick points and grabbed two rebounds in the game's first few minutes, the player who Self calls the best athlete in the Big 12 picked up his second foul at the 16:04 mark of the first half when he bumped KU point guard Devon Dotson driving through the lane.
Smart pleaded with the officials for a moving screen on the action that freed up Dotson, but the protest was to no avail and Smart was forced to call Sims to the bench, where he stayed until the 6:05 mark of the first half.
Even with Sims out, the Longhorns managed to hang close throughout the first half. But that had little to do with their ability to control Azubuike.
Related document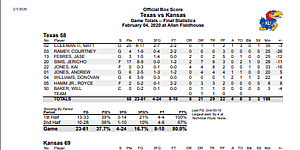 Box score: Kansas 69, Texas 58 ( .PDF )
Although the KU big man picked up a moving screen foul and also was whistled for three turnovers in his first 3 minutes on the floor (he finished with four on the night), he also was unstoppable when he caught the ball in close.
It didn't matter who Texas had guarding him, when Azubuike caught the ball in the paint and went into his ever-expanding array of post moves, the Longhorns were powerless to stop it and he easily dropped the ball through the hoop for easy buckets.
Royce Hamm Jr., who stands 6-foot-8, 240 pounds, stood no chance. Nor did 6-11, 245-pound Will Baker.
By game's end, neither did Sims.
"I thought that Dok played great and we saw how much better we were with him in the game and not in the game," Self said.
Asked about the decision to start the game with his most dominant big man on the bench, Self said, "we didn't have a great day yesterday."
As for the specifics, Self said those would remain "in house."
"But his attitude was good," Self added. "I was actually very proud of him. He showed some maturity and responded the way you should."
On back-to-back possessions midway through the second half, Azbuike caught an alley-oop lob from Marcus Garrett out of a timeout and then finished an up-and-under move around Sims to push the Jayhawks' lead to 48-42, a sizable edge during Monday's grindfest.
Azubuike finished the game 17 points and 12 rebounds giving him his ninth double-double of the season. KU is now 25-1 all-time in Azubuike's career when the 7-foot center tops 15 points in a game.
With neither team having much luck getting points out of their sets and offensive flow — KU finished with six assists while the Longhorns had just four — Monday's game turned into one of those games where playmakers simply had to step up and make plays.
Early in the second half, the Jayhawks got two such moments from Dotson and Agbaji. The first, an elbow jumper from Agbaji with 14:51 to play gave KU some breathing room.
The second, which came 48 seconds later, belonged to Dotson (16 points on 5-of-10 shooting in 35 minutes), who drove hard, gained separation with his step-back and knocked in a tough shot off the glass.
That paved the way for Azubuike to take over on both ends of the floor, cleaning up the defensive glass and destroying the rim repeatedly as Kansas built a 10-point second-half lead behind a 21-9 run.
KU's largest lead of 17 points came at the 3:09 mark of a second half dominated by the Jayahwks, 38-25. Appropriately, it was Azubuike who delivered the bucket that put Kansas up 63-46.
Photo Gallery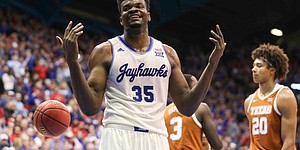 Kansas basketball v. Texas
View a photo gallery from Monday night's game between the Jayhawks and Longhorns at Allen Fieldhouse.
Azubuike started the second half and finished the game, in both the literal and figurative sense.
"It takes away so many things we like to do when you can't throw it up and stuff like that as much," Self said last weekend of the difference between having Azubuike and McCormack on the floor.
McCormack, who played just seven minutes in the second half (and 15 for the game) finished with 6 points and three rebounds on 2-of-5 shooting.
Said Smart of Azubuike's monster second half: "I thought he really played well. I don't know if he was motivated by not starting. I mean, he's a good player whether he starts or he doesn't start."
Azubuike said he tried to come out with the same intensity as he does every game and added that he did not want to talk about not starting.
The Longhorns (14-8, 4-5) took advantage of Azubuike's turnover tendencies early and built a 16-12 lead midway through the first half.
Kansas immediately erased the UT edge with back-to-back baskets at the rim by Christian Braun, on a hard-driving, underhand scoop shot, and McCormack, who tipped in a Tristan Enaruna miss at the 8:20 mark.
Marcus Garrett's hard drive left and free throw that followed— on two bad ankles and an ailing left foot — turned the Kansas run into a 7-0 spurt and Kansas played with a lead for the rest of the half until UT guard Andrew Jones buried a 3-pointer at the first-half buzzer to give Texas a 33-31 lead at halftime.
Smart plugged Sims back into the Texas lineup in an offense-defense substitution pattern for the final four minutes of the first half and the move paid off, as Sims made it to halftime without picking up his third foul and also hit back-to-back buckets in the post, going right at Azubuike for both.
KU's victory snapped a two-game Texas winning streak that came on the heels of a three-game losing skid — started by Kansas — that included an embarrassing 97-59 loss to West Virginia in Morgantown on Jan. 20.
Next up, the Jayhawks will get some much needed rest before heading to Fort Worth, Texas, to take on TCU at 11 a.m. Saturday.
Texas hosts Texas Tech on Saturday.