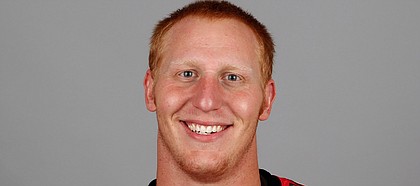 A Kansas football position group that struggled throughout 2020 will have a new assistant coach leading it next year. Head coach Les Miles announced Tuesday he hired Lee Grimes to coach the Jayhawks' offensive linemen.
"Lee is an impressive coach who will bring a lot of passion and energy to the offensive line position room," Miles stated in a KU release.
Grimes served as the O-line coach at Charlotte in 2020, after spending the previous three years at Texas A & M, first as a graduate assistant for one year, before he was promoted to become a senior offensive analyst. Grimes also played on the offensive line for the Aggies from 2005-09.
"He was a great player at Brownwood High School in Texas," Miles recalled, "and one that I recruited heavily when I was head coach at Oklahoma State. Lee comes highly recommended as a coach, and has worked with some great offensive coaches including Jimbo Fisher, Josh Henson and Jim Turner. Lee is a relationship builder, and is the type of leader we want in our program. I am eager to get to work with him."
In his one year at Charlotte, Grimes reportedly helped the 49ers sign Ty'kieast Crawford, a four-star Class of 2020 prospect who earlier in his recruitment had picked up scholarship offers from several Power Five programs, including Alabama, Arizona, Arkansas, Baylor, Florida State, LSU and Georgia. Rivals reported Tuesday that Crawford entered his name into the NCAA's transfer portal, after playing six games and starting three in 2020 at Charlotte, under Grimes' guidance. Crawford, from Carthage, Texas, was listed at 6-foot-5 and 335 pounds on Charlotte's roster. Rivals also reported Florida already has contacted Crawford.
In a 2020 season marred by offensive line problems, Miles fired then O-line coach Luke Meadows after seven games, naming John Morookian, a senior analyst, the interim O-line coach in late November.
Problematic blocking up front proved to be a frequent topic for Miles and the Jayhawks (0-9 overall, 0-8 Big 12) as losses mounted. KU allowed an FBS-worst 5.22 sacks per game this year while averaging 31.4 pass attempts. What's more, the offense constantly struggled, in part because of the breakdowns occurring at the line of scrimmage.
KU averaged just 15.8 points per game (123rd out of 127 FBS teams), 104.9 rushing yards (115th), 154.3 passing yards (112th) and 259.2 total yards (126th).
In a 2020 Charlotte football season filled with postponements and cancelations, the 49ers went 2-4, with losses to Appalachian State, Florida Atlantic, Duke and Western Kentucky, and wins over North Texas and UTEP. Charlotte allowed 2.67 sacks per game (48th in FBS) on an average of 29.8 pass attempts.
Grimes played one season in the NFL, in 2010 with Tampa Bay and San Diego, before joining the coaching ranks. He got his first job as an assistant offensive line coach at the University of Arkansas at Monticello in 2011. Next, Grimes spent 2012 as the O-line coach at Estacado High, in Lubbock, Texas.
From there, Grimes became the O-line coach and run game coordinator at East Texas Baptist from 2013-15. During that time, Josh Eargle, now the tight ends coach and recruiting coordinator at KU, was the ETBU head coach.
Grimes became a grad assistant at Minnesota in 2016 before returning to Texas A & M .
During his playing days with the Aggies, Grimes started the final two seasons of his college career, earning All-Big 12 second team honors as a senior. Grimes was named to the Aggies' All-Decade team following the 2010 season.
At KU, Grimes inherits an offensive line that is expected to return several players who already have at least some game experience, including Armaj Adams-Reed, Garrett Jones, Earl Bostick Jr., Jacobi Lott and Bryce Cabeldue. Additionally, it's possible some senior starterss from the 2020 roster, such as Malik Clark, Chris Hughes and Adagio Lopeti, could take advantage of the NCAA's blanket waiver for eligibility and return in 2021.