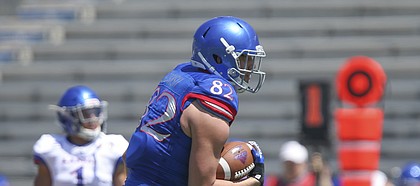 Mark another name off the list of potential Kansas football players who could return for an extra season. Tight end James Sosinski, like many of the Jayhawks' 2020 seniors, has entered his name into the NCAA's transfer portal, according to Monday reports from Rivals and 247 Sports
A 6-foot-7, 250-pound veteran from Chandler, Ariz., Sosinski's name showed up on KU's did not dress list frequently this year. Sosinski appeared in just four games for the Jayhawks in 2020, making his only statistical contribution in the season opener versus Coastal Carolina, with one reception for 16 yards.
In 2019, Sosinski played in seven games, making one start. He caught seven passes for 72 yards on the year, and scored a touchdown in KU's opener against Indiana State.
In 2018, Sosinski famously became a two-sport KU athlete for a brief time, joining the basketball roster as a walk-on when the Jayhawks were running low on bodies in their front court. Sosinski, in his one year of major college basketball, actually scored a basket in the Final Four, during KU's semifinal loss to Villanova. Sosinski was 3-for-3 from the field on the year, while playing nine minutes over the course of seven games.
Sosinski became the 10th senior from KU's preseason roster to enter the portal, in search of a new football home in 2021. KU head coach Les Miles shared some of his thoughts on that trend this past week.
"I think this thing's developing and we'll have to figure it out," Miles said.
Among the 13 KU players who entered their names into the transfer portal in the past few months, 10 were seniors in 2020, such as Sosinski, and another was a walk-on.
In normal circumstances, none of the seniors who played this year would've been eligible to return to KU and suit up again next season — unless an injury or some other reason for a redshirt occurred. The NCAA's blanket waiver that provides an extra year of eligibility for all fall sports athletes changed that, though, making it possible for a football senior to play a bonus season if he so desires — and the coaches want him back.
So far only outside linebacker Kyron Johnson and defensive tackle Sam Burt have revealed their intentions of playing an extra senior year.
As of Monday, among the other seniors with experience whom Miles and KU could bring back are cornerback Elijah Jones, receiver Kwamie Lassiter II, offensive linemen Chris Hughes, Malik Clark and Adagio Lopeti, and safeties Ricky Thomas and Nate Betts.
KU players from 2020 roster in transfer portal
• Andrew Parchment, senior WR
• Stephon Robinson Jr., senior WR
• Kyle Mayberry, senior CB
• Davon Ferguson, junior S
• Denzel Feaster, senior LB
• Api Mane, senior OL
• Kyle Thompson, senior P
• Ezra Naylor II, senior WR
• James Sosinski, senior TE
• Antione Frazier, senior OL
• Julian Chandler, senior DB
• Clinton Anokwuru, freshman DL
• Hunter Kaufman, walk-on junior WR