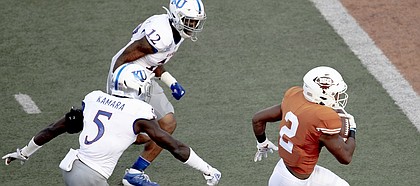 Ahead of its already rescheduled trip to Lawrence to take on Kansas, the University of Texas football program paused all activities on Sunday. But each team's head coach remains upbeat about getting the game in this weekend.
Texas announced three players and two staff members who tested negative for COVID-19 on Friday traveled with the team for Saturday's victory at Kansas State and then tested positive for the virus on Sunday.
UT Athletics medical staff recommended Sunday that football players and staff members be sent home, and all team activities were paused, six days before the Longhorns were scheduled to face the Jayhawks at David Booth Kansas Memorial Stadium.
Although his Monday press conference got canceled with Texas pausing activities, Texas head coach Tom Herman said during his time slot on the Big 12 coaches teleconference the Longhorns are excited to be preparing to play KU.
"And hopefully we get that opportunity," Herman said. "Right now everybody's at home and trying to do our best to game plan to play Kansas as planned, as scheduled."
Per UT, additional COVID testing administered Monday and Tuesday would be followed by "a determination and plan" to potentially return to regular team activities.
"What I have been told by our medical staff," Herman shared, "is everything we are doing right now is merely precautionary, and that we are wanting to make sure with a couple of extra cases, extra positives that we haven't had, quite frankly, all year, that this is not a trend throughout the team — that this is a couple of isolated incidents. If that holds to be true, our plan is to play this weekend."
Kansas head coach Les Miles also was asked on the teleconference Monday morning about the likelihood of the game getting played.
"I think our team is looking forward to playing a game," Miles replied. "I think probably the way we need to approach it is we're going to play. And we need to fix a couple of things in our own piece of business. If we do so, we'll be a much better team when we take the field in the very near future."
Miles said he won't worry too much about what's going on with UT this week, and he thinks there's a good chance the teams will square off as planned.
"That's what we need to have happen," Miles said, leading up to the Big 12's final Saturday of the regular season.
Kirk Bohls of the Austin American-Statesman reported that Texas officials expect the game to be played in the next two weeks, and that Big 12 Commissioner Bob Bowlsby told the American-Statesman each conference game brings in $3.5 million in TV money for the Big 12.
Neither KU (0-9 overall, 0-8 Big 12) nor Texas (6-3, 5-3) has any other games left to play. Saturday Dec. 19, open for both programs, is also the date of the Big 12 Championship between Iowa State and Oklahoma, set to kick off at 11 a.m. on ABC. College football's early signing period also runs from Dec. 16-18, leading up to that Saturday.
Miles said during his weekly video press conference he didn't know about the possibility of the game being rescheduled again, like it was earlier in the season.
"What I've concerned myself with today is a very talented Texas team. And I've not spent a lot of time on the potentials of next weekend, the weekend after," Miles said. "I would think they would have a difficult time with a close to Christmas date, but I think the conference knows best."
The Big 12's original schedule called for Texas to play at KU a couple weeks back, on Nov. 21. However, the Jayhawks' inability at the time — between COVID-19 protocols and injuries —  to meet the conference's threshold for available defensive linemen caused the game to be postponed.
Players, coaches and staff members of football programs are tested three times a week, according to Big 12 rules this year.
As of now, the KU-UT game remains scheduled for 2:30 p.m. Saturday (ESPNU).
"We're very optimistic," Herman said of playing this week, "assuming the test results from today and tomorrow morning … come back the way we hope they do."