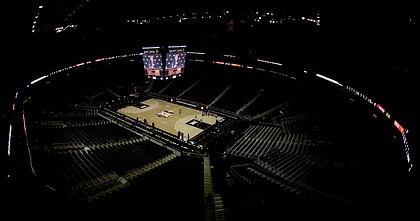 The NCAA's recent show of support for compensation through endorsement deals for college athletes was a win for the athletes.
But there are still so many questions to ask, loopholes to close and concerns to consider before this development can be called a success for college athletics.
"A monumental shift" was the way Kansas Athletic Director Jeff Long described the move that brings the NCAA one step closer to allowing student-athletes to profit on their names, images and likenesses. All signs point to the system being in place by the start of the 2021-22 academic year.
Kansas basketball coach Bill Self went one step further, explaining that Wednesday's announcement and the formalities sure to follow mark the beginning of the end for college athletics as we know it.
"The college model, which is broken — we've outgrown it — will be nothing close to what we've known for decades," Self told the Journal-World in a phone interview Wednesday night.
But it's not just the NCAA's support for the NIL situation that has Self believing an overhaul is on the horizon. The college game could be hit with not only the new endorsement rules, but also a new system that makes it much easier for players to quickly transfer from one school to another. That transfer change is scheduled to be voted on in May. The impact of those two major changes would be significant for athletic departments large and small.
Athletic department officials soon could be facing those realities, especially senior administrators and compliance directors.
In addition to educating coaches and student-athletes on how it works, along with what's allowed and what's not, the groups put in charge of monitoring this new era will have to install a system that tracks all of it.
How much are athletes making? How are they paid? Are they reporting the compensation to athletics? What's the process for doing that? What happens if they don't? Will there be suspensions, fines or penalties for the athletes, athletic programs or businesses?
And that's just the operating side of things.
The system as a whole has even bigger questions that still need answers before the new way of doing things can even hope to become a smooth endeavor. To their credit, the NCAA and administrators across the country admitted as much this week. And they appear to be working toward finding answers.
The three biggest questions that remain are:
• Will the amount an athlete can earn be capped or is this, as Self wondered last fall, the beginning of the wild west in college athletics?
The early rumblings here suggest there will be no cap. Without one, it's not hard to envision an Alabama quarterback, Kansas point guard or other high-profile athlete at an elite program, making tens of thousands of dollars — if not more — during their college careers from television commercials, social media posts and other endorsement deals.
• What will the NCAA and universities do about the dual role of boosters hiring student-athletes to endorse their products or businesses?
Under the current rules, boosters are not allowed to pay more than the going rate to employ college athletes at their businesses. Will this change? If so, how will that impact the definition of what a booster is or the rules they must follow?
• And, finally, how will the NCAA ensure the NIL endorsement opportunities don't become an inducement in recruiting?
There's no doubt the NCAA wants to keep the endorsement issues and recruiting separate. NCAA officials on Wednesday said the system must prevent NIL compensation from being used in recruiting pitches. Big East Commissioner Val Ackerman acknowledged the challenge there, saying, "This is probably one of the most pressing problems we have, and will require intense focus in the coming months."
And it's an absolute must that they get it right. Especially considering the NCAA is still in the middle of the fallout from the federal investigation into recruiting corruption connected to its apparel partners.
The uncertainty surrounding those questions, and more, played a big role in Self's immediate reaction to Wednesday's news. The gist of his stance was this: Although encouraging, it is still too soon to tell if this will be good for college athletics.
Long agrees. While acknowledging that there were still "many details to work out," Long said Wednesday that KU remained supportive of its student-athletes having the ability to earn compensation from their name, image and likeness.
"We will work with the Big 12 and NCAA Division I members to prepare for this monumental shift in the collegiate model," the KU AD said in a statement. "Preparations will focus on providing our student-athletes with as much information and guidance as we can to assist them and ensure their personal well-being."