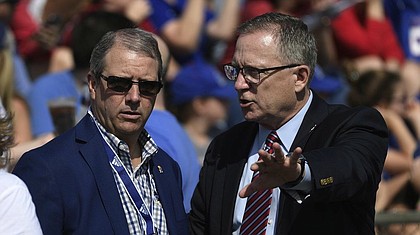 Updated story (April 29): Administrative pay cut at KU will save nearly $280,000 less than initially thought
• • •
The University of Kansas has joined colleges around the country in implementing a temporary pay cut for high-ranking administrators to mitigate some of the coming losses from the COVID-19 pandemic.
Nearly 40 officials at the Lawrence, Edwards and KU Medical Center campuses, in addition to the three highest-paid athletics officials, will take a 10% pay cut over the next six months, Chancellor Douglas Girod announced Monday.
Girod said the temporary cuts will generate $853,000 to be reallocated at the university level. Salary reductions for men's basketball coach Bill Self, football coach Les Miles, and Athletic Director Jeff Long will generate an additional $500,000 for the athletic department.
"During our tenure we've had our ups and downs, but these turbulent times are unprecedented and the immediate future is unknown," Self said in a statement. "These times are serious, but temporary, and it's everyone's hope that we can return to a safe and prosperous time soon."
The salary reductions were the only concrete move Girod announced Monday. Though he said that all options must be on the table in addressing the financial challenges of the pandemic, it's unknown whether staff furloughs or layoffs will be needed at KU, as they have been at many universities across the country.
"While it's still too early to know the full impact of the pandemic, it is clear KU will need to adopt new business models, reorganize and restructure to be more efficient, and implement long-term reductions to address the financial aftermath of COVID-19," Girod said in a written message to campus.
Girod individually makes $581,250 annually, according to state payroll data. Self's individual salary surpasses $5 million annually, Miles makes $2.75 million annually, and Long makes $1.5 million annually — $200,000 paid by the university, with the remaining $1.3 million paid by private funds from Kansas Athletics Inc.
Projecting future enrollment numbers, as well as setting tuition rates for the coming academic year, can't yet happen with any certainty, Girod said.
"We remain committed to protecting our people — particularly our most vulnerable populations — to the greatest extent possible," Girod said in the announcement.
The campus leaders affected by the temporary pay cut include 26 members of Girod's cabinet, vice provosts, and school deans at the Lawrence campus, in addition to 12 senior leaders and school deans at the medical center.
Girod has regularly estimated, and reiterated again Monday, that KU will lose somewhere in the range of "tens of millions" of dollars during the pandemic.