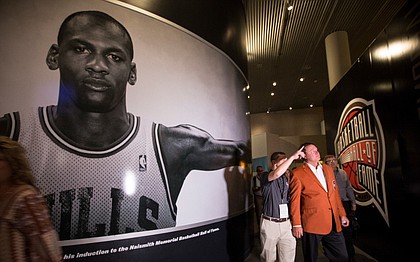 On Oct. 11, 1997, three weeks before they kicked off one last run to an NBA title, the Chicago Bulls and Michael Jordan came to Allen Fieldhouse for an exhibition game against the Seattle Supersonics.
That season, which capped off the second of a pair of three-peats in Chicago for Jordan and the Bulls, is the subject of a 10-part ESPN documentary dubbed "The Last Dance," which debuted on Sunday night.
And while the game in Lawrence did not make its way into the first two episodes, many who were at Allen Fieldhouse that day nearly 23 years ago enjoyed a flood of memories from their experience with that game and Air Jordan.
"I remember everything about that year and the mystique around Michael Jordan," former KU center Eric Chenowith told the Journal-World in a phone interview Monday. "Watching that documentary brought back so many memories and so many good feelings. People talk about the Beatles coming to town or whatever, but I'll never forget the Fieldhouse that night. It was packed like two hours before the game."
Chenowith was a freshman on that 1997-98 Kansas team. And, even though he was a highly rated recruit from California and landed at Kansas, the front-row seat to meet Jordan just five months removed from high school graduation was next-level stuff.
"Michael Jordan was playing a game in Allen Fieldhouse," Chenowith said. "I'm getting chills just thinking about it now. People came from all over for that game."
Few people associated with Kansas basketball remember that aspect of the day quite as well as Dean Buchan, who, at the time, served as KU's sports information director for men's basketball.
Now a real estate agent in Atlanta, Buchan helped the ticket office distribute tickets for that game, and part of his job was to head out to the front of Allen Fieldhouse to tell the hordes of people lined up for tickets what seats were left.
"The ticket demand was incredible," Buchan told the Journal-World on Monday from his home in Atlanta. "Every seat in the lower level was gone before they even really went on sale."
The line that Saturday stretched from the Allen Fieldhouse doors — pre Booth Family Hall of Athletics — all the way to Naismith Drive and up the hill to where the DeBruce Center now sits.
"These were not ordinary KU fans either," Buchan recalled. "These were people from all over. I remember we had to limit the tickets to like four per person because we knew that the scalpers had placed people in line to get tickets. Everyone was there to see Jordan."
This was not the first time Jordan was in Lawrence. A few years earlier, shortly after former Kansas coach Roy Williams took the job at KU, Jordan worked one of Williams' camps in the summer.
Williams, who came to Kansas after a stint at North Carolina under Dean Smith, played an important role in recruiting Jordan to UNC. And the Hall of Famer former Kansas coach was featured prominently in the first two episodes of the 10-part documentary on Sunday night.
There's a picture that still makes the rounds of Jordan at that camp, wearing a blue Kansas basketball T-shirt.
There's also a story circulating about former KU point guard Ryan Robertson being at that camp and being called out of the crowd to play Jordan one-on-one.
"It's not true," Robertson told the Journal-World on Monday. "There might've been some other kid that he did that with, but it wasn't me. I've had people ask me about that a bunch of times and as much as I wish it was true, because it's a really cool story, it wasn't me."
Robertson was there in 1997 to meet Jordan before that Bulls-Sonics exhibition game. And he, like Chenowith, remembered the experience well.
"This was Jordan in his heyday, you know. It was peak Jordan," Robertson said. "And so to be a basketball player and have Michael Jordan in the Fieldhouse was a very big deal."
By the time tipoff for that Bulls-Sonics exhibition game had arrived, that Kansas team already had the chance to sit down and shoot the breeze with Jordan.
"I'll never forget it," Chenowith said. "Before the game, we were all sitting in the offices waiting to go down to our seats behind the bench and out of nowhere Michael Jordan walked into the office and we were all like, 'Holy s*, dude.' He came in with a pot of coffee and was just like, 'What's up guys?' He was just chillin' and was so down to earth and engaging and we were all just in awe, like God himself was sitting in the room."
The way Chenowith remembered it, Lester Earl, Nick Bradford and Billy Thomas were the first Jayhawks to start any kind of dialogue with Jordan, asking him questions about life and basketball, among other things.
But it was Jordan who asked for a photograph to be taken.
"That was so cool," Chenowith said. "None of us were going to ask him to do that, but he knew we all wanted one so he was the one who initiated it. He drank the whole pot of coffee and then hopped up and said, 'Let's get these photos taken so I can go play.'"
Former KU forward Nick Bradford posted one of the team pictures with Jordan on Twitter on Monday. Robertson still has his individual photo with Jordan hanging on the wall in his home office.
"His mindset, every single time he stepped on the court, was he was going to give it his all and play as hard as he could because he never knew if someone in the crowd was watching him play for the first time," Robertson said. "One of the proudest accomplishments I had at Kansas was that I never missed a game or a practice. And I was emulating Jordan in a lot of ways; I tried to have that same mindset."
Between the meeting with the players and his 23 points on 10-of-19 shooting in a 101-92 Chicago victory, Jordan also met with the local media.
"I got the impression that Michael thought so much of Roy that he would talk to the media for as long as he needed to if it would help Roy," Buchan remembered. "He answered every question and talked for probably 30 minutes."
Al Wallace, who at the time worked as a sports anchor for FOX4 in Kansas City, was not in Allen Fieldhouse for the game.
But he remembers the night well because it was his station that aired the game.
Wallace, now retired, remembered that a former FOX4 GM purchased the rights to the game and was hellbent on not only showing Jordan, one of the biggest draws in the history of sports, but also showing Jordan inside Allen Fieldhouse because so many of the FOX4 viewers were Kansas fans.
But there was a problem. A Major League Baseball playoff game between Cleveland and Baltimore that began at 3 p.m. was headed for extra innings and a four hour and 51 minute game time.
Sure enough, at tip time of the Bulls-Sonics game, the Orioles-Indians game was in the bottom of the ninth and FOX4 had to pull the plug on playoff baseball to switch over to exhibition basketball.
"There was hell to pay," Wallace recalled Monday. "We had everybody on the Missouri side of the state line calling and complaining that they wanted to see the end of the baseball game and the only reason we switched was because of Roy and KU."
As for the game itself, Chenowith's favorite moment was not a vicious Jordan dunk, but a free throw.
"I remember Jordan got fouled in the first quarter and went to the free-throw line and everybody had their flash cameras," Chenowith began. "It was as quiet as a morgue in there and when he shot the first free throw the whole place flashed because everyone was taking pictures.
"Everybody laughed and so, on the second one, he kind of did like a pump fake deal and then he shot it, and, again, it was like the whole place flashing. I mean, 16,000 people were taking a picture of the dude shooting a free throw."
After the game, the Jayhawks were invited back to the locker rooms to meet players from both teams. The Bulls used KU's locker room so, naturally, the Jayhawks spent most of their time with them.
"T.J. Pugh walked up to Mike and said, 'Hey, can I have your shoes,'" Chenowith recalled. "And Jordan was just like, 'Sure. I get a new pair every game.' We were walking back to the towers and we were saying, 'Holy crap, you've got Michael Jordan's shoes.' I can vividly remember that walk."
Not long after that, Williams got wind of the shoe situation and took them back. Chenowith said Williams then told the team that the defensive player of the year would get to keep them. Pugh won that honor.
"But, to this day, I don't know if T.J. ever got the shoes or not," Chenowith said.
Shoes or no shoes, it was the handshakes and laughs for the players and the thousands of photos taken for the fans, that made that early October exhibition game one to remember in Allen Fieldhouse lore.
"On some level, it was a little bit like when Wilt (Chamberlain) came back," said Buchan of a homecoming for the KU center that took place just three months later. "Both guys were just larger than life figures."