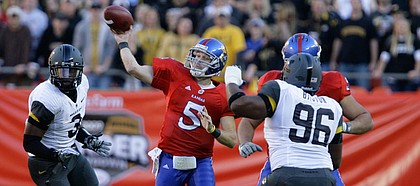 A football rivalry left for dead almost a decade ago, the Border War reportedly will be exhumed and brought back to the gridiron sometime in the not too distant future.
University of Missouri Athletic Director Jim Sterk on Thursday in an email sent to donors teased an upcoming four-game football series with Kansas, saying it's "being contracted," Gabe DeArmond of Rivals reported.
KU football hasn't faced Mizzou since 2011, the Tigers' final season in the Big 12 before they bolted for the SEC.
With their departure and the apparent lack of interest from either side in keeping the series alive until recently, it marked an end to a rivalry with 120 years of history, dating all the way back to 1891 — per KU's annals, the Jayhawks are 55-56-9 all-time against their old competitors from the Show Me State.
For now, it's not clear when the rivalry will resume or where those games will be played. It's possible Sterk and KU Athletic Director Jeff Long, who worked together last year to revive the men's basketball rivalry matchup with a six-game series, could follow a similar format with football. For basketball, the Jayhawks will play two future games in Lawrence, two in Columbia, Mo., and two in Kansas City, Mo., mixing true home and road games with a neutral site, beginning next season.
Each of the last five football matchups between KU and Missouri were played at Arrowhead Stadium, from 2007-11, with KU winning just one, in 2008.
Football dates, though, involve planning farther out, so it could still be several years before the rivalry picks back up on that front. For instance, KU already has its three nonconference opponents contracted for 2021, while the 2022 slate includes Houston and Duke and the 2023 calendar features matchups with Illinois and Houston.
An official announcement regarding the KU-Mizzou football series has yet to come from either school involved.
"As we have stated previously, there is mutual interest in renewing the football series," Dan Beckler, KU's associate athletic director for public relations, told the Journal-World, "but those details have yet to be signed and agreed to by both universities. If and when that is finalized, we will announce the specifics at that time."