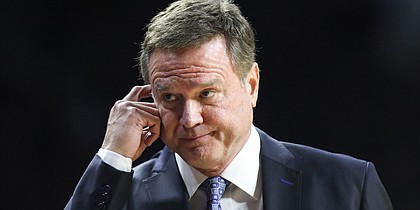 Story updated at 10:06 p.m. Monday, Sept. 23:
The integrity of KU's men's basketball program — and perhaps its vaunted streak of postseason appearances — came under attack Monday after the NCAA alleged head coach Bill Self and one of his assistants were complicit in major recruiting violations.
University of Kansas officials said they will "fiercely dispute" many of the allegations which include claims that Self both participated in some violations and knew of others that he failed to report. The NCAA also alleges that at least three athletic department administrators raised concerns about improper activity involving a representative of KU's athletic apparel provider Adidas, but the athletic department did not take meaningful action to address the concerns.
Related document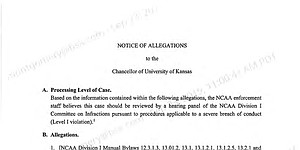 NCAA Notice of Allegations to KU ( .PDF )
The charges came Monday in the form of an official NCAA document — a Notice of Allegations document — that KU and much of the college basketball world have been waiting on for months. The NOA — the NCAA's equivalent of an indictment — charges the KU program with lack of institutional control, three Level 1 violations in the men's basketball program and Self with a "responsibility charge," according to the report. Level 1 violations are deemed the most serious and can include penalties such as scholarship reductions and postseason bans.
Additionally, the KU football program is charged with Level 2 violations, which include allowing an extra coach to work during practice under former coach David Beaty.
"The University of Kansas has high standards of ethical conduct for all of our employees, and we take seriously any conduct that is antithetical to our values and mission," Chancellor Douglas Girod said in a written statement released by KU. "While we will accept responsibility for proven violations of NCAA bylaws, we will not shy away from forcefully pushing back on allegations that the facts simply do not substantiate. We stand firmly behind Coach Self and our men's basketball program, and we will continue to work diligently to do what is right."
Many of the allegations center around three former Adidas representatives who have been convicted of federal fraud charges related to a scheme to pay the families of recruits to attend certain schools, including KU.
An attorney for Self noted in a lengthy statement that the NCAA has not alleged that Self knew of any of those illicit payments. That mattered little to NCAA enforcement officials who listed at least six instances where Self knew of an NCAA rule violation related to recruiting and failed to report the violations as required by NCAA rules. The document alleges Self and key assistant Kurtis Townsend "willfully engaged in NCAA violations," and "blatantly" disregarded the NCAA's constitution.
In a written statement released by the university, Self accused the NCAA of overreacting, and falsely accusing him of violations.
"By the NCAA's own admission through its public statements early this summer, it's no secret that there is tremendous pressure on the NCAA to respond to the federal court proceedings involving college basketball," Self said in the statement. "Compelled to reassure member institutions and the general public that it can police its member institutions, the NCAA enforcement staff has responded in an unnecessarily aggressive manner in submitting today's unsubstantiated Notice of Allegations, and I, as well as the University, will vigorously dispute what has been alleged."
A key contention by the NCAA is that former Adidas consultant T.J. Gassnola was acting as a booster of KU when he paid $90,000 to the mother of former KU team member Billy Preston and $2,500 to the guardian of current player Silvio De Sousa. Gassnola admitted in federal court to those payments. The NCAA documents allege he also paid $15,000 to the friend of a third player, who ultimately attended another school.
While the report doesn't allege that Self or Townsend knew of those payments, it is against NCAA rules for boosters to have virtually any contact with a potential recruit, regardless of whether money is involved. The report alleges that Self and Townsend knew of many illegal contacts Gassnola and other Adidas representatives were having with recruits, and they failed to report those violations.
KU said in its statement that it "emphatically rejects" the assertion that Adidas officials were boosters of the school. It also rejects the argument that Self didn't promote a culture of compliance, saying "voluminous evidence demonstrates uncontestably that he did, in fact, promote an atmosphere of compliance and fully monitor his staff."
Among the violations alleged by the NCAA:

• Self directly participated in a recruiting violation with Townsend, Adidas and Gassnola by making an impermissible offer to provide shoes or apparel to a club basketball team connected to a recruit or his representative.
• Self knew that Gassnola was improperly interacting with recruits at a Late Night in the Phog event. In addition, the NCAA alleges that KU athletic department officials knew that "three senior athletics department administrators identified red flags or concerns about the role and involvement" of Gassnola with the men's basketball program. "However, the institution took no action to provide rules education to Gassnola or to monitor his involvement with the athletics program to ensure compliance with NCAA legislation."
• Self knew of impermissible telephone calls Gassnola made to KU recruits in an effort to steer them to the school. In other instances he knew of Gassnola having impermissible personal contact with recruits. Self did not report the violations.
• Townsend knew of at least four recruiting violations made primarily by Adidas officials. Townsend did not report those violations. The report concludes Self either knew or should have known that Townsend knew of violations and did not act.
• Self knew Adidas representative Merl Code had impermissible contact with the family of a basketball recruit. Self did not report the violations.
• Self knew that Dan Cutler, an Adidas consultant had impermissible contact with a recruit. Self did not report the violation.
Cutler was a new name to the case, as he was not charged in any of the federal cases. He was not the only surprise name in the document. Former KU national championship coach Larry Brown was cited in the report. Brown, at Townsend's urging, is alleged to have reached out to a KU recruit to talk the school up. Brown then reported back to KU that the recruit or his representative wanted athletic apparel to be provided to a club basketball team associated with the recruit.
Now that the university has received the NOA, it will have the chance to defend itself from possible sanctions. It's unclear what sanctions the university could be facing, but loss of scholarships, postseason bans and forfeiture of wins are consistent with penalties handed out to other schools found to have lacked institutional control. Additionally, coach Self may be held responsible for the violations.
According to the NCAA's manual, a "head coach is presumed to be responsible for the actions of all institutional staff members who report, directly or indirectly, to the head coach." If the NCAA finds the coach responsible, he can be sanctioned with a suspension from NCAA activities.
In the document, the NCAA said KU could be subject to some of the more severe penalties allowed because the athletic department did not fully cooperate with the NCAA's investigation. The NCAA alleges "the institution unnecessarily delayed the investigation," by not timely producing certain documents, including all the telephone records of the head men's basketball coach.
NCAA rules experts William H. Brooks, an Alabama lawyer who has represented universities facing NCAA infractions, told the Journal-World earlier this year that it could take a year after receiving a NOA before the matter is settled. He said the university will have up to 90 days to respond to the allegations and it's not uncommon for the NCAA to grant an extension. The response is then sent to the NCAA enforcement staff, which has 60 days to file a reply and a "statement of the case," which outlines the overall summary of the case.
The NCAA Committee on Infractions, which is made up of attorneys and current and former university officials from across the country, will then schedule a hearing date, which gives the university and the enforcement staff a chance to make their cases. The committee will then issue a ruling, which often comes several months later, Brooks said.
When the Committee on Infractions makes its ruling, the university will for the first time see which penalties it is facing. If a university self-imposes penalties, Brooks said the university will be hoping the NCAA does not add any more penalties on top of those. KU on Monday made no mention of considering any self-imposed penalties.
In addition to the basketball allegations, which dominated the report, the NCAA alleges that Jeff Love, a football video coordinator on former coach David Beaty's staff improperly acted as a coach for the team's quarterbacks. As a video coordinator, NCAA rules prohibited him from providing coaching to players. KU self-reported the football violations, KU Athletic Director Jeff Long said.
Long made only a brief statement on the NCAA charges on Monday.
"Obviously, we are disappointed in the allegations leveled against our men's basketball program as well as our self-reported violations from the previous football staff," Long said in a written statement. "We strongly disagree with the allegations regarding men's basketball. We fully support Coach Self and his staff, and we will vigorously defend the allegations against him and our University. As for the football violations, we fully met the requirements and our responsibility to the NCAA by self-reporting the violations when our compliance procedures uncovered the issues. I am confident in our process to respond to the allegations and look forward to resolving this matter."
Sports Editor Matt Tait contributed to this report.