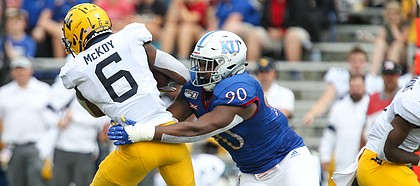 Coming off the lopsided road win over Boston College last week, it seemed as though the tides had shifted back in favor of Kansas football.
However, KU's 29-24 loss to West Virginia Saturday didn't quite match that explosiveness, and the Jayhawks couldn't gain enough momentum to overtake the Mountaineers in the second half.
Senior quarterback Carter Stanley carried over some of his magic from last week for two big touchdown drives to keep the Jayhawks in the game. He finished 19-for-25 for 275 yards and three touchdowns, but also turned the ball over twice with a fumble and interception.
Related document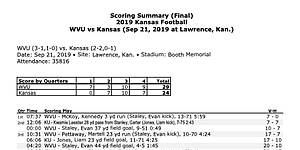 Outside of Stanley, junior wide receiver Andrew Parchment had the biggest day, catching five passes for 132 yards and two touchdowns, both in the second half.
The Kansas defense made plays as well, with three sacks, six tackles-for-loss and two pass breakups, but couldn't make enough stops down the stretch. The WVU running back tandem of Martell Pettaway and Kennedy McKoy combined for 113 yards and three touchdowns.
Even though they managed to keep themselves in the game through a sluggish first half and slightly more up-tempo second half, the Jayhawks find themselves 0-1 to start Big 12 play.
Here's a quick look back at some of the action:
• The game turned when:
With another opportunity to take the lead with a touchdown, Stanley jogged back onto the field. However, four plays into the drive, the Jayhawks found themselves in another rut.
Stanley dropped back and floated a pass toward his left, intended for junior tight end Jack Luavasa. Instead, WVU redshirt senior cornerback Keith Washington II tipped the ball with his left hand and made an acrobatic interception to turn the tides once again.
It was Stanley's second turnover of the day, and led to West Virginia touchdown on the other end of the field.
• Offensive highlight:
Trailing 20-10 and seeking any sort of momentum, KU got another big play out of junior wide receiver Andrew Parchment.
On first down, Stanley dropped back and quickly found Parchment in space just past midfield. The pass caught him in stride and resulted in a 75-yard touchdown for Parchment, cutting the WVU lead to 20-17.
This was Parchment's third touchdown of the season and Stanley's second of the game.
• Defensive highlight:
Fresh off a defensive pass interference call on senior cornerback Hasan Defense and needing a stop, senior safety Jeremiah McCullough was up to the task.
West Virginia redshirt junior quarterback Austin Kendall attempted to dump off a pass to redshirt junior wide receiver T.J. Simmons on 3rd-and-goal at the goal line. However, McCullough jumped the route to break up the pass and force a field goal.
And while the Mountaineers converted the 22-yard kick, it was still a one-possession game (23-17, WVU) and a big defensive win for the Jayhawks.
• Up next: Kansas will go back on the road to face TCU at 11 a.m. Saturday.
SCORING SUMMARY
FIRST QUARTER
7:37 — Kennedy McKoy 3 run. Evan Staley kick. Thirteen-play drive for 71 yards, in 5:59. (WVU 7, KU 0.)
SECOND QUARTER
12:06 — Kwamie Lassiter II 28 pass from Carter Stanley. Liam Jones kick. Seven-play drive for 75 yards, in 2:43. (WVU 7, KU 7.)
0:00 — Staley 37 field goal. Nine-play drive for 51 yards, in 0:49. (WVU 10, KU 7.)
THIRD QUARTER
10:31 — Martell Pettaway 23 run. Staley kick. Ten-play drive for 70 yards, in 4:24. (WVU 17, KU 7.)
6:06 — Jones 23 field goal. Eleven-play drive for 71 yards, in 4:25. (WVU 17, KU 10.)
4:20 — Staley 44 field goal. Four-play drive for five yards, in 1:45. (WVU 20, KU 10.)
4:08 — Andrew Parchment 75 pass from Stanley. Jones kick. One-play drive for 75 yards, in 0:12. (WVU 20, KU 17.)
FOURTH QUARTER
12:35 — Staley 22 field goal. Twelve-play drive for 73 yards, in 6:28. (WVU 23, KU 17.)
5:04 — Pettaway 7 run. Isaiah Esdale pass failed. Eleven-play drive for 51 yards, in 5:36. (WVU 29, KU 17.)
2:10 — Parchment 2 reception. Ten-play drive for 70 yards, in 2:49. (WVU 29, KU 24).