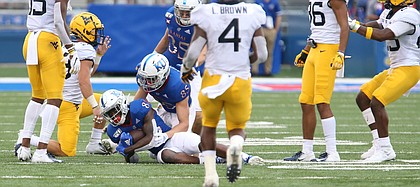 It appeared the man known affectionately in college football circles as "The Mad Hatter" had just pulled a quick one in the third quarter of his Kansas football team's Big 12 opener against West Virginia.
An onside kick designed for redshirt freshman Jamahl Horne to track down out of the air ended with the ball in Horne's hands.
The only problem for head coach Les Miles and the Jayhawks was the flag on the field.
Horne, officials determined, didn't give the would-be WVU returner the space he needed to complete the catch. The kick-catch interference call proved to be an unpopular one at David Booth Kansas Memorial Stadium, in a 29-24 WVU road win.
"It would've changed the whole outcome of the game," Horne said afterward of the penalty, which occurred with KU trailing 17-10.
Because the onside attempt from KU's Jacob Borcila didn't bounce off the turf, any Mountaineer trying to field it, by rule, had to be given at least a yard of space from any Jayhawk headed his direction.
Miles made clear after the home loss his feelings about the rule.
Photo Gallery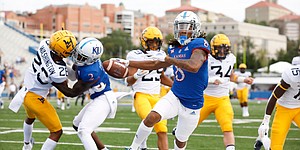 Kansas football v. West Virginia
View a gallery from Saturday's game between the Jayhawks and Mountaineers at Memorial Stadium.
"The only thing I would tell you is if they want to eliminate an exciting play from college football, they need to come up with a rule and just ban the play. OK," Miles said. "But when you say if you give them the opportunity to catch it and then you kick a ball like that and very probably — and again, without seeing it, you know, in slow motion, they may have gotten there first. But if they didn't get there first, we should have every right as the having arrived on the scene first, to have the ball. And I didn't — and the reason that you call a play like that is because you don't think he can get to it. And frankly, that was the reason why we called the play."
Tale of two Koennings
Saturday's Big 12 opener for KU featured a showdown of sorts between two distant relatives.
KU offensive coordinator Les Koenning ultimately lost to WVU defensive coordinator Vic Koenning.
The Mountaineers' D.C. explained their connection earlier in the week, during a media session.
"Well, he says it Kenn-ing," the WVU assistant was quick to point out when asked about how he was related to KU's Koenning.
"Yeah, he's a second cousin. That's kind of a long story," the defensive coordinator began. "I've got three sons and as most everybody who's got boys knows, they tend to fight a little bit when they get a little older.
"So how the story goes — I'll make it real short — back a long time in east Texas there was a couple of brothers on this farm and either one of them pulled a knife in a fist fight or one of them pulled a gun in a knife fight or whatever. They got in a big fight. One of them said, 'Hey, I'm out of here.' So I'm sure that was my relative. Most of my relatives are from San Antonio. And it's Kone-ing on my side of the family."
Vic said he first became aware of Les when the now KU O.C. played receiver at Texas.
"But I ran into him at a coaches convention in New Orleans years later," Vic explained. "I said 'You've got to be related to me.' I didn't even know who it was. So it was Les."
Vic said the two have spoken "a bunch" since then, but not recently.
"So we've got to be acquaintances," the WVU D.C. added. "I talked to his dad and he said, 'Yeah, I heard that story. It was the same one my dad had told me.' So it must be true."
KU does not make any of its coordinators or assistants available for interviews during the season.
Manny Miles cameo
After KU quarterback Carter Stanley got hit on a run early in the third quarter, Manny Miles briefly replaced him.
Stanley's helmet came off and he had to sub out for one play as a result.
Manny Miles pitched to Pooka Williams for a 12-yard gain before returning to the sideline.
Related document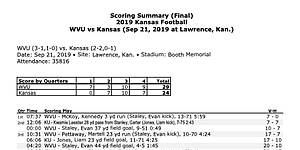 Sosinski out again
KU played without senior tight end James Sosinski for the second week in a row. Sosinski remained unavailable due to an undisclosed injury.
'The Booth'
Section 20 on the east side of the stadium featured a banner at the front of it, at field level.
With a crowded student section behind it, the sign read, "The Booth," referencing the new popular nickname for KU's home stadium.
Big week for Dearmon family
A week after the RPO plays he helped the KU coaching staff install this past offseason played a large part in the Jayhawks' victory at Boston College, senior offensive consultant Brent Dearmon had even more reason to celebrate as his wife, Amanda, gave birth to the couple's third child on Friday.