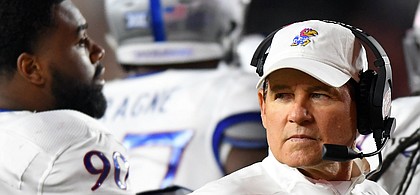 The first three weeks of Kansas football have provided an interesting case study in riding the proverbial roller coaster.
Twists and turns, peaks and valleys and thrills and chills all have been a part of the Jayhawks' 2-1 start under new head coach Les Miles.
But 2-1 is 2-1 and, at least in the eyes of the oddsmakers in Las Vegas, the Jayhawks — a 4.5-point home underdog to West Virginia in Saturday's Big 12 opener — should be in the game with a chance to move to 3-1 by midnight Saturday.
You'd have to go back to 2009, when KU opened 5-0, to find a start that good. In fact, the Jayhawks have started a season 3-1 or better just six times this century.
Getting the Miles era off to that kind of start would be significant news and not just around Lawrence. National writers from USA Today, Sports Illustrated and more already have checked in with Kansas this season because of the Les Miles effect.
He's that interesting. But is his team that good?
To answer that question, the Jayhawks will have to hop off of the roller coaster ride.
Few teams have more players accustomed to having to find a way to keep fighting after a rough outing. The past nine seasons have been plagued by such moments, with the Jayhawks rarely finding the key to bouncing back from tough defeats.
So what changed after the head-scratching loss to Coastal Carolina on Sept. 7 that inspired the bounce-back beatdown of Boston College? Here's a hint: It was more than the offense.
"Everybody knew that we were better than we played the Coastal week," senior safety Mike Lee said Monday. "We just had to step it up a notch, be more focused in practice, less playing around, and stay focused on doing your job."
Senior running back Khalil Herbert backed Lee's claim, saying the tone at practice leading up to the Week 3 win was noticeably sharper and more focused than what came before it.
Lee credited the players for the sudden change.
"From the freshmen on," he noted.
But there's little doubt that Miles had his stamp all over it, too. Even if that's just in the form of where his expectations sit, the Jayhawks clearly understood that if they did not find a way to compete in Boston, there would be little reason to believe that 2019 would be different than the nine seasons that came before it.
The jury's still out on whether it will be. But the Jayhawks are now in position to smooth out the ride.
"I'd be surprised if they didn't want more of that," Miles said of the feeling following the win over BC. "It's intoxicating. … I'm responsible there, to make sure that they know, but I think they'll tell me. I don't think that'll be a problem."
So how do they get there?
The five players I talked to Monday all had an idea and each used the same word to explain it — consistent.
"The best way to maintain control is just to stay as consistent as possible and kind of level out the roller coaster," said sophomore defensive lineman Malcolm Lee.
While that attitude is important in terms of reps, technique, communication and attention to detail, it's also a key part of KU's approach.
From starting quarterback Carter Stanley and Herbert to both Lees and rising linebacker Jay Dineen, their approach each week is designed with consistency in mind.
"It was a lot of fun just to see our hard work and preparation pay off," Stanley admitted. "But, win or lose, it's one of those things you just kind of have to flush on Sunday. We're on to West Virginia now. There's nothing about that last game, necessarily, that's going to help us this week."
So which is easier to move forward from – a brutal loss or a big win? The opinions on that inquiry were mixed.
"You want to flush a loss down quicker," Stanley said. "But it's about the same. I think you just have to have the same mindset. Obviously it's nice to have the confidence from the stuff you did well in a win, but I really kind of look at it the same."
Said Malcolm Lee: "In my opinion, a tough loss is a little bit easier to move on from. You have a lot more motivation to get to the next week and get a W. It's just easier to stay focused and on track after a loss."
Added Dineen: "Probably a win, just because everyone's all like, 'Oh, you did it, oh man.' But we've got to let that noise go and have a great week of preparation and practice and get ready for West Virginia."
The challenge is set. The opportunity is in front of them. And if the Jayhawks can find a way to get off the roller coaster they've been on, they might see a few more fans suddenly hopping on the bandwagon.