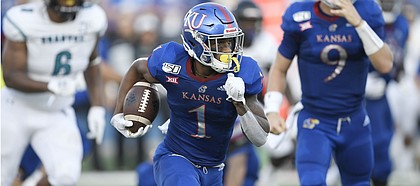 The All-Big 12 running back expected by many to ignite the Kansas football team's offense with his open field magic, Pooka Williams couldn't turn the Jayhawks into some kind of juggernaut by simply returning to the lineup.
Though Williams proved effective in his return from a one-game suspension, the KU offense labored most of Saturday night against Coastal Carolina at David Booth Kansas Memorial Stadium.
The offense lacked rhythm, quarterback Carter Stanley threw two interceptions and Kansas lost Williams' sophomore debut, 12-7, against the visiting Chanticleers from the Sun Belt Conference.
Williams rushed for 99 yards on 22 carries and caught two passes for 10 more yards, but the Kansas offense produced only 280 yards in defeat.
The running back downplayed his potential to impact the offense in his return.
"Khalil (Herbert, 82 rushing yards and a touchdown) was doing his job, too," Williams said. "The line was doing their jobs, too. It was just a disappointing loss."
So what led to the offensive struggles?
Related document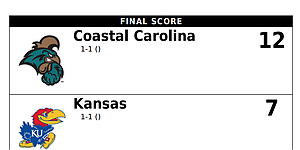 Miles said following the defeat, it "was a (CCU) secondary that led to some quality zone coverage. If we could have (thrown the ball effectively) we wouldn't have needed to run the ball in tight quarters."
Once Kansas (1-1) somehow dodged a small bullet in the fourth quarter with sophomore CCU kicker Massimo Biscardi missing a late field goal, the KU offense went nowhere on the ensuing series.
A large contingent of the announced 33,493 fans in attendance booed as the Jayhawks went four-and-out, having gained all of seven yards on a critical series.
The clunker of a possession gave CCU the ball with 4:01 left in the game and a five-point cushion, just 28 yards from the goal line.
With no timeouts remaining to stop the clock, the Kansas defense got somewhat of a respite with 44 seconds left, as CCU called its final timeout ahead of a 3rd and 7 play at the KU 14-yard line. But it only delayed the inevitable.
The Chanticleers (1-1) and head coach Jamey Chadwell went conservative with a QB keeper for Fred Payton, and it was all the visitors needed to run out the clock and hand Les Miles the first loss of his KU career in the head coach's second game in charge.
"I'm unhappy. That's not how I saw it going. That's not how our team saw it going," Miles said to open his postgame press conference. "We're all, everyone in this building, in pain right now. You care that much about winning and preparing to win, it's going to be painful."
Photo Gallery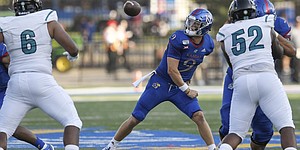 Photo gallery: KU falls to Coastal Carolina
Photo gallery: KU drops 12-7 decision to Coastal Carolina
Although senior running back Herbert officially got the start, KU only waited one play to sub Herbert out and insert Williams, the 5-foot-10 sophomore dynamo from Louisiana.
His anticipated return came after he watched a Week 1 victory from the bleachers. Williams allegedly punched a woman in the stomach in an incident that led to his arrest on suspicion of domestic battery this past December. A diversion agreement was eventually reached in the case, and KU suspended its star running back for the season opener as part of Williams' punishment.
"I want to start off with saying how sorry I am," Williams began during his postgame interview, "for my poor decisions in the past. But I'm growing as a better man."
Starting quarterback Carter Stanley tossed Williams the ball for a four-yard gain to open the star running back's season and Williams would only improve from there.
KU's second series included Williams leaving the field in some pain. He even retreated to the team's blue tent on the sideline to receive attention from the training staff.
Fortunately for the Jayhawks' offense, Williams got cleared to return by the next series. He said it was a stinger to the ribs that had him in pain momentarily.
He played throughout the game, though, and was even the last Jayhawk to touch the ball on offense, coming up short on a must-have 4th and 3 call from KU's 27-yard line. The carry went only one yard and CCU took over with 4:01 on the clock.
The first play call of the fourth quarter went to Williams, who lost a yard on a 3rd and 3 carry inside the red zone. And the offense really stalled from there.
Miles called his second timeout facing a 4th and 4 at Coastal's 17-yard line. And after the Jayhawks lined up to go for it, CCU head coach Jamey Chadwell countered with his first timeout of the half.
Incredibly, the extended stoppage went on as Miles used KU's third and final timeout.
Finally, Stanley rolled out right after Williams went in motion to line up in the slot. The QB tried to jump and extend the ball as defenders closed in but only gained one yard, so the Jayhawks turned it over on downs.
"They lined up and they had an alignment that would not have benefited us," Miles said of the last timeout, adding he thought KU's coaches had a "better call" to keep the drive alive. "But it didn't turn out that way."
Not long after KU botched that 4th down opportunity on offense, CCU went for it on 4th and 1 up 12-7 with more than eight minutes left in the fourth quarter.
Following a CCU timeout, running back C.J. Marable took off down the left side on a zone read for 22 yards.
CCU had a chance to build on its 12-7 lead with what looked like a chip shot field goal. Instead, Biscardi missed a 27-yarder wide left.
The third quarter featured small victories for Kansas. Darrius Moragne sacked Bryce Carpenter late in the quarter, backing CCU inside its own 20-yard line and forcing a punt.
The second half even got off to an invigorating start for KU thanks to its defense. Safety Mike Lee nearly caused a fumble as he smacked running back Marable at the line of scrimmage on the opening snap of the third quarter. Two plays later Bryce Torneden and Azur Kamra converged to take down quarterback Fred Payton on a run, forcing a three-and-out.
However, those defensive positives couldn't outweigh KU's offensive woes.
Stanley threw an interception on KU's first possession of the third quarter.
Later, KU went for it on 4th & 1, and dialed up a reverse for junior receiver Andrew Parchment. When the wideout was brought down for no gain, CCU took over at its own 40-yard line, up 12-7, with 3:57 left in the quarter.
On what had the feeling of a promising drive for the KU offense early in the second quarter, Stanley threw his first interception of the season.
Following a play fake in the backfield, the senior QB had time to move and look for an open target. Stanley zeroed in on Parchment deep down the right sideline, but the Chanticleers secondary had two defenders waiting near Parchment. Senior Chandler Kryst broke on it easily, securing the pick before he fell out of bounds inside CCU's 5-yard line.
KU's biggest offensive play of the night came just a few minutes in, as Herbert took off for a 41-yard TD as the CCU defense keyed in on Williams, who also was in the backfield on the play.
The Jayhawks never crossed the goal line again.
"We're going to have to get over it, and it's not going to be easy," Miles said. "I wish I had more for them to show for all the efforts and energy they had. This is going to be hard, because this is a game we should've won."
KU now has a short week and a road trip to play Friday at Boston College (2-0).