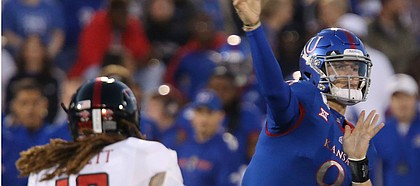 The entire Jayhawks roster had one thing in mind once the game clock expired Saturday night: chasing down the man who just made their 37-34 victory over Texas Tech possible.
Impossibly the man of the night just seconds after the Red Raiders blocked his 40-yard field goal, junior KU kicker Liam Jones drilled the game-winner from 32 yards, sending teammates and the 31,036 fans in the bleachers into a frenzy.
Jones took off the other direction celebrating, and a sprinting mob followed him.
The delirium was fitting for a bizarre finish, after the Red Raiders had a chance to at least reach overtime after blocking a different Jones field goal.
Upon recovering the blocked kick, by Nick Mann, Douglas Coleman III recovered it and had the idea of sending a lateral back to keep the play alive.
The problem was no teammate was there to retrieve it. But KU long snapper Logan Klusman was. And his heads up recovery gave KU (3-5 overall, 1-4 Big 12) the ball back with just 0:02 showing on the clock.
After getting thwarted in dramatic fashion seven days earlier in Austin, Texas, the KU football team found some late-game redemption back at home in yet another thriller.
With Texas Tech (3-5 overall, 1-4 Big 12) bottling up star KU running back Pooka Williams (69 rushing yards on 21 carries), KU's offense eventually started stretching the field. And the Jayhawks' receivers were more than up for the challenge.
After the KU defense came through with a stop in the clutch, with nose tackle Jelani Brown stopping SaRodorick Thompson short of extending a drive on 3rd and 1, it was up to the Jayhawks' offense to deliver a victory.
KU opened its crunch time possession on its own 26-yard line, and avoided a quick punt when Stephon Robinson (six catches, 186 yards) caught a 3rd down pass.
Kwamie Lassiter II snagged the next 3rd down pass from Carter Stanley (415 passing yards, three touchdowns, one interception), getting the drive to midfield with just more than a minute left in regulation, before all hell broke loose on special teams.
On a night when KU's running game often sent its ball carriers into the arms and bodies of defenders, freshman Velton Gardner gave the home team its longest run of the night, a 32-yard touchdown, just in time for the Jayhawks to tie the game at 34 late in the fourth quarter, once Jones sent the point after through the uprights.
Dormant much of the night, KU's homecoming crowd achieved its loudest decibel level up to that point early in the fourth quarter, after Stanley's fourth connection of 48 yards or more.
This one felt especially inspiring and opened a window of potential for what was left of the Big 12 primetime matchup. Junior Andrew Parchment's 70-yard TD catch allowed the Jayhawks to tie the game at 27, after initially falling in a 17-0 hole.
However, Texas Tech proved it could play that game, too. Three snaps later, Red Raiders junior quarterback Jett Duffey looked deep for Dalton Rigdon, and found him for a 48-yard, go-ahead score.
It only took the Red Raiders four plays and exactly one minute to regain a two-score advantage after halftime. Though KU's homecoming crowd had reasons to feel optimistic late in the second quarter, the Red Raiders lulled them to a subdued state promptly in the third quarter.
That's when Tech's plan of attack following the coach's halftime discussions worked to perfection, with Jett Duffey (271 yards passing, three TDs) hitting Donta Thompson for 28 yards, running back SaRodorick Thompson (80 rushing yards, TD) taking off for 23 yards and, after one rush that went nowhere, Duffey finding T.J. Vasher for a 19-yard TD.
Related document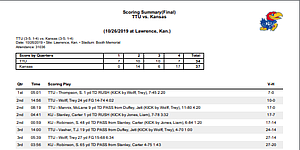 Box score: Kansas 37, Texas Tech 34 ( .PDF )
The Red Raiders' lead expanded to 13 with a Trey Wolff 27-yard field goal before KU and Stanley decided to go back to what had to feel like the only play call working — a deep shot for speedy Stephon Robinson Jr.
The junior receiver's third reception of more than 40 yards provided a much needed quick-strike jolt for the offense, to the tune of a 65-yard touchdown (Robinson's second score of the evening) that helped carve Tech's lead down to 27-20, with 3:56 left on the third quarter clock.
A flop of a first half for KU's offense was salvaged before intermission, beginning on the Jayhawks' fifth drive.
Robinson ran deep past three Tech defensive backs, then stopped and waited for Stanley's pass. Upon catching it, Robinson juked to escape the Tech secondary and nearly scored a TD on a 53-yard reception.
The play was not even reviewed as KU called a timeout, but Stanley dove across the goal line on the next snap to give the Jayhawks their first score at the 4:41 mark of the second quarter.
It would take the type of series KU hadn't put together since the previous week at Texas for the Jayhawks to add a second TD before halftime, as they took over following a defensive stop at their own 16-yard line and only 2:19 left on the second quarter clock.
Sure enough, that's exactly what Stanley and Robinson helped deliver, as Stanley fired a 2nd-and-short pass to Robinson, who turned on the jets and flew to a 48-yard score in the final minute of the half, allowing KU to head to the locker room down 17-14.
Tech turned its touchdown lead after one quarter to a two-score cushion on the first play of the second, with freshman kicker Wolff connecting on a 24-yard field goal.
But KU's hole continued growing deeper as the Jayhawks, who turned the ball over on their first snap of the night, punted for a third consecutive possession.
The KU offense had just 55 yards to show for its first four series when the Red Raiders rattled off their second TD drive of the first half, giving the visitors a 17-0 lead, and 225 yards on their first four possessions.
First-year Tech head coach Matt Wells proved aggressive early, on a 4th-and-goal decision at KU's one-yard line in the first quarter. After a timeout, Thompson darted into the end zone for the game's first TD with 5:01 to go in the opening quarter.
Coming off a career showing at Texas a week earlier, Stanley threw his first interception since KU's Week 4 home matchup with West Virginia in the game's opening seconds.
KU's senior QB looked deep on the game's opening snap, while under duress. A pair of Tech defensive backs, including senior ballhawk Douglas Coleman III, covered Stanley's target, Andrew Parchment. Already the FBS leader in interceptions, Coleman easily secured his seventh pick of the season.
KU will host the Sunflower Showdown next week, against rival Kansas State (5-2, 2-2), which upset Oklahoma in Manhattan hours before the Jayhawks took the field.
SCORING SUMMARY
FIRST QUARTER
5:01 — SaRodorick Thompson 1 run. Trey Wolff kick. Seven-play drive for 45 yards, in 2:20. (TT 7, KU 0.)
SECOND QUARTER
14:56 — Wolff 24 field goal. Fourteen-play drive for 74 yards, in 4:02. (TT 10, KU 0.)
8:19 — McLane Mannix 9 pass from Jett Duffey. Wolff kick. Eleven-play drive for 80 yards, in 4:20. (TT 17, KU 0.)
4:41 — Carter Stanley 1 run. Liam Jones kick. Seven-play drive for 78 yards, in 3:31. (TT 17, KU 7.)
0:59 — Stephon Robinson Jr. 48 pass from Stanley. Jones kick. Six-play drive for 84 yards, in 1:20. (TT 17, KU 14.)
THIRD QUARTER
14:00 — T.J. Vasher 19 pass from Duffey. Wolff kick Four-play drive for 70 yards, in 1:00. (TT 24, KU 14.)
5:39 — Wolff 27 field goal. Fifteen-play drive for 68 yards, in 6:34. (TT 27, KU 14.)
3:56 — Robinson 65 pass form Stanley. Jones kick blocked. Four-play drive for 75 yards, in 1:43. (TT 27, KU 20.)
FOURTH QUARTER
13:42 — Andrew Parchment 70 pass from Stanley. Jones kick. Eight-play drive for 86 yards, in 2:17. (TT 27, KU 27.)
12:18 — Dalton Rigdon 48 pass form Duffey. Wolff kick. Three-play drive for 75 yards, in 1:24. (TT 34, KU 27.)
5:12 — Velton Gardner 32 run. Jones kick. Ten-play drive for 70 yards, in 3:50. (TT 34, KU 34.)
0:00 — Jones 32 field goal. One-play drive for 0 yards. (KU 37, TT 34.)