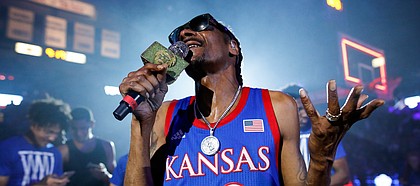 Snoop Dogg may have two G's in his name, but the hip-hop artist said he certainly didn't make any promises to make his recent show at Allen Fieldhouse G-rated.
Snoop Dogg was on the Howard Stern radio program on Tuesday and was asked about his Late Night in the Phog performance that led to KU officials apologizing for the show's content, which included stripper poles being wheeled onto the court and a money gun that shot fake $100 bills over the heads of prospective recruits.
The entertainment website TMZ reported that Snoop Dogg told Stern he was shocked when KU issued an apology.
"The audience enjoyed that (expletive,) Snoop Dogg said, according to the TMZ report. "I don't know what the (expletive) they're talking about."
Snoop Dogg said he had a great night in Lawrence, and he still believes KU knew what it was getting when the school agreed to have him perform.
"I think it is more the publicity of what I did," Snoop Dogg said, according to TMZ. "And I respect them and wasn't going to put no smut on their name and say they did anything wrong because they invited me to come do what I do.
"And when you pay for Snoop Dog, you going to get Snoop Dogg."