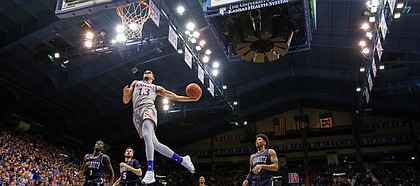 Six Jayhawks in double figures, 14 3-pointers, a thunderous, windmill dunk from freshman forward Tristan Enaruna, 30% field goal shooting by the opponent and KU's walk-ons playing the final six minutes.
Any way you slice it, Friday's 112-57 victory by fifth-ranked Kansas over Monmouth at Allen Fieldhouse was every bit as much of a beatdown as the final score indicates.
And, had the game been a few minutes longer, a late steal, dunk and sprinkling of trash talk from Monmouth guard George Papas might have turned this one into an actual brawl.
Instead, the late technical foul issued to Papas merely represented 2 more points for the fifth-ranked Jayhawks (2-1) on a night when getting buckets was as easy as 1-2-3 for everyone on the Kansas roster.
No one showed that more clearly than senior grad transfer Isaiah Moss, who led Kansas with 21 points and hit five of six from 3-point range in just 15 minutes off the bench.
"He's a good shooter," Self said. "We've said that all along. He got six really good looks and that's not going to happen in a lot of games, but it's good to have him out there because you can run bad offense and come out with 3 points."
Moss, who said seeing his first couple of shots go in gave him the confidence to take more shots the rest of the way, was so effective from the outside that it even inspired junior forward Silvio De Sousa to let one fly from 3-point range.
Related document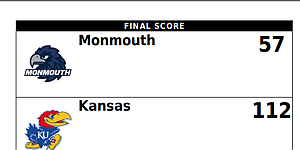 Box score: Kansas 112, Monmouth 57 ( .PDF )
He made it, early in the second half, and said after the victory that he actually wanted to shoot another one.
"At that moment, I actually felt like I was Isaiah," De Sousa said. "I kind of felt the energy going. I wanted to hit another one, but I had to slow it down. But it felt great."
It took less than two minutes to see the direction this one was headed.
Monmouth (1-3) turned the ball over four times in its first four trips down the floor. That included two cracks at points on the same possession, but only because of an air ball that went out of bounds off Kansas.
Monmouth shot 0-for-10 from the floor with six turnovers in the game's first eight minutes, and Kansas ran away from the inferior opponent from the start.
"The first half I thought we were pretty good," Self said. "I thought we were turned up. (We) made shots, the ball moved, we played the right way for the most part and we defended."
There were a dozen examples of just how overmatched Monmouth was in this one, and they showed up on both ends of the floor.
From the Hawks' only points in the game's first 10 minutes coming from the free-throw line — and a couple of air balls contributing to that — to KU's superior size, effort and intensity giving the Jayhawks whatever they wanted, Monmouth truly stood no chance from the jump.
But no moment better illustrated that fact than a first-half alley-oop from Marcus Garrett to Enaruna.
Despite three different Monmouth coaches screaming out "backdoor, backdoor, backdoor," before Enaruna even made his cut, the high-flying freshman still finished the lob with ease and flash to put the Jayhawks up 23-4 at the 11:21 mark as Moss and the Jayhawks buried them under a barrage of 3-point shots and fast-break points.
Photo Gallery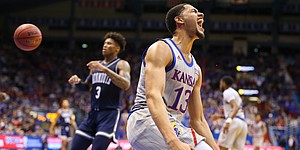 Kansas basketball v. Monmouth
View a gallery of photos from Friday night's game between the Jayhawks and Hawks at Allen Fieldhouse.
KU finished 14-of-30 (46.7%) for the game from behind the arc (seven different KU players drained at least one triple) and also scored 21 fast-break points, 19 second-chance points, 26 points off turnovers and 66 points off the bench.
After starting and playing 13 minutes in the first half — but having little to show for it — De Sousa broke loose in the opening minutes of the second half to score KU's first 8 points, turning a 38-point halftime lead into a 42-point edge by the under-16 timeout.
The 38-point margin at the break was the largest for Kansas since 2009.
And the rest of the final 20 minutes was merely a race to see how many highlights each player could get and how quickly the walk-ons would enter.
Fans in the student section first began cheering for junior guard Chris Teahan with just under 12 minutes remaining.
As for the late play by Papas that left fans in Allen Fieldhouse booing and Jayhawks on Twitter buzzing, Self said simply, "that doesn't bother me at all," and even turned it into a teachable moment.
"I'm actually glad it happened because we've been on Tristan the whole time about being casual and that's a prime example of what happens when you're casual," Self said. "I told the team afterwards he might be on ESPN twice for two dunks — one on him and one he got."
Monmouth coach King Rice was less lighthearted about the incident and he addressed it right out of the gate during his postgame session with the media, essentially apologizing for Papas' late meltdown.
"I'm a super, super, super competitive guy," Rice said. "And we lost our cool a little bit here at the end of the night. That is uncalled for. That is not what our program represents. You get beat by a better team, you shake their hand, you walk off the court and you take in the experience."
Asked if Papas gave him an explanation of what was going through his mind on the play, Rice said: "Obviously he lost his mind on that last play. He feels bad, but you just don't do that."
Added McCormack when asked if he had ever seen something like that happen before: "I have and I've seen the same reaction by the crowd and other teams. ... It wasn't the best move to do if you want to improve your character and that's all I can really say on that. I don't think that's a real basketball player's mentality to do something like that. … It's just unsportsmanlike and unnecessary."