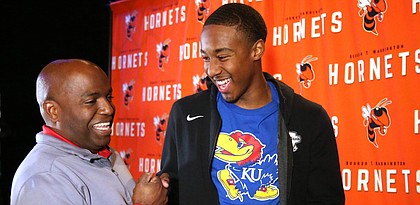 On the second day of college basketball's early signing period, Kansas coach Bill Self had the opportunity to discuss at length three new signees who made their commitments official by signing letters of intent on Wednesday.
And while that led to Self gushing about the size, skill and potential of 2020 prospects Bryce Thompson, Gethro Muscadin and Tyon Grant-Foster, it also gave the KU coach a chance to share some of what he told those players and their families about the allegations Kansas is facing from the NCAA.
"They've been reassured that we're being honest with them," Self said Thursday. "They haven't been reassured of what the outcome is going to be. Not at all."
The reason for that, of course, is because no one knows yet what that will be. With three Level 1 violations, a lack of institutional control tag and a head coach responsibility charge all included in the allegations, Kansas basketball is facing some potentially severe penalties, including a postseason ban, coach suspensions and scholarship reductions.
KU remains in the process of crafting its response to the notice of allegations it received in late September, and the whole process remains several months away from a resolution.
But with Kansas currently having what Rivals.com ranks as the seventh best recruiting class in the 2020 cycle, things are looking better for KU on the recruiting front than they did a year ago.
KU's 2019 recruiting class, which featured four four-star prospects, was the first in seven years to not have at least one five-star signee. In Thompson, KU is back on the five-star train and feeling good about the four-star prospects that will come in with him.
"I don't think that we could've done a lot better than what we did based on our situation," Self said Thursday. "And I'm really proud to have all three because they're all three going to be terrific players."
He continued: "There've been a lot of years where, during the fall period, we don't even have what's thought to be a highly ranked class. And I'm not saying this ranks up there with (Joel Embiid) and (Andrew Wiggins) and (Wayne) Selden (Jr.) and Frank (Mason III) and those guys. But I do think, considering everything that's happened, it's a terrific class."
Self said the three prospects whom KU signed this week were KU's "main targets" at their positions. And he said the chance to talk openly with the players and their families about the allegations KU is facing helped create an even stronger connection than there might otherwise have been.
"I don't think that receiving that (NOA) in any way, shape or form helped," Self said. "Because of, obviously, what was in it. But I do think that it's a step that is closer to finality than it would be if we hadn't received it yet. So I don't know that it helped, but I do think, in some ways, it gives the appearance that in the hopefully not too distant future we can move forward."
Self also said landing the strong recruiting class felt like some positive momentum for the program.
"I thought it was more important this year than most just because of the unknown that waits out there," he said of signing players during the early period. "And I don't mean unknown as being bad. Unknown could be positive. You just don't know when this will be concluded. … To have three players on board like this is a pretty strong move on their part, but, more importantly, it helps us out and changes what has been a fairly negative narrative that has been put out about us.
"Playing at Kansas is a pretty good deal for the vast majority of the recruits out there, playing at a place of this tradition, this history, this interest level, this recent success," he concluded. "There's a lot of things that go into attracting kids to come here. And, yeah, we're dealing with a situation that we don't know what the outcome is. But those other things I just mentioned do not go away. That's why I said (at Big 12 media day in late October) that the Kansas basketball program will always prevail over time."
As for what he liked about each new signee, Self was happy to talk about their games and skills, as well.
• On Bryce Thompson, a 6-foot-5, five-star guard out of Booker T. Washington High in Tulsa, Okla.: "We couldn't have recruited a better ambassador/player for our program than Bryce Thompson. He's terrific. He'll be able to play some on the ball but also off the ball, and we've always had our most success with combo guards. I think he's got a chance to be a special player. He's got some things you can't teach from an IQ standpoint."
• On Gethro Muscadin, a 6-10, 215-pound four-star center from Aspire Academy in Louisville, Ky.: Gethro, to me, is one of those guys kind of like a Markieff Morris. How good could he get? His ceiling is high, he can run, he can jump, he made two or three 3s the other night in his high school game. He's going to be really good."
• On Tyon Grant-Foster, a 6-7, four-star wing and preseason juco All-American from Indian Hills Community College in Iowa: "Tyon, to me, if he was here now he'd be playing all the minutes now. I mean, he's really a good player. And to think that he just grew up down the street and has just blown up like this over the past 12 months is just amazing."