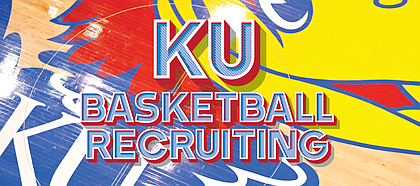 After jumping into the Top 10 in most national rankings on the opening day of college basketball's early signing period, the Kansas Jayhawks added another commitment late Thursday night.
Latrell Jossell, a 5-foot-11, 165-pound point guard from Central High in Keller, Texas, near Fort Worth, announced his commitment on Twitter just after 10 p.m.
The 3-star prospect who originally hails from Chicago and has been playing varsity basketball at Central for four seasons, picked the late time to reveal his decision because he was waiting for his father to return from a business trip in Chicago.
"I just wanted him to be there for it," Jossell told the Journal-World.
A former AAU teammate of 2020 KU signee Gethro Muscadin, Jossell got involved with the Jayhawks last summer when his coach was talking to KU coach Bill Self about Muscadin. During one conversation, Self mentioned that Kansas was looking for another guard and Jossell's name came up.
Known as a lights-out shooter and natural leader who can play both on and off the ball, Jossell quickly built a relationship with KU assistant coach Jerrance Howard — a native of Peoria, Ill., — and stayed in touch with the Jayhawks throughout the summer and fall.
After receiving an official scholarship offer on Tuesday night, Jossell's family went crazy, celebrating the news and knowing that the young guard was Kansas-bound.
"I don't think it really has sunk in yet," said Jossell, who was named after former NBA standout Latrell Sprewell. "But the feeling I got when they gave me the offer, I was stuck. Even though I knew it was coming, when it finally happened, it was crazy. My whole family... It was lit in the house and it was like smiles the rest of the night."
Jossell grew up with Kansas as his dream school. He never really thought he'd wind up playing there and didn't have any real connections to KU. He just always was intrigued by the place ever since he first saw a KU game on television while watching sports with his grandfather growing up.
"There's just something about Kansas," he said. "The way the arena looked, the way everything looked, I would always just run in there whenever my grandpa said KU was on TV and I just fell in love with it."
So when the time came this week to tell his grandfather about the KU offer and his plans to sign, needless to say it was a big moment for both of them.
"He was so excited," Jossell said. "He said he could barely even focus when he was at work. It was great to hear that and a great moment for both of us."
As for the feeling of attending the same college as his close friend, Muscadin, who made his commitment official by signing a letter of intent on Thursday morning, Jossell called it ideal.
"Going in there already knowing somebody and especially having played with him already and having such good chemistry, that's just a perfect set up right there," Jossell said.
Jossell plans to sign his letter of intent and send it off to Lawrence first thing Friday morning, making him the fourth signed commitment in KU's 2020 recruiting class.
He joins Muscadin, four-star juco wing Tyon Grant-Foster and five-star combo guard Bryce Thompson in a class ranked No. 7 overall by Rivals.com.
With four players already on board, the Jayhawks likely have very little work still to do in the 2020 class.
With one spot open from the departure of Issac McBride and two more from the exit of seniors Isaiah Moss and Udoka Azubiuke, KU is expected to have somewhere between three and five scholarships available to hand out.
Many expect sophomore point guard Devon Dotson to turn pro after the 2019-20 season and the possibility exists that current Jayhawks Ochai Agbaji, Silvio De Sousa and David McCormack could consider doing the same.
Four-star guard K.K. Robinson — ranked No. 80 overall by Rivals in the 2020 class — trimmed his list of finalists to Arkansas and Kansas on Thursday night and announced that he would reveal his decision on Nov. 28.
2020 KU recruiting basketball class
• Gethro Muscadin – 6-10, 215, center, Aspire Academy, Louisville
• Tyon Grant-Foster – 6-7, 187, guard, Indian Hills C.C.
• Bryce Thompson – 6-5, 175, guard, Booker T. Washington High in Tulsa, Okla.
• Latrell Jossell - 5-11, 165, guard, Keller (Texas) Central High