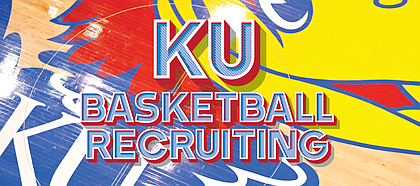 The first player in the 2020 recruiting class to commit to Kansas also became the first player to make his commitment official.
Indian Hills Community College wing Tyon Grant-Foster signed and sent in his letter of intent to KU on Tuesday morning, solidifying his pledge to join the Jayhawks.
Currently ranked as the No. 2 juco player in the country, Grant-Foster entered his sophomore season at Indian Hills as a preseason Juco All-American for the 2019-20 season.
"Tyon is very long and extremely skilled," Kansas coach Bill Self said in a release. "He can play basically anywhere on the floor, one through four. He's good with the ball, has great vision and is a terrific athlete. His motor is always running."
Through four games, the Kansas City, Kan., native is averaging 23.3 points and 6.5 rebounds per contest. Included in that was a 35-point effort against State Fair Community College on Nov. 9. Grant-Foster is shooting 49.2% from the floor, including 40% from 3-point range.
"Playing for a great Indian Hills program will make Tyon's transition to Kansas seamless," Self added in the release. "(KU assistant coach) Jerrance (Howard) did a great job recruiting Tyon and his family (and) one of the things that attracted us most to Tyon is his personality. He has a zest for the game and you could tell his teammates enjoy playing with him. He will have a big impact for us next year. We're also excited to have his family close by."
As a freshman at Indian Hills, the athletic wing averaged 8.2 points and 4.4 rebounds per game. Prior to that, Grant-Foster played prep basketball at Schlagle High School in Kansas City, Kan.
Reached by the Journal-World via text message on Wednesday afternoon, Grant-Foster said officially signing with the Jayhawks "felt great."
A couple of hours after receiving Grant-Foster's paperwork, the Jayhawks received a letter of intent from five-star guard Bryce Thompson, who committed to KU on Tuesday morning.
Thompson becomes the first five-star prospect to sign with Kansas since 2018. And the signature clearly meant a lot to Self and the KU coaching staff.
"The signing of Bryce is one of our most important signees in recent memory," Self said in a separate release Wednesday evening. "Landing at top 20 player is a positive statement for our program on and off the court.
"We've recruited Bryce for probably three or four years and certainly knew he was always going to be a target, but his development has really taken off the last couple years," Self added. "He's grown to 6-foot-5. He's a lead guard and scoring guard. We've had some of our best success with these type of combo guards. He's going to bring energy to our program and he's going to bring talent. We anticipate him being an impact player for us."
Big man Gethro Muscadin, the third committed member of KU's 2020 recruiting class, was expected to sign and send his letter of intent to Kansas sometime Wednesday night.
Wednesday marked the first day of the week-long early signing period for Division I college basketball. Recruits can sign their letters of intent through next Wednesday.
After that, nothing can become official until the spring signing period in April.