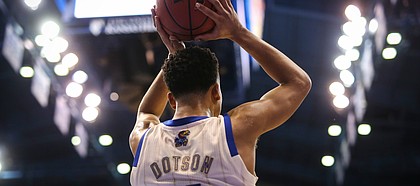 With exactly three hours remaining before the deadline for underclassmen to pull their names from the NBA draft pool, Kansas freshman Devon Dotson did exactly that.
The KU point guard announced his decision to return to Kansas for his sophomore season on Twitter at 7:59 p.m., saying simply, "Got a whole lot more in store. Year 2. Let's Riiiiddeeeee!"
Just for good measure, Dotson added the hashtag #UnfinishedBusiness.
And with that, Bill Self and company win arguably their biggest recruiting battle of the offseason, landing a player who many believe will be a preseason first team all-Big 12 selection and one of the top point guards in college basketball during his second season in Lawrence.
The news came just minutes after a report from 247 Sports' Evan Daniels that indicated that fellow-KU freshman Quentin Grimes had also withdrawn his name from the draft pool.
"Devon called me about 7 p.m. this evening to confirm he was withdrawing from the NBA Draft and will be returning to KU," Self said in a news release. "The process did what it was supposed to do, which allows players to participate, be seen and receive feedback. After visiting with his family multiple times, Devon came to the conclusion that it was in his best interest to return to school. We feel like we have a very high draft pick in next year's draft returning as our point guard."
At the time of Dotson's announcement time, there had been no word from Grimes' camp about what that meant for Grimes' future. At 8:15 p.m., however, KU released a statement from Self announcing that Grimes had decided to transfer.
"We initially anticipated him staying in the draft," Self said in the release. "But he and his family decided to return to college but not return to the University of Kansas. We totally support and respect Quentin and his decision and wish him the very best moving forward."
As for Dotson, he played in 36 games with the Jayhawks during his freshman season — all of them starts — and averaged 12.3 points, 3.7 rebounds and 3.5 assists per game while running the offense and playing big minutes almost every night.
His relentless style and unmatched speed with the ball often gave KU an advantage at the point guard position, and the third team all-Big 12 selection who also landed on the Big 12's all-freshman team often was said to be well ahead of the pace of former KU greats Frank Mason III and Devonte' Graham.
His decision to declare for the NBA draft and test his status came with an NBA combine invitation and weeks of information gathering and contemplation about his future.
As recently as Tuesday night, Dotson's father, Dana Dotson, told the Journal-World that the bottom line for his son was where NBA folks were telling him he would be drafted.
That feedback proved invaluable during the Dotson family's decision-day discussions Wednesday.
Wednesday night, Dana Dotson, offered a glimpse into the family's day during an interview with the Journal-World.
"Today went well," Dana said. "Let him sleep some and then we just did a full recap. We talked about all the feedback about him as a player and a person. We talked about what we all learned from the process. Then we talked about both paths, along with the pros and cons this year. We compared that to the risks and benefits of returning to Kansas. It was a long talk, but the choice became clear when we fast-forwarded one year and talked about worst-case, most likely and best-case scenarios."
According to Dana Dotson, those discussions and that clarity led Dotson back to Kansas.
"Kansas provides the ideal place for him to continue to enhance his leadership abilities under Coach Self while developing his skills as a player and teammate while playing on one of, if not the largest stages in college basketball," Dotson's father told the Journal-World.
From his perspective, Dana said he was incredibly proud of his son's maturity and open-mindedness throughout the past six weeks with so much at stake.
"I think it was a very well-informed decision," Dana said. "And I am excited for the 2019-20 season. Devon couldn't leave Lawrence without a championship. Not KU."