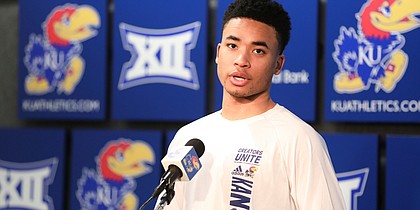 Kansas point guard Devon Dotson is taking his stay-or-go decision to deadline day.
So says his father, Dana Dotson, who told the Journal-World in a phone interview Tuesday afternoon that Devon planned to return home Tuesday night to Charlotte, N.C., after a pro day for NBA scouts in Los Angeles, to meet with his family and make a decision, which will be announced sometime Wednesday.
Dana Dotson said he and his son have been in touch with KU's coaches throughout the past several weeks as Dotson has explored his NBA stock, and the family now views the decision the KU point guard has to make as a can't-go-wrong situation.
"He's younger than I am," said Dana when asked if he or Devon were nervous about the decision at hand. "I've made a bunch of decisions before, but he's still young. But I do feel like it's a win-win situation and either one has a bunch of advantages. That's been our message to him and that's what the coaches at Kansas have been saying, too."
When the process began with Devon tossing his name into the 2019 NBA Draft pool and preparing for the NBA combine during mid-May, the family expected the following few weeks to be little more than an information-gathering process, with Devon and his agent getting feedback from actual NBA executives about what they liked and disliked about his game.
"It's kind of evolved over time," Dana said Tuesday. "It was always, hey let's get the feedback and see if someone's willing to offer guaranteed money, multiple years, at least then they have somewhat of a vested interest in you. What we didn't know is in the last couple of years that range (in the draft) has kind of expanded. They were kind of showing us that through (picks No. 45, 46) about 95 percent of those guys have landed two-year contracts, as well."
And with that ended the myth that the path to guaranteed money in the NBA draft exists only in the first round.
"You just don't know what you don't know," Dana said.
Dana said Tuesday that he did not expect his son to take the decision to the final day but added that difficulty scheduling Devon's pro day and the timing of some of the feedback and reviews of his game made things play out a little slower than expected. One big reason for that, he said, was the fact that so many NBA teams in mid-May were unaware of what the future held for their rosters, as well, with free agency, the draft and other player movement factoring in heavily.
He also said he thought "natural deadlines" were good for his son in this case.
"It just kind of forces you to make a decision," Dana said. "It's good for the school, it's good for the players, it's good for teams to know if guys are in or out."
Therein brings the Dotson family down to the bottom line as they move toward a final decision. Today, it's not as much about whether NBA people think Devon is big enough to play in the league or needs to work on this, that or the other. Today, the decision is about one thing and one thing only.
"Where's he going to go," said Dana, noting that Devon's expected draft position would play the biggest role in his decision. "That's what it all comes down to. But even with that, you still have to look at the specific situation and make sure it's a good fit because the long term play is to make sure you're ready and that you can have a career."
After a teleconference tonight with his agent, Kevin Bradbury, to gain the last bit of NBA feedback available, the Dotson family will make the final decision on their own, together, possibly at the family's kitchen table with a pizza and a few smiles.
"This hasn't been anywhere near as stressful as recruiting was," Dana said.
Like Dotson, both Dedric Lawson and Quentin Grimes also have until 10:59 p.m. Wednesday to pull their names out of the 2019 NBA Draft pool if so desired. But all indications, as of late Tuesday afternoon, were that Lawson plans to stay in and Grimes remains undecided.