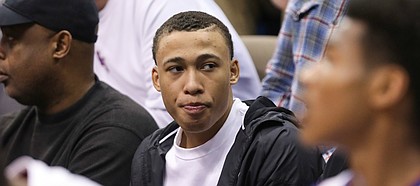 After weeks of waiting, wondering, speculating and reading into even the smallest details or potential signs, the college basketball world is finally on the brink of finding out what the future holds for 5-star recruit R.J. Hampton.
Per a weekend announcement on his Twitter page, Hampton will reveal his college choice between Kansas, Memphis and Texas Tech live on ESPN's Get Up! television show hosted by Mike Greenberg and Jalen Rose.
"Biggest decision of my life," wrote Hampton, who also said he would make his announcement around 7:30 a.m.
Such timing would make it one of the earliest commitment announcements in recent memory and the placement of the hands on the clock is just one of the notable elements of the timing of Hampton's announcement.
Here's a look.
For one, a week or so ago, his father, Rod Hampton, told the world that he expected the decision to be shared sometime during the first week of June.
After that, Mr. Hampton explained on a Memphis radio interview that the family was waiting to see which underclassmen at Hampton's three finalists stayed in the draft and which did not. Common sense then would have put the announcement sometime after Wednesday, the day the deadline hits for underclassmen to pull their name out of the NBA Draft pool in time to return to college for the 2019-20 season.
The next bit of odd timing comes from the fact that Hampton's father had said his son might revisit KU May 30-June 1, during the visit scheduled by his best friend and newly available KU target Jalen Wilson, who recently received a release from his commitment to Michigan after former Wolverines coach John Beilein decided to leave for the NBA.
Finally, there was quite a bit of fuss made on Monday about Hampton possibly playing the 2019-20 season in Australia — for big bucks — and waiting to become draft eligible by making some money and playing against pros in the process.
National college basketball writers Jeff Goodman, Adam Zagoria and others reported about that possibility on Monday, with Goodman going as far as to say it's the option he's betting on.
Rod Hampton addressed the overseas issue during that radio interview last week and said the family had considered all of its options including his son playing overseas.
"You've got to consider everything," Rod Hampton said. "It's been brought up. People bring it up every day. And is it something that we looked into? Yeah, we've looked into it. You have to."
So now we wait.
And luckily for Kansas fans — as well as fans at Memphis and Texas Tech — the announcement, whatever it is, will come early in the day.
Whoever lands the versatile guard will be getting the kind of dynamic player that can make a major impact at any program even in just nine or 10 months.
Ranked by Rivals.com as the No. 6 player in the 2019 class, the 6-foot-5 guard from Little Elm, Texas, has a lot to offer on both ends of the floor.
During a recent interview with the Journal-World, Rivals recruiting analyst Krysten Peek called Hampton "the complete package."
KUsports.com recruiting insider Matt Scott, shortly after Hampton officially reclassified from the 2020 class into 2019, said, "Hampton is considered to be one of the best guards out of high school in a number of years. Although he's a natural scorer, he can play either guard position and if he were to choose Kansas, the Jayhawks' national title chances for the 2019-20 season would be getting a significant boost."
Depending on what happens later this week with the three Jayhawks considering staying in the 2019 draft pool — Dedric Lawson, Devon Dotson and Quentin Grimes — KU's coaching staff still has room to sign both Hampton and Wilson.
Even with 4-star guards Issac McBride and Christian Braun and 4-star forward Tristan Enaruna already signed in the 2019 class, KU still has plenty of scholarships available to use in any number of ways.
Braun took the open scholarship that KU carried during the 2018-19 season and McBride took the one made available by Lagerald Vick's graduation.
That opened the door for KU to sign up to the same number of players in the 2019 class that left from the end of the 2018-19 season.
With Charlie Moore (DePaul) and K.J. Lawson (Tulane) transferring out and Dedric Lawson expected to remain in the draft, that means KU would have three scholarships available even if Dotson and Grimes elect to return. If just one of those two starting guards came back, the number of scholarships available would increase to four.
And with Enaruna already taking one of those spots, KU has at least two more to give — ideally to Hampton and Wilson — and potentially more depending on the decisions made by Dotson and Grimes.
"With Kansas waiting for NBA draft decisions from a number of players this spring, it left the coaching staff in a tough spot with regard to the 2019 recruiting class," Scott said Monday. "Once it appeared that a number of those players, like Udoka (Azubuike) and Silvio (De Sousa), would be back at Kansas, it became more clear what the needs were in the 2019 class. The NBA's deadline date is not recruiting friendly, but if they land Hampton, and/or Wilson, Coach Self and his staff will have proven that putting together a highly touted class even late in the process can be done."
Regardless of who comes in, who pulls out of the draft and who already was returning, the Jayhawks appear to have a Top 5 team heading into the 2019-20 season, one with great depth and versatility both in the front court and at guard.
That's true even without Hampton or Wilson. Adding the two Texans would merely add to the Jayhawks' riches and represent the latest in yet another strong spring finish for Self on the recruiting trail.
Late 5-star additions from recent years include De Sousa, who signed in August of what became his freshman season, Josh Jackson, who signed the April before his freshman season, Cheick Diallo, who signed two days before the calendar turned to May before his freshman season, Svi Mykhailiuk, who signed in late May before his freshman season and Andrew Wiggins, who signed with KU in mid-May before his lone season of college ball.
The addition of Hampton, a likely one-and-done prospect, would be as significant as any of those prior pick-ups.
According to the 247 Sports class calculator, adding both Hampton and Wilson would bring KU's 2019 class score from 55.96 to 67.49 and would move KU ahead of North Carolina into the No. 8 spot in the 2019 team rankings.
Just adding Hampton would move KU from 31st to 13th with a new score of 64.77.