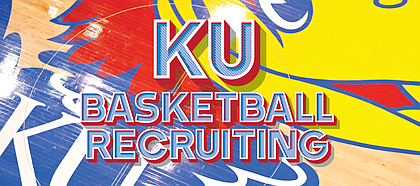 There is now actual evidence that Class of 2019 KU target R.J. Hampton is waiting for the NBA's underclassman draft deadline to make his college decision.
That's what Hampton's father, Rod Hampton, told Adam Zagoria this week during an interview about the 5-star guard's future.
"We will know a lot more after next week," Hampton's father told Zagoria on Thursday. "Need to see who stays in NBA."
Underclassmen have until Wednesday to pull their names out of the 2019 draft pool, therein retaining their college eligibility for the 2019-20 season.
In another recent interview, Rod Hampton said he expected his son would announce his decision from finalists Kansas, Memphis and Texas Tech during the first week of June.
Asked earlier this week what he liked about KU on the Jason & John Show on 92.9 FM in Memphis, Rod Hampton made it clear that KU's roster was one that his son would fit into nicely.
"They got veterans," Rod Hampton said of Bill Self's team. "They got Big Dok (senior Udoka Azubuike) at the 5, hopefully Silvio (De Sousa, a junior) gets cleared at the 4. If (point guard Devon Dotson) comes back, him and R.J. in the backcourt. And Quentin Grimes may come back, you never know. So they just got some experience, man. That's the most intriguing thing about them."
Going further, Rod Hampton said he could see his son playing for any of the three programs on his list of finalists and added that the return of Dotson, and potentially even Quentin Grimes, who joined Dotson and Dedric Lawson at the NBA's pre-draft combine in Chicago last week, would only make KU a more attractive option for the top remaining uncommitted player in the 2019 class.
"That's a three-headed monster," Rod Hampton said. "Grimes didn't have the best year that he wanted to last year, but he can play. I saw some glimpses of him at the combine with the old Quentin Grimes I knew from high school, but this isn't high school. So that would be a legitimate three-headed monster."
Regardless of which program his son picks, Hampton said he and his wife planned to move there for the 2019-20 season — Lawrence, Lubbock, Texas or Memphis.
There has been some rumbling about professional opportunities overseas — most notably in Australia and China — being a sort of fourth option for the 6-foot-5 guard who is ranked No. 6 overall by Rivals.com.
Rod Hampton confirmed that during his recent radio interview.
"You've got to consider everything," he said when asked if overseas was a real option. "It's been brought up. People bring it up every day. And is it something that we looked into? Yeah, we've looked into it. You have to."
Whatever Hampton's final decision winds up being, his announcement will merely add to a wild and crazy start to his summer.
In addition to committing to the college of his choice, Hampton will travel next month to Colorado for the USA Basketball U19 trials, June 15-18. If he makes that team, he then would head to Greece for the FIBA U19 World Cup June 29-July 7. That squad will be coached by Kansas State coach Bruce Weber in the same even that KU coach Bill Self coached a team last summer.
Although Rod Hampton did not reveal the exact date of his son's announcement, he did tell the Jason & John Show that they had a date in mind.
"And we're not going to waver," he added.
As for whether his family was ready for the chaos to be behind them, Rod Hampton said the whole ordeal, from reclassification to picking a school, has been a valuable part of the learning process and his son's growth and maturation.
"This is what it's all about," he said. "This is a part of being who you want to be. You've got to deal with social media. You have to deal with questions. You have to deal with some things that you might not want to deal with, so let's see how you handle it. This is great. This is great for him. I want to see how he handles it."