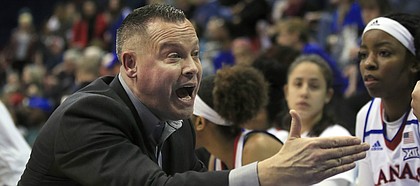 Kansas women's basketball coach Brandon Schneider characterized a Wednesday morning meeting with first-year KU athletic director Jeff Long as having gone well and came away feeling like Long was in his corner.
"Jeff wants to see improvement and Jeff wants to see us win more games," Schneider told the Journal-World shortly after the 90-minute meeting wrapped. "But that's no different from what I want and I believe he is fully committed to supporting us in every phase we need."
Long confirmed as much to the Journal-World late Wednesday evening.
"I met with Coach Schneider for our annual review, as I do with each of our head coaches," Long said. "We discussed all facets of the program and reviewed the many positive aspects as well as the need to see improvement in our on-court success. With the quality of last year's recruiting class and the promise of the incoming class, I am excited to see the improvement we make next season."
Schneider, who would be entering the final year of the original five-year contract he signed with Kansas in 2015, has three years remaining on his deal because of an unreleased two-year extension given to him in the spring of 2018. Schneider said his contract now runs through March of 2022.
Through his first four seasons at KU, Schneider has led the Jayhawks to a 39-83 overall record, a 7-65 mark in Big 12 play and a last-place conference finish three times.
While none of those numbers, which lag behind the final four years of the Bonnie Henrickson era — 79-63 overall, 27-45 Big 12 — are anything close to what Schneider hoped and thought they would be, the former Emporia State and Stephen F. Austin coach is not letting a rough start alter his plan of attack.
"What we really want to do here is build something that's going to be sustainable," Schneider said. "Otherwise I'd be out trying to sign five grad transfers."
Instead, Schneider has signed a 2019 recruiting class of six players — juco forward Tina Stephens' addition was announced Wednesday — that includes five freshman and is currently ranked No. 31 in the nation and No. 3 in the Big 12.
Schneider currently has three scholarships (of 15 allowed) still to give out but is not sure whether he will use all of them or save one or two to continue to build through the stacked 2020 class.
"The way I see it, we've been climbing the hill, climbing the hill, climbing the hill and we have not got to the tipping point yet," Schneider said. "But when we do we want to have the type of program that sustains and is built on the right things."
There was reason to believe that the 2018-19 season would be the turning point.
Heading into winter break last December, Schneider's Jayhawks were 10-1, had an RPI rating of 31 and were receiving votes in the national polls. As a result, Schneider said he expected his team to win anywhere from six to nine games during Big 12 play. On the low end, such a run would have tied for KU's best conference showing in the past six years, On the high end, nine conference victories would have been the most by a Kansas team in 20 years.
"But then we don't play another game with the same top six because of injuries," Schneider said. "That's going to sound like excuses, but it's facts."
Schneider is willing to wear the blame for KU's rough record during his first four seasons in Lawrence.
"Have I gotten it right with every recruit we've brought into the program," he asked. "No. I haven't. So if you want to talk obstacles, it's the head coach has gotten it wrong in recruiting in some areas and we've had some bad luck with injuries."
However, rather than dwelling on what hasn't happened, Schneider is determined to do something about it.
While some of the fix has to do with improvement on the court — closing out games, fouling less and executing more are all key areas to address this offseason — the bulk of what he hopes will be a winning transformation is being done off the floor.
"From a recruiting perspective, in our last two classes, we've had an enormous emphasis on culture and chemistry over everything," Schneider said. "We may even pass on a player that might be uber-talented but there's questions about how she might fit. That has become a non-negotiable for us."
Schneider said he and his staff always had done their due diligence on the recruiting trail. But he believes that mining the talent pool for players who put the team first, are naturally driven to win and don't accept it when they lose will take the roster to another level.
"When you come up short and you're on that plane or on that bus and, 10 minutes into it, people are giggling and laughing in the back, you know that that's not the culture that you want," he said. "You want everybody to be so invested that it stings when we don't play as well as we would like."
Schneider also is energized by the departure of two of his assistant coaches and the faces he brought in to replace them.
Aqua Franklin (Lamar) and Jory Collins (North Dakota State) both left KU recently to become head coaches of their own programs. Schneider needed just two phone calls — to veteran assistant Larry Tidwell and former Baylor captain Jhasmin Player — to fill their offices.
"I can't remember a time when two assistants in the same program got Division I coaching jobs that were good jobs and really good fits for them," Schneider said. "Those guys getting jobs speaks to the respect that people have for them and this program."
Schneider also pointed out that his student-athletes during the fall semester achieved the highest team GPA (3.12) in program history.
"Would I have liked this thing to get to where we want quicker than it has? Of course," Schneider said. "But there's a couple of different ways to really look at trying to build. If you're looking over your shoulder and you feel like there's some short-term stuff then you make short-term decisions. And that's not ever going to be in the best interest of a program for the long haul.
"I want to be here for a long, long time, and we want this program to be a consistent postseason team. So I'm going to continue to operate on the premise that we want to build something that can be long lasting here."
KU's 2019 recruiting class
• Tamia Davis: 5-foot-7 shooting guard from Raleigh, N.C.
Ranked No. 44 overall by ASGR Girls Basketball Report and No. 55 at her position by ESPN.com.
Why Kansas: "I chose KU because it made me feel like I was home. Even though my family and friends will be far away, I know the family at Kansas will be there for me."
• Holly Kersgieter: 5-foot-10 wing from Sand Springs, Okla.
First player to commit to KU in the 2019 class. Chose KU over Oklahoma State, TCU, Tulsa and Texas Tech.
Why Kansas: "Growing up, being a KU fan was so exciting. The reputation of the school, their sports and the fans is amazing. The farther I got into the recruiting process, the more I realized I could not pass the opportunity up."
• Zakiyah Franklin: 5-foot-7 combo guard from Lakeland, Fla.
4-star prospect ranked No. 60 overall and No. 14 at her position nationally by ESPN.com. McDonald's All-American nominee has won three consecutive state titles.
Why Kansas: "I chose KU because I saw a lot of opportunities for me to do well there. Also, just from talking to Coach Brandon, I'm excited to be in his plans and his vision."
• Chandler Prater: 5-foot-11 wing from Kansas City, Mo.
Ranked No. 33 at her position by ESPN.com and ranked in ESPN's Top 70 prior to the 2018 AAU season. Chose KU over K-State, Marquette and Missouri.
Why Kansas: "I chose KU because it hits so close to home. I've been around Kansas supporters and fans my whole life and I am excited to represent. I know that I'm about to be a part of the come up of something big."
• Chisom Ajekwu: 6-foot-3 center from Lawrence High
Four-year starter at LHS ranked No. 117 overall and No. 23 at her position by ESPN.com
Why Kansas: "I chose KU because, most of my life, I've been a fan of the program. No other school compared to the family type energy that KU provided for me."
• Tina Stephens: 6-foot-1 forward from Florida Southwestern Community College
Junior college All-American who set FSCC's single season scoring record in 2018-19 is ranked No. 24 overall and No. 8 at her position in the juco rankings.
Schneider on Stephens: "She's an extremely productive power forward, who we believe can be a real mismatch for opponents. She's a terrific finisher around the basket, but can also stretch it beyond the arc. We expect Tina to be an immediate front-line contributor."