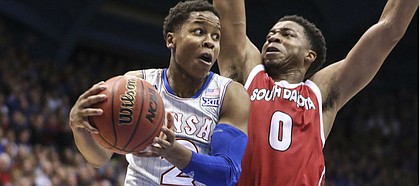 Reserve guard Charlie Moore is leaving Kansas, KU coach Bill Self confirmed to the Journal-World on Saturday.
Moore, a 5-foot-11 sophomore from Chicago, has entered the transfer portal and will find a new home this offseason.
"Charlie notified me yesterday that he wanted to transfer and be closer to family," Self told the Journal-World. "We appreciate Charlie's time here at KU and wish him the absolute best moving forward."
Moore, whose father has been battling health problems for some time, took to Instagram on Saturday evening to confirm the news himself and deliver an official goodbye.
"First of all, I want to thank the entire Rock Chalk Jayhawk Nation," Moore's post began. "These past two years I've learned so much and couldn't ask for a better college environment to be a part of. Through this process, I've been dealing with my father being (ill), which has now taken a toll on my mom, causing her to be in and out of the hospital the last couple of months. I feel it's best for me to be home with my family to help them out daily."
Moore emphasized that his decision to leave KU was not "a basketball decision" and added that it was "a tough personal decision that had to be made," before signing off with a simple farewell of "Again, thanks for everything."
The transfer portal is a relatively new system, put in place by the NCAA in October of 2018, that tracks and sorts athletes who elect to continue their college playing careers elsewhere.
Instead of requesting permission to transfer or schools having the power to block undergraduate athletes from doing so, athletes on the move now simply enter their name and information into a form on a website — the transfer portal — and are out there for everyone to see.
After averaging double digits in 34 starts as a true freshman at Cal, Moore, a Chicago native, transferred to KU before the 2017-18 season and sat out during KU's Final Four run in accordance with NCAA transfer rules.
Expected to contribute meaningful minutes and perhaps push for a starting spot once eligible, Moore appeared in 35 of 36 games for KU this season — with one start — but averaged just 2.9 points per game on 28.6 percent shooting in 13.1 minutes a night.
In somewhat related news, Self on Saturday morning told the Journal-World that next week would be a big week for the future of KU's roster, which features a fair amount of uncertainty heading into the offseason.
Out on the recruiting trail most of last week and headed to San Antonio to visit his son, Tyler, this weekend, Self said he would start having season-end, what's-next types of conversations with his players next week, classifying it as "a serious week as far as, not necessarily making decisions, but serious talks."
"I do believe we're in a situation where some guys are going to test, without question," Self said. "And that wouldn't surprise me nor would that disappoint me at all. I think that's something that should be looked into and certain guys should consider. And we may have a guy or two look at transferring, too."
Moore is obviously one of those guys, but it's possible that others could be on the move, one way or the other, as well.
With Kansas currently even in terms of scholarship numbers — KU had one open, gets one back with Lagerald Vick graduating and already has signed guards Christian Braun and Issac McBride in the 2019 class — Moore's departure would free up a guaranteed spot for Self and company to add another player in the class of 2019.
In reality, after at least a couple other expected early departures, the Jayhawks figure to have even more room to add new faces.
"We can basically sign the number that leaves," Self said. "That can be as many as four or five or it could be as few as two or three."