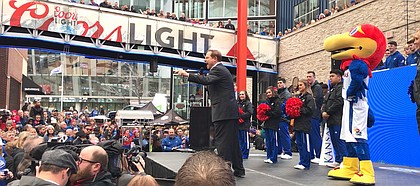 Kansas City, Mo. — After spending a little more than 10 minutes clapping, cheering and enjoying the scene inside the Power & Light District's KC Live! block Thursday evening, a throng of mostly crimson and blue-clad fans crescendoed when a man they immediately recognized rambled onto the stage.
Though the University of Kansas supporters at the Miller Lite Fan Fest were braving some chilly, windy conditions for a KU basketball pep rally, it was the school's new football coach who had them exuberant a few hours before the Big 12 tournament quarterfinal matchup between the Jayhawks and Texas, inside Sprint Center across the street.
Les Miles used the platform to remind the fans that the football program's spring game is coming up, on April 13. He also let the cat out of the bag that the plan is for the scrimmage to kick off at 6 p.m. at David Booth Kansas Memorial Stadium — a detail that had not yet been announced.
"We expect everybody in here to be down in Lawrence watching the Jayhawks," Miles proclaimed.
Of course, KU's new football coach couldn't overlook that everyone at the event, including him, had basketball on the brain.
"What I came here to do is support Bill Self and the Jayhawks. I brought my daughters, my eldest and my youngest, and we're spending the weekend," Miles shouted, his voice escalating by the word, "watching every damn game until we win it!"
The line drew a raucous cheer in response, as Miles daughters, Smacker and Macy, watched from near the stage.
The coach shouted "rock chalk" a couple of times into his microphone while walking off the stage and waving to the crowd.
Miles didn't speak with reporters after the pep rally.
KU football returns to spring practice next week, after taking this one off for spring break.
KU football under investigation
As first came to light earlier this week, when Kansas Athletics made its response to a lawsuit filed on behalf of former KU football coach David Beaty, the football program is under investigation by the NCAA.
Dennis Dodd of CBS Sports reported Thursday evening that Beaty was interviewed in February by the NCAA as part of its ongoing inquiry into what was described by a source as a "possible wrongdoing by a former assistant coach."
Beaty sued Kansas Athletics this week for the $3 million buyout owed him, as a result of KU firing him before his contract expired.
KU officials said that money is being withheld because the investigation into the alleged violation remains unresolved.