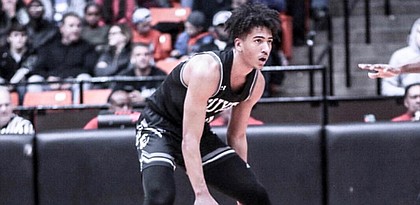 Although the past several weeks have been a whirlwind for new Kansas basketball signee Jalen Wilson, the 4-star wing forward from Guyer High in Denton, Texas, said none of what transpired since the end of the college season caught him off guard.
Despite initially committing to Michigan in May of 2018, Wilson told the Journal-World on Wednesday that he made it a point to stay prepared for anything even after he had signed with the Wolverines.
"I always asked myself, 'What if Coach Beilein left,'" recalled Wilson in a phone interview with the Journal-World 24 hours after making his commitment to KU official. "So I was always prepared for that and Kansas has always been in my mind."
After considering the KU program the first time around, Wilson got another crack at joining the Jayhawks when Michigan coach John Beilein elected to jump to the NBA this offseason, a move that allowed Wilson to request and receive his release from Michigan.
From there, the 6-foot-8, 210-pound prep standout found himself on a collision course bound for Kansas, with KU coach Bill Self and Kansas assistant Jerrance Howard quickly getting back involved in Wilson's recruitment.
For most athletes, the recruiting process is hard enough the first time around, with constant phone calls and tough decisions bringing stress and chaos to their young lives.
Wilson never viewed it that way, though. Instead of rolling his eyes at having to go through the process twice, Wilson embraced it.
"I've enjoyed it," he told the Journal-World. "Not a lot of people get to do it even once, and I just see it as a blessing that I was able to do it twice, with two high-level schools. I never got tired of it. I loved it and I just capitalized on my opportunity."
After becoming completely comfortable with his decision to join the Jayhawks a little over a week ago, Wilson began brainstorming ways to make the announcement, which he did shortly after 2 p.m. on Tuesday through the release of an artist's rendering of him in a blue KU uniform on Twitter.
The first time Wilson committed, he pulled out all the stops and dropped a 2-minute video to help him make his announcement for Michigan.
That video, which came out on May 30, 2018 and made its rounds on all the social media and recruiting websites, was inspired by Kyrie Irving's "Uncle Drew" alter ego in which the Boston Celtics star dresses up like an old school hooper and takes his old man game — gray hair, limp and all — to the local courts to shock some of the younger players playing pick-up games at the park.
Wilson's video, dubbed "Uncle Lue," did exactly on the streets of Dallas and ended with him unzipping his Adidas hoodie and revealing a bright yellow Michigan shirt underneath.
So why no video with a Jayhawk on it this time around?
"After doing that, I had a whole new respect for actors," Wilson said Wednesday. "That took so long. It took like four hours for a 2-minute video. Plus, I had already done it once so I didn't want to do it again."
Wilson and his family are planning to arrive in Lawrence this weekend, leaving Denton either Friday night or Saturday morning. He said the plan was for him to room with fellow-Texan Marcus Garrett when he gets to KU and to hit the ground running right away.
Self, in a news release announcing Wilson's signing, said the newest Jayhawk brings "great size, skill and versatility," along with "incredible toughness."
KU fans who have been celebrating Wilson's decision since the news broke, have pointed to Wilson as a pure shooter who will help address KU's concerns from behind the 3-point line.
Wilson himself was just fine with both of those evaluations.
"I take pride in shooting and I definitely think I can be an elite shooter," he said. "But I can also dribble, rebound and just be an all-around guy at 6-7, 6-8. I'm just a very versatile guy who can play a lot of different positions."
In addition to building a even-stronger relationship with Self during the past several weeks, Wilson said he really enjoyed the opportunity to reconnect with Howard, whom he said played "a big role" in delivering Wilson to Lawrence.
"He's more than just a coach," Wilson said of Howard. "He's like fam. He's a dude who I'm able to talk to about things other than basketball. You can talk to him just about life and he's always there for that."
With the chaos now behind him and his future clear, Wilson said he was eager to take the final step in becoming a Jayhawk because, at the moment, the whole thing still seems a bit surreal.
"No," he said when asked if it had sunk in that he was a Jayhawk. "Not until I get there."