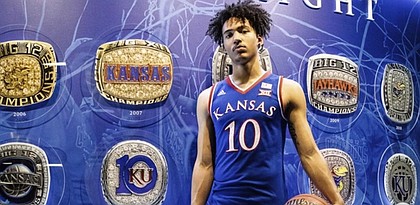 Michigan's loss is Kansas' gain.
Seconds after the clock struck 2 p.m. on Wednesday afternoon, 4-star prep prospect Jalen Wilson announced on Twitter that he planned to play college basketball at KU.
Wilson, who announced his choice with an artistic representation of him wearing a KU uniform (No. 10) against a blue, red and yellow background, picked Kansas over finalists North Carolina and Michigan.
"I just picked them because I feel like there's a really big need for me (at KU)," Wilson told Evan Daniels of 247 Sports. "It's going to be a great team and a national contender. Top to bottom of their roster it's a really good team and I have a great relationship with the coaches. I'm excited."
The decision comes roughly one month after Wilson reopened his commitment following the granting of a release from Michigan, the program with which he had signed and later asked to leave when former Michigan coach John Beilein jumped to the NBA this offseason.
"That opened up the opportunity for us to try again and to get it right," said Kansas coach Bill Self, noting that KU went after Wilson the first time around.
The 6-foot-8, 210-pound wing forward from Guyer High in Denton, Texas, had shown serious interest in KU before picking Michigan the first time around. And when the opportunity to get back in touch with the Jayhawks presented itself, Wilson jumped at the chance and never looked back.
"I'm very excited about Jalen's commitment," Self said in a news release. "He's been a Kansas fan for the vast majority of his young life and is certainly a guy who is used to winning after being a part of a great high school program at John H. Guyer High School. He will bring great size, skill and versatility, playing both as a big and a small, but more importantly he'll bring incredible toughness."
Ranked No. 47 nationally by Rivals.com, Wilson becomes KU's second-highest rated recruit in the 2019 class. Fellow 4-star wing Tristan Enaruna, who already is on campus, was ranked No. 44 by Rivals.com.
But because of his status as the top remaining prospect in this year's Rivals150 to make a decision, along with his close ties to Top 5 prospect and best friend, R.J. Hampton, who nearly picked Kansas before choosing to play pro ball in New Zealand next season, Wilson brings arguably the biggest splash in KU's 2019 recruiting class.
"Jalen is a big time prospect," KUsports.com recruiting insider Matt Scott said Wednesday. "At 6-8, he has a great perimeter game and can attack opposing defenses in a number of different ways. His frame is terrific as is and will be even more impressive once (strength) Coach (Andrea) Hudy gets her hands on him. He can shoot it, finish through contract and has the ability to defend multiple positions. His versatility will allow Self to use him in a variety of ways on both ends of the court. And he can play in any lineup, whether Self decides to play big or small."
Roughly 30 seconds after Wilson Tweeted out his decision, Hampton hopped on Twitter to support his friend with a Tweet that read, "I don't care what nobody say!! I'm Rockin wit KU this year... Congrats boy."
KU's 2019 class, which includes four 4-star prospects in Enaruna, Wilson, Christian Braun (No. 90) and Issac McBride (No. 103) is the first in the Self era to not include at least one Top 40 player in the Rivals.com rankings and ends a streak of six consecutive KU classes that included at least one prospect ranked in the Top 11.
The Jayhawks, who earlier this week signed Iowa grad transfer and 6-5 shooting guard Isaiah Moss, now have one scholarship remaining in the 2019 class.
Self told the Journal-World on Wednesday that he was not sure if he would fill the final spot or not, adding, "it would have to be a no-brainer to use it."