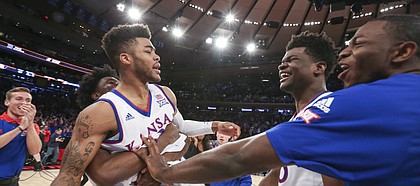 A return trip to Maui, a meeting with perennial power Duke in the Big Apple and December visits to Northern California and Philadelphia highlight the non-conference portion of the 2019-20 Kansas men's basketball schedule.
Those games, along with the rest of the non-conference schedule, which was released Monday morning, once again have Kansas set up well to face one of the toughest college basketball slates in the country.
KU's strength of schedule has ranked in the top 10 in nine of head coach Bill Self's 16 seasons in Lawrence. During that span, KU has had the nation's toughest schedule four times: 2004-05, 2013-14, 2014-15 and 2018-19.
"First, I want to thank Larry Keating for all his efforts making our schedule one of the toughest in the nation in his 16 years at KU," Self said in a news release Monday morning. "Larry is retiring soon and he did it once again for this upcoming year as we will play a solid schedule."
Although a handful of games remain in the yet-to-be-determined category, the bulk of the schedule is now known and it opens with a doozy against Duke on Nov. 5 at the Champions Classic in New York City.
College basketball's showcase tip-off, which also features Kentucky and Michigan State, will follow a pair of Thursday night exhibition games at Allen Fieldhouse against Fort Hays State (Oct. 24) and Pittsburg State (Oct. 31).
"It starts with Duke in the Champions Classic in New York and then there's a stacked field in Hawaii at the Maui Invitational," Self said. "And it goes on and on, with Colorado coming to Allen Fieldhouse and road games at Villanova and Stanford. The other teams will all be tough as well. We don't know our SEC opponent, but we're sure that will be a prime time game as always. Like in the past, the non-conference schedule will be great preparation for the Big 12."
That group of games will be followed by three consecutive home games against UNC Greensboro (Nov. 8), Monmouth (Nov. 15) and East Tennessee State (Nov. 19) before the Jayhawks head to Hawaii for Thanksgiving.
The field for this year's Maui Invitational, which will take place Nov. 25-27 at Lahaina Civic Center, includes KU, Michigan State, UCLA, Georgia, Virginia Tech, BYU, Dayton and Chaminade.
KU will be playing in the event for the seventh time and will be looking for its third Maui Invitational title to go along with championships won in 1996, under Roy Williams, and 2015 under current coach Bill Self.
In December, the Jayhawks will welcome former Big 12 and Big Eight foe Colorado back to Allen Fieldhouse for a Dec. 7 matchup and will face Wisconsin-Milwaukee at home on Dec. 10.
After that, the Jayhawks will hit the road for three non-con games to close out 2019, playing UMKC at Sprint Center on Dec. 14 in the Jayhawk Shootout, Villanova at Wells Fargo Arena in Philadelphia on Dec. 21, as the second leg of a home-and-home series with Jay Wright's squad (and the first leg of the newly formed Big 12-Big East challenge), and yet another matchup with Stanford on Dec. 29 at the on-campus Maples Pavilion.
The Jayhawks also will continue play in the Big 12/SEC Challenge against a yet-to-be-determined opponent on Jan. 25, 2020.
In 2018-19, the NCAA Evaluation Tool (NET) showed that the Jayhawks played the hardest schedule in the nation among the 353 teams in Division I. Kansas' opponents last season had an average NET ranking of 54th, a figure that led the nation.
2019-20 KU men's basketball non-conference schedule
Oct. 24 – vs. Fort Hays State (exhibition) – 7 p.m.
Oct. 31 – vs. Pittsburg State (exhibition) – 7 p.m.
Nov. 5 – vs. Duke (Champions Classic, New York) – TBD
Nov. 8 – vs. UNC Greensboro – 7 p.m.
Nov. 15 – vs. Monmouth – 7 p.m.
Nov. 19 – vs. East Tennessee State – 7 p.m.
Nov. 25 – Maui Invitational, TBD
Nov. 26 – Maui Invitational, TBD
Nov. 27 – Maui Invitational, TBD
Dec. 7 – vs. Colorado – TBD
Dec. 10 – vs. UW Milwaukee – 7 p.m.
Dec. 14 – vs. UMKC (Jayhawk Shootout, Sprint Center) – TBD
Dec. 21 – at Villanova (Wells Fargo Arena, Philadelphia) – TBD
Dec. 29 – at Stanford (Maples Pavilion) – TBD
Jan. 25 – SEC/Big 12 Challenge – TBD