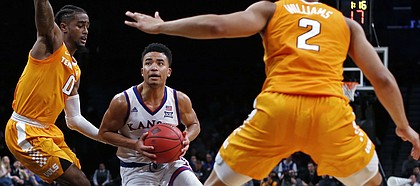 It won't be a battle of blue bloods after all.
Pairings for the 2020 Big 12/SEC Challenge were announced Thursday morning, and the Kansas men's basketball team will play host to Tennessee this season in the seventh annual event. It will be a rematch of last year's Preseason NIT championship game, which KU won by an 87-81 margin in overtime.
Last season, Kansas finished third in the Big 12 before being eliminated by Auburn in the second round of the NCAA tournament. Tennessee was bounced by Purdue in the Sweet 16, finishing with a 31-6 overall record last year under Rick Barnes.
Early prognosticators indicate that these two teams have different expectations for the upcoming season, however. Bart Torvik projects Kansas as the third-best team in the nation, trailing only Michigan State and Florida. Tennessee comes in at No. 84 in the early projections, as the team returns just 40.6% percent of its minutes from last year.
Kentucky, meanwhile, will travel to Texas Tech for the latest Big 12/SEC Challenge. KU and Kentucky had squared off in this event in three of the previous four years, with the lone exception being when the two teams faced each other in the Champions Classic during the 2017-18 season.
The Red Raiders, who fell in last year's national championship game after sharing a Big 12 regular-season title with Kansas State, are currently the No. 9 team in the nation on Torvik. The Wildcats are listed at No. 13, and return 36.8% of their minutes from last year's team that fell to Auburn in the Elite Eight.
This will mark the fifth consecutive year that all games will be played on one day, as it will take place on Saturday, Jan. 25. Big 12 teams are 35-25 in the Big 12/SEC Challenge after posting a 6-4 clip in 2019. In fact, the Big 12 is 4-1-1 against the SEC in this annual event.
Big 12/SEC Challenge (January 25, 2020):
Kansas State at Alabama
TCU at Arkansas
Iowa State at Auburn
Baylor at Florida
Kentucky at Texas Tech
LSU at Texas
Mississippi State at Oklahoma
Missouri at West Virginia
Tennessee at Kansas
Oklahoma State at Texas A&M;