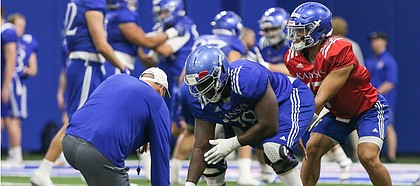 It was as good of a time as any for Hakeem Adeniji to reflect on his collegiate debut.
At Big 12 Media Days, which took place at AT&T; Stadium in Arlington, Texas a little over a month before his senior season, the Kansas offensive lineman took a trip down memory lane. Adeniji can now laugh about his Jayhawk debut as a true freshman, even though he was startled at the time.
"I never thought it would come this quick, especially at my weight my freshman year," Adeniji said. "I remember just getting down for that first snap, and it was football like I've always been playing it."
Since his debut performance on Sept. 3, 2016, Adeniji has been a constant on KU's offensive line. And he has lofty expectations for his final campaign as a Jayhawk.
Adeniji, who has started all 36 games of his three-year career, would like to keep his perfect streak intact. He also hopes to be considered one of the premier tackles in the country by the end of 2019.
In fact, Adeniji was recently named to the Outland Trophy preseason watch list for the second year in a row. The award is given out to the top interior lineman in college football, and will be announced during ESPN's The Home Depot College Football Awards on Dec. 12.
"I want to finish off starting every game for four years. I think that would be pretty cool," Adeniji said. "I think I could be one of the best tackles in the country. If I go out there and do what I can do, I can be an All-American."
Adeniji has certainly taken steps to ensure that this will be his best season yet.
During spring ball, Adeniji began adding bulk to his frame. After a spring full of on and off days, Adeniji fully committed to the idea of putting on weight at the start of the summer. He began every morning by eating six-to-eight eggs along with a pound of oatmeal and some fruit.
Adeniji admitted he didn't plan his other meals, but kept himself full throughout the day by eating a lot of chicken and brown rice for lunch and dinner.
The results have been noticeable. In this year's media guide, Adeniji is listed at 6-foot-5, 310 pounds. It is 10 pounds more than he was at this time last year. Adeniji admitted that 305 pounds is his ideal frame, but he expects to lose some weight when preseason camp begins.
"I feel like just my power is at its greatest without me losing mobility (and) flexibility," Adeniji said. "I think I can just move people and dominate like I want to."
It is just one example of Adeniji not only trying to make the most of his final season, but to prove he is willing to do whatever it takes to get to the NFL.
This past spring, Kansas had Adeniji try out at center, something he had never considered before. While Adeniji prefers playing tackle, his smaller frame might force him to move inside at the next level.
Adeniji has strictly played tackle at the collegiate level, but served as a guard during his senior year at Garland High School. The experiment at center, however brief it may have been, illustrates his versatility.
"I'm open to doing whatever," Adeniji said. "I love playing football at the end of the day. Whatever they want me to play, whoever takes me, whatever they want me to do. They have the best interest for me and the team, so I'm going to listen to that."
As for which team Adeniji hopes to play for this time next year, it wasn't hard for the life-long Cowboys fan to picture playing at the site of the Big 12 Media Days.
"I love it. Hopefully, fall 2020, you never know," Adeniji said of being in AT&T; Stadium. "I have taken the steps to get here, as long as I keep working hard and keep doing the things that I do."