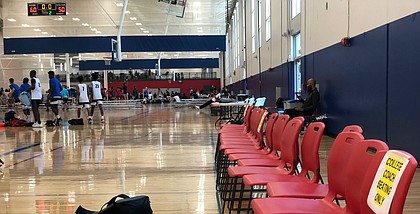 The first of two annual Hardwood Classic AAU basketball tournaments hit Lawrence this weekend. But it did so without a key part of past events — big name coaches.
For years, the Hardwood Classic has been a major attraction for several well known Division I basketball coaches, — including KU's Bill Self — all of them flocking to Lawrence's Rock Chalk Park to watch some of the nation's top high school players showcase their skills and compete for the tourney title.
This year, however, changes to the NCAA recruiting calendar for those coaches left many seats empty.
Division II, NAIA and junior college coaches still filled the coaches' seating section on the eight courts at Sports Pavilion Lawrence during the past few days. But because their D-I counterparts were no longer allowed to attend, they each had a little more room to spread out and scout their targeted players.
The more-empty-than-normal gyms represent the first major change to college basketball in the wake of the recent federal investigation into corruption in recruiting.
And it was met with mixed emotions.
A week ago, at the famed Peach Jam event in Georgia, a handful of national college basketball writers interviewed big-name coaches, on and off the record, about the new recruiting calendar. The consensus of opinion was that limiting the summer evaluation period to one week instead of three was bad for business.
Self, who, along with his staff, attended the Peach Jam, was not willing to go quite that far.
"You know, time will tell if it's good," Self recently told the Journal-World. "But I think all coaches in the industry would probably be in agreement that we're certainly missing out on some things because of the changes."
By things, Self meant the opportunity to watch a larger number of prospects and to watch them multiple times.
While that might not mean as much for the five-star, one-and-done type talents in each class, it can be the difference between a breakthrough and anonymity for other prospects.
"We would've never seen Frank Mason," Self explained of the former KU point guard who became national player of the year four years after being discovered in a back gym at a grassroots AAU event in Las Vegas. "We would've never seen him. There's others like that. … When we go recruit, we can spend the majority of our time at these big events and see the majority of the guys that we like. But not everybody can."
Coaches and college programs are far from the only entities feeling the impact of the new rules, which were put in place last August on the recommendation of the Rice Commission that took a long look at all of college basketball's practices following the start of the federal investigation.
Many athletes, AAU programs and even the events themselves now face vastly different realities than they have been used to in recent years.
Take the Hardwood Classic for example. In recent years, some of the top players in the country have come to Lawrence to be seen by the likes of Self, Jim Boeheim, Tom Izzo, Dana Altman, Gregg Marshall, Patrick Ewing and more. This year, with those coaches nowhere near Rock Chalk Park, not only did most of those elite prospects stay away, some of their AAU programs did, as well.
"It feels like some of the shine is off of it now that the Bill Selfs can't be there and some of the top recruits aren't there," Hardwood Classic organizer Chad Rader said. "That part's disappointing for sure. But it's still a great event for the teams and players that do come and also for Lawrence."
In all, 200 teams and more than 1,000 basketball players will invade Lawrence for two consecutive weekends, bringing big money to the community and a variety of talent levels to the court.
The age groups range from 9-year-olds all the way up to high school seniors and the games take place in gyms across Lawrence.
For those lower-division coaches who haven't had to change their plans and practices, the Hardwood Classic and other events like it remain valuable tools.
"It's still a great event and it really hasn't changed our summer recruiting schedule at all," said Zach Schneider, an assistant coach at Division II defending national champion Northwest Missouri State University. "I don't know how it's going to affect our recruiting yet, just because it's the first year. A couple kids might drop down to our level now just because they don't have that extra two weeks to be evaluated (by Division I coaches). But I would think all it would do is help us because we would probably have a chance to get a couple more of those fringe-level recruits. So I don't really see any negatives for us."
In reality, neither does Self. While the veteran Kansas coach admitted that, in recruiting, "you always want a little more," he added that he was willing to let the new system play out and work through its inevitable growing pains before passing final judgement.
One thing working in the new system's favor is the addition of NCAA-sanctioned evaluation camps put on state to state and hosted by high school basketball federations.
This year, Self said only 42 of those such camps were held nationwide, including one in a six-state area that included athletes from Kansas and Missouri.
If that number grows to say 150 in the next year or two, Self said that could have a significant impact on whether the new system works or not.
In addition, there is still a prospect camp centered around USA Basketball scheduled for later this month that coaches are invited to. But that only helps those programs, like Kansas, who are recruiting players good enough to compete for spots on various national teams.
The bottom line is this: What once included six days of grassroots evaluation time in April and 15 more in July before the early signing period opens in November has now been trimmed down to three days in April and four more in July.
"Once it gets tweaked to the point where the periods can be maxed out and we kind of figure it out, it remains to be see if the same quality and quantity will have opportunities (to be seen)," Self said of hundreds of prospects seeking college scholarships. "I can understand the frustrations without question. But I also believe that it will get better, but the AAU summer events are always going to be missed."
Concluded Rader, summing up the new rule's impact on grassroots events: "Instead of pulling out of the car wash in that brand new, shiny Escalade you're rolling in a new Jeep Grand Cherokee. It's still nice. But it's not quite the same."