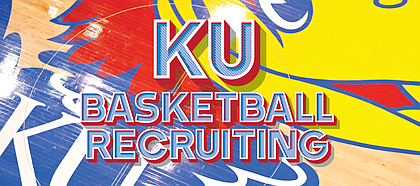 With the count of recent MOKAN players at Kansas now up to four, head coach Chris Neff needed just three words to explain his feelings about Chris Teahan, Ochai Agbaji, Christian Braun and Dajuan Harris all joining the Jayhawks.
"It's very special," Neff told the Journal-World late Tuesday night, a couple of hours after Harris became the latest player from his AAU program to commit to KU.
While none of the four came to Kansas with the same kind of pedigree as the one-and-done players Kansas, Duke, Kentucky and others are most known for recruiting, Neff said all four have traits that made him confident they would be just fine when they got to Kansas.
"Late bloomers," Neff explained. "The three that have done it here recently, they weren't necessarily pegged for Kansas until late in their maturation. With Ochai, I didn't see it until the fall or winter of his high school season. But then it was clear, real clear, that he had the makeup for being a Bill Self, KU player. And Christian Braun, I kind of always knew. He was so tough and you knew he was going to grow and he was so committed to getting better."
And with Harris, the 6-foot-2 point guard who recently helped Neff and company win the 2019 Peach Jam tournament in Georgia?
The MOKAN coach can't help but think those two, along with Teahan, may have played a role in getting Harris to Kansas, as well.
"They probably had a little bit to do with talking to coach Self, like, 'Hey, man, he's good now. He put the ball in our hands and made us look good,'" Neff laughed. "That always helps when you have family members who are going to vouch for you and can communicate that you can do this, this is your level."
Although some of these players only pass through the MOKAN program for short periods of time, it's clear that Neff has created his own version of a family environment, attracting not only the best players from the area but also some of the top talents from around the country to come play for his program in the summers.
MOKAN's recent rosters boast current pros like Trae Young, Michael Porter Jr., Willie Cauley-Stein and Alec Burks, along with dozens of players who went on to play college basketball at the Division I level.
That family vibe came through loud and clear in the hours following Harris' commitment on Tuesday night.
Braun, who has been on KU's campus since June, quickly jumped on Twitter to congratulate his close friend.
"Since 7th grade, let's go brother," Braun wrote in response to Harris' commitment message.
Two days earlier, it was Agbaji on Twitter celebrating MOKAN's Peach Jam title. And Tuesday night, Harris took time away from his big moment to respond to a Tweet thanking the MOKAN coaches with a short and sweet message that read, "Great coaches! Fun spring and summer."
That connection, along with the wide range of talent on the roster, is one of the reasons Neff thinks his athletes have been ready for a high-major program like KU.
It's also the reason he loves it so much when alums of his program stick around and play close to home.
"Number 1, it keeps them within an hour of where I live and I can go hug them when I want to," Neff said. "Seriously, I can go say hello and high-five them and tell them how much I love them and how proud I am of them and how fun it is to see them enjoying themselves and the fruits of their labor. I just love it for them.
"We do everything we can to put them in the position to have success well beyond the floor, well beyond the game and even beyond our time with them. And now that those guys are over there, they're not two- and three- and four-year Jayhawks, they're Jayhawks for life. That relationship and family atmosphere and tradition is second to none. To have kids who have been a part of my life and our program and my family's life now be a part of that, shoot, you can't ask for much more."