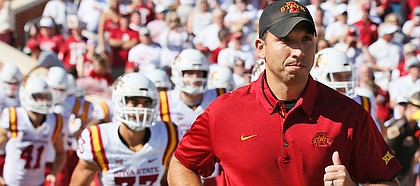 Arlington, Texas — Five league coaches wrapped up the second and final day of Big 12 Media Days at AT&T; Stadium on Tuesday.
Neal Brown of West Virginia and Chris Klieman of Kansas State were newcomers to the event, as they both enter their first year at their respective programs. It was quite a contrast to Iowa State's Matt Campbell and Texas' Tom Herman, both of whom enter the season with league championship aspirations.
Even Matt Rhule expects Baylor to build on its 7-6 record from last year during his third season with the program. Here are some notable quotes from each of the five coaches that ultimately spoke to reporters Tuesday morning:
Matt Campbell, Iowa State
It was a different feel for Iowa State during this year's event, as the team is a legitimate Big 12 contender.
The Cyclones were picked to finish third in the conference during the Big 12 preseason poll, which is voted on by the media. It marks the program's highest ranking since the conference moved to 10 teams in 2011.
For comparison, ISU was listed seventh in last year's preseason poll and finished third with an 8-5 clip.
"If we worried about what the expectations of our football program were outside of our walls, the first three years, I think we would have crumbled really fast," Campbell said. "So what we've been able to do is handle our own expectations and making our own expectations way loftier than anything that could be said outside of our walls."
Campbell was also asked about the four new Big 12 head coaches, a list that includes KU's Les Miles.
"Coach Miles and his past, what he has done, winning a National Championship at LSU, I think his resume speaks for itself," Campbell said.
Neal Brown, West Virginia
Similar to Kansas, West Virginia is dealing with a new coach this fall.
Neal Brown, who was previously at Troy, has taken over the program at WVU. The Mountaineers, much like the Jayhawks, expect it to be an uphill climb from the jump. West Virginia was ranked eighth in the preseason poll, which is only higher than Kansas State and Kansas.
During his press conference, Brown suggested that this season was going to be a difficult one for his new program.
"We're young, very inexperienced," Brown said. "We're going to be a group that really grows and improves as we go through our Big 12 Conference and what is a very challenging schedule, but I do like our guys."
Matt Rhule, Baylor
In Rhule's first year, the Bears won just one game. They then bounced back with a 7-6 clip last season.
Now, the expectation is that Baylor is going to keep trending upward in Rhule's third year. In order to do that, though, Rhule believes that the Bears will have to improve on the little things. Such as protecting quarterback Charlie Brewer, who threw for over 3,000 yards last season.
Brewer was also sacked 32 times in 13 games last year due to underwhelming play by the offensive line, something Rhule believes will be fixed in 2019.
"I think we're at the point where we have seven to eight guys that we think can play for us at a high level," Rhule said. "That to me is the number, you want three tackles, three guards and two centers and if you have eight guys then you have a chance to be whole. I think we're they're."
Chris Klieman, Kansas State
Perhaps nobody in the Big 12 has as tough of a job as Klieman.
Klieman, who previously was the head coach at North Dakota State, takes over a program that has belonged to Bill Snyder for multiple decades. In his Big 12 Media Days debut, Klieman fielded multiple questions about following in Snyder's footsteps.
"What Coach did at Kansas State was nothing short of remarkable and I'm going to feed off that," Klieman said. "We have a great culture because of what Coach did. I know I'm not going to fill his shoes. I'm just trying to continue in his legacy, but doing it our own way."
Tom Herman, Texas
Herman is well aware of what has transpired this summer, particularly with comments about his quarterback.
Former Oklahoma quarterback Baker Mayfield took a shot at Texas quarterback Sam Ehlinger, saying that the two don't like each other. Hall of Fame quarterback Terry Bradshaw even took his turn, saying Ehlinger "ain't' that good."
Naturally, Herman was asked about these comments at Big 12 Media Days.
"I would be lying to you if I told you I don't know what you're talking about. I certainly do, but it's irrelevant, what other people say about us and our program," Herman said. "It doesn't really faze us. So the irrelevancy of it was at an all-time high."
Texas will face Bradshaw's alma mater, Louisiana Tech, in the 2019 season opener.
"Our guys file certain things away. We had a bowl game recently where the other team was very disrespectful and that gave us motivation leading up to the bowl game," Herman said. "Sam loves to play with a chip on his shoulder, and I'm sure he will use this to crank it up a notch."