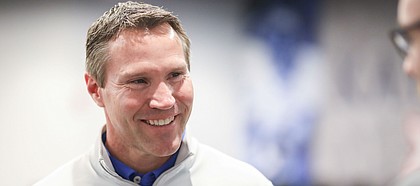 It didn't take long for Les Miles to meet with Clint Bowen.
Once Miles was named the Kansas head football coach last November, he promised to meet with each assistant from the 2018 coaching staff. Bowen, who was KU's defensive coordinator last fall, was one of the first assistants to sit down with Miles.
Bowen eventually became one of two assistants — along with running backs coach Tony Hull — to remain on the staff. The chance to stay in Lawrence is something that Bowen, who graduated from Kansas in 1995, does not take for granted.
"I think it was pretty clear from the beginning that he was someone you would want to work for," Bowen said. "I was very fortunate that he gave me the opportunity and I'm grateful for that."
During his first and only opportunity to speak with the media this offseason, which took place on National Signing Day in February, Bowen referenced his good fortune multiple times, and how grateful he was about the opportunity to coach the Jayhawks' safeties this fall. Yet, in a lot of ways, Miles is fortunate to have Bowen on staff in 2019.
Bowen provides some much-needed continuity on a staff facing a lot of turnover. This will be Bowen's 21st year at KU. It marks the eighth consecutive season that Bowen will be on the Jayhawks' staff, despite Miles being the third different head coach over that span.
"This is where I want to be," Bowen said. "We all get choices every offseason, and you choose to stay or you choose to go. For me, it has never really been that hard of a choice."
In his 24-year coaching career, Bowen has only spent two seasons away from KU. He served as a defensive coordinator for Western Kentucky in 2010 and for North Texas in 2011, during the two years Turner Gill was the head coach at Kansas.
The reaction about Miles keeping Bowen around were positive, particularly from the local players that have formed strong relationships with him.
"It is definitely nice to have a familiar face, especially someone with his football knowledge and just his IQ for football," said senior safety Bryce Torneden, who graduated from Free State High. "Looking back to when I first got here to the point I am now, it is almost night and day. I credit almost all of it to him."
Bowen has been one of the few constants during a decade of transition for the Jayhawks, but he's also experienced some of his own adjustments based on his role.
This season, Bowen will be in charge of a veteran safety unit. Last year, Bowen coached the cornerbacks and served as the defensive coordinator. He has coached the linebackers before, as well.
Bowen was once in charge of special teams, and even coached running backs and tight ends during his first two years with Kansas. For Bowen, it has never mattered what title he has held.
"It is about the relationship with the players," Bowen said. "If you can get your kids to buy in what you are trying to coach them to do, usually buying in happens after they have success doing what you tell them. I enjoy just being out there with the kids at whatever position."
Still, it is an example of why Bowen has never had to think twice when given the chance to stay in Lawrence.
"I think people that have followed me have known that if I have a choice, my choice is going to be staying at KU," Bowen said. "I'm excited to continue on and continue to work at KU."