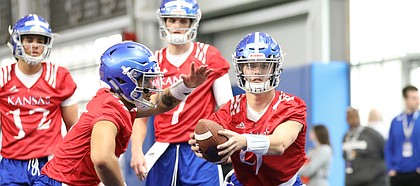 In the seven-plus months since he was hired to breathe some life into a dormant Kansas football program, head coach Les Miles has proven unwavering in his quest to reveal only the vaguest details about what he envisions for KU's offense this coming fall.
Nevertheless, it seems one key component for the Jayhawks will be the run-pass option calls that appear in offensive coordinator Les Koenning's playbook.
If the KU offense heads into Miles' first season with any definitive strength, it's likely to be at running back.
The Jayhawks' talent at that position doesn't stop at the top of the depth chart, where All-Big 12 talent Pooka Williams now sits, after being cleared to return to the program following an offseason arrest and domestic battery charge. When the sophomore from Louisiana needs a breather — or when he's serving his one-game suspension in KU's season opener versus Indiana State — the Jayhawks have two capable backs to whom they can turn, in senior Khalil Herbert and junior Dom Williams.
And what better way to keep defenders keying on Pooka, Dom or Herbert honest than a steady dose of RPOs?
Well, according to KU quarterback Thomas MacVittie, there's another element of the offense that should help make those plays effective.
"And we've got talented receivers, too," MacVittie declared. "I mean, we've got so many receivers that can make something happen with the ball."
As offseason practices wrapped up in the spring, KU receivers such as Daylon Charlot, Andrew Parchment, Kwamie Lassiter II, Takulve Williams, Ezra Naylor and Stephon Robinson Jr. found themselves taking heavy reps for the offense.
MacVittie spoke complimentarily of the receiving group as a whole, emphasizing its role in making sure the offense clicks.
"If that RPO comes, the (defender) that we're looking at comes, fits that gap, we can throw it out to our guys outside. But if not, we're gonna let those backs run," MacVittie said.
Without necessarily tipping their hands, the way KU players spoke about RPOs made those types of calls seem like a potential weapon for the Jayahwks.
Said Dom Williams: "I feel like the RPO, that's something where you can't be wrong."
Because RPOs are all read-based, with the QB responsible for correctly interpreting the defense's actions and either handing the ball off or keeping it to make a throw as a result, the ability to regularly distinguish the correct response should theoretically lead to some level of success.
"The more film that we're watching," Dom Williams said, "we're just getting better at it. And being able to make the right reads and being able to make positive plays every time."
Both MacVittie, the presumed favorite to win the starting QB job, and fifth-year senior Carter Stanley, whom Miles described after spring practices as "right there" in the QB competition, say they feel comfortable running and executing on RPO calls.
"RPOs are something I've been doing since high school," Stanley explained. "I don't think this staff has changed anything with how we're reading them necessarily. It's pretty universal for the most part. But it's been good. I've always liked them a lot and the guys run it well."
During spring practices and particularly in scrimmage settings, those who were trying to master the RPO plays felt as if they did so effectively.
"(The) quarterback," MacVittie said, "has the job to make the offense right. Put the ball where it needs to go to make big plays. And I think we've done that really well."