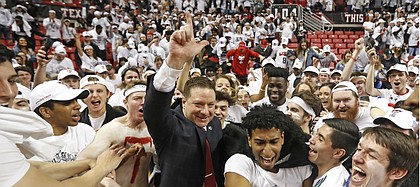 Lubbock, Texas — Three weeks ago, after his team's 16-point loss to Kansas in Lawrence, Texas Tech coach Chris Beard called Allen Fieldhouse and the KU environment, "a hornet's nest," and said he knew his team was walking into a tough situation that day.
If that was Lawrence the last time these two met, sold-out United Supermarkets Arena on Saturday was one of those YouTube videos featuring an alligator eating a hornet's nest and a shark then eating that alligator.
From start to finish in a game with major Big 12 title implications, 14th-ranked Texas Tech dominated No. 12 Kansas, leading by 25 at halftime before cruising to a 91-62 victory that put a dent in KU's hopes of winning another Big 12 title.
"It felt like we never got going and we played on our heels the whole game," sophomore guard K.J. Lawson said after scoring 8 points in 20 minutes in the loss. "We didn't hit them in the mouth and we weren't aggressive the whole game."
The 29-point loss was the worst to a Big 12 opponent in the Bill Self era — topping the previous mark of 25 against Texas in 2006 — and, although Self said his team "contributed" to Texas Tech's strong effort with poor play of its own, Self and the Jayhawks could do little more than tip their beaks to the Red Raiders for a monster offensive performance.
Texas Tech (22-5 overall, 10-4 Big 12) made 16 of 26 3-pointers — second recently only to Villanova's mark of 18 in last season's Final Four — and outrebounded the Jayhawks 30-23 while winning the war of second-chance points 11-3 as a result.
"They'd have beaten anybody in the country tonight," Self said of the Red Raiders, who won for just the sixth time in the all-time series with Kansas.
Throughout the game, Self and his coaching staff searched for some way to slow Texas Tech down. But nothing, from switching everything to hedging hard and even playing zone on defense, seemed to work.
"When they go four guards it changes what we do," Self said. "We played the percentages in some ways and they burned us, and after we got discombobulated it didn't make any difference what we did. After we started changing what we were doing we just became very poor at everything we did."
There were signs of what kind of night was ahead for Kansas in the very early going. Texas Tech hit 7 of its first 8 shots and 9 of its first 14 to open a 24-10 advantage in the first eight minutes of the game.
TTU sophomore Jarrett Culver, who responded to a rough, turnover-ridden game in Lawrence with a 26-point, 0-turnover outing on Saturday night, hit 3-of-8 from 3-point range, including a banked-in 3-pointer in the game's first 5 minutes to give Texas Tech an early 12-4 lead.
No amount of preparation in the world can brace a team for shots like that to go in and both Dedric Lawson (14 points, 5 rebounds) and Self said they felt the Jayhawks were ready to play but simply could not overcome Tech's red-hot shooting.
"When you come in and guys make shots like (that), it's kind of like a backbreaker," Dedric Lawson said. "Sometimes you lose confidence when you see shots like that go in."
Texas Tech senior Matt Mooney also banked one in during the second half — although the game was far out of reach out that point — causing freshman David McCormack (8 points, 4 rebounds, 16 minutes) to grimace and pain and Mooney to do his best Michael-Jordan-against-Portland-in-the-NBA-Finals shoulder shrug.
The sharp-shooting Mooney finished with 13 points and 6 assists in 31 minutes and was one of six Red Raiders to hit two or more 3-pointers in Saturday's victory.
"Whenever you have three guys make three 3s and none of them take more than four, that's pretty impressive," Self said.
While the Red Raiders remained red hot from start to finish, Kansas continued to suffer through a series of gut-wrenching errors that both kept the Jayhawks from ever being in the game and inspired Self to routinely hinge at the waste and throw his hands down while trying to decipher what went wrong.
Charges and turnovers and airballs, oh my.
For a little perspective, Texas Tech scored its 50th point with 17:47 to play in the second half. Kansas did not get to 50 until the 6:04 mark of the second half. And the two free throws by David McCormack that got them there merely cut Texas Tech's lead to 30 points.
That fact made a transition dunk by Texas Tech senior Tariq Owens, which put the Red Raiders up 63-40 at the 11:53 mark of the second half, the de facto game winner for the Red Raiders.
Related document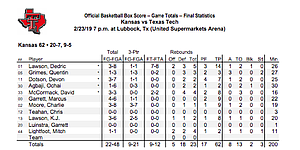 Box score: Texas Tech 91, Kansas 62 ( .PDF )
"They found something and they just stuck to it," sophomore Marcus Garrett said after scoring 9 points in his first game back since injuring his left ankle just before KU's last game against Texas Tech, six games ago.
Even Tech's mistakes seemed to turn in their favor.
Early in the second half, with the TTU fan base grumbling after KU trimmed the lead to 20, Matt Mooney nearly lost the ball in front of the Texas Tech bench. Instead of it sailing out of bounds or falling into Devon Dotson's hands, adding to the KU momentum, Mooney raced to track down the bouncing ball, saved it along the baseline to Brandone Francis, who quickly hot-potatoed a pass to Norense Odiase for a two-handed, monster jam and a 22-point Texas Tech lead.
"We (were) prepared," K.J. Lawson said after the loss. "But sometimes you get a flat tire. We had a bad game as a team."
For a team that has talked all season about watching its margin for error get smaller and smaller, the Jayhawks have reached the point now, where they can't have any more setbacks if they hope to extend their streak of Big 12 regular season titles to 15 in a row in the next couple of weeks.
"I don't really even pay attention to that stuff," Dedric Lawson said after Saturday's loss. "I just take it one game at a time. If you don't win the game that you're in, it don't mean nothing."