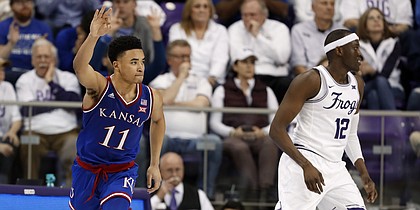 Fort Worth, Texas — Freshman guard Ochai Agbaji was out of breath when he took his seat for the postgame meeting with the media following 14th-ranked Kansas' 82-77, overtime victory at TCU on Monday night.
And, sure, dropping 20 points and grabbing 11 rebounds in 41 minutes probably had something to do with it.
But the effort Agbaji expended on the reptilian-scaled floor at TCU's Schollmaier Arena during one of the wildest games of the season may have paled in comparison to what went down in the locker room afterwards, as the Jayhawks celebrated their second true road win of the season and first since Jan. 12 in Waco, Texas.
Related document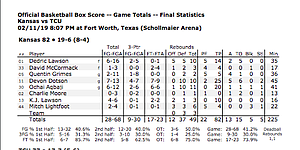 Box score: Kansas 82, TCU 77 ( .PDF )
"That's the best locker room we've had all year by far," Kansas coach Bill Self said after Monday's victory. "I mean, even beating Tennessee and Marquette and Michigan State and Villanova, it wasn't like that."
Those wins, three of which came all the way back in November, might as well have been a lifetime ago. So much has changed for this team since then — some for the better, some for worse — and there's a genuine belief inside the KU locker room that there's still a lot of change to come.
What made Monday's locker room the site for such a sensational celebration had a little something to do with the journey they've traveled and what's to come.
"Just so much energy, so much positive energy, everybody happy for each other," said KU sophomore K.J. Lawson, whose floater with 25 seconds left tied the game and forced overtime. "I love this team. I love the youth we have. Those guys are going to be great and we're just building one game at a time and trying to get our chemistry. We're still a bunch of guys who've never played together. That's what we've got. We're still trying to put the whole fist together and ball our fist and throw a punch."
Both teams threw plenty of punches on Monday night, with Kansas landing the majority of them through the game's first 35 minutes, where better energy, all-out effort and some incredible individual performances helped KU build leads of 12 points (61-49 with 9:03 to play) and 9 points (65-56 with 4:51 to play).
That's when the Horned Frogs (17-7, 5-6) started to throw their best punches.
An 11-0 TCU run, fueled by two missed KU free throws and four consecutive KU possessions that ended with a turnover, gave the home team its first lead since 37-35 in the final seconds of the first half. The TCU lead grew to 4 points — and the run to 13-0 — on a pair of free throws by JD Miller with 2:07 to play, and a Kansas team that just hasn't been able to find a way to win on the road this season appeared to be headed for the meltdown of all meltdowns.
Photo Gallery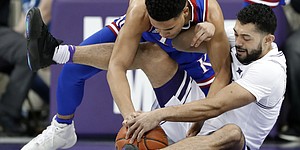 Kansas basketball at TCU
The Jayhawks picked up just their second road victory of the season by surviving, 82-77, in overtime at TCU, on Feb. 11, 2019
The teams traded misses in the second-to-last minute of regulation and Kansas finally scratched again when Dedric Lawson (14 points, 10 rebounds in 35 minutes) scored a layup to cut TCU's lead to two.
Dedric Lawson, one of three Kansas players to foul out, came up huge on the defensive end on the very next possession, deflecting a pass off of a TCU player and out of bounds to set the stage for his brother to tie the game.
"We were fortunate that it went overtime after we screwed it up," Self said. "And then we played really well in OT."
K.J. Lawson's cool, calm and collected floater pulled Kansas even and allowed the Jayhawks to dig in for one final defensive stop before taking control from the jump in overtime.
"It was the right pass, it forced a long close-out and he was able to get past him to his strong hand," Self said while recalling the play that tied the game. "I don't know if I'd expect him to maybe make the two biggest shots of the game, but K.J.'s older and he's a competitor. Nobody could ever say he's not. He likes that moment and he's been in that moment before so he was probably as prepared as anybody we had in the game to actually do what he did."
Agbaji's 3-pointer to open the extra frame put Kansas ahead, but TCU fought to tie it at 74 before K.J. Lawson struck again.
Being in the right spot at the right time, and unafraid of the moment, K.J. Lawson hit a soft jumper in the paint at the 1:09 mark of OT that gave Kansas a 76-74 lead. The Jayhawks never trailed again.
"K.J. was big for us down the stretch," freshman point guard Devon Dotson said. "He was composed and he really played well tonight."
On the night, K.J. Lawson finished with 10 points on 4-of-6 shooting in 16 minutes. And nobody would say that those numbers even come close to comparing to the 25-point, 10-rebound, 5-assist game turned in by Dotson, who played all 45 minutes. Or even the 20-point, 11-rebound effort put in by Agbaji, whose energy and aggressive play in the first half helped spark Kansas after a dreadful start.
But no one was worried about individual stats or who did what after this one. Instead, they celebrated together and rejoiced over each other and even lost their breaths in the process.
"It was just a tough game," Agbaji said of the win that his coach said kept Kansas "in the game," for the Big 12 title. "It took a lot of fight down the stretch there so I'm kind of just catching my breath now."
Added Self: "I thought Devon and Ochai were both fabulous," Self said after the win. "And then other guys gave us good minutes. But if you're going to pick the three best players in the game, K.J. and Ochai and Devon were without question the three best that we had tonight."
Multiple Jayhawks referred to Monday's triumph as a "team win," and, for the first time in weeks, the Kansas players headed to the team bus with smiles on their faces and a bounce in their step.
Few Jayhawks looked more pleased than K.J. Lawson, but it wasn't the fact that his baskets were some of the biggest of the game as much as it was the fact that he could help this team win that seemed to matter most to the sophomore guard from Memphis.
"I've always had confidence in myself," he said after the victory. "I've come a long way. Nobody thought I'd be here anyway. I know (what) I can do and coach just believed in me, put me out there and I just took advantage of the opportunity."
The same was true for the Jayhawks, who finally found a way to finish on the road, and they're headed home with their hopes of extending their NCAA-record Big 12 title streak to 15 games still very much in their sights.
"We're in the game," Self said. "But by no means are we in a favorable position. But if we hadn't have won tonight, it may have been too much."