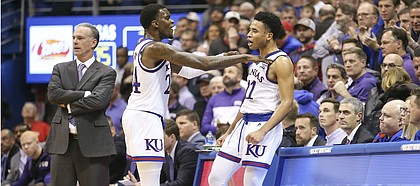 Kansas Jayhawks (18-6 overall, 7-4 Big 12) vs. TCU Horned Frogs (17-6 overall, 5-5 Big 12)
Time: 8 p.m. | Location: Schollmaier Arena, Fort Worth, Texas
TV: ESPN | Radio: IMG Jayhawk Radio Network
Not going to be home for the game? Sign up for ESPN+ and watch your Hawks on the go.
Log on to KUsports.com for our live game blog coverage and follow the KUsports.com staff on Twitter: @KUSports @mctait @bentonasmith & @SJacksonLJW
Keys for Kansas
1. Use the pace to create energy
Tonight's game is a battle of two of the fastest teams in the Big 12 Conference, with Kansas leading the Big 12 with a tempo rating of 69.3 and TCU sitting in 3rd at 66.8.
That could bode well for Kansas in a couple of areas.
First, the Jayhawks have found a little bit of flow during recent weeks by turning up the defensive intensity and letting that turn into easy offense. Devon Dotson and Ochai Agbaji have been particularly effective in this area, but even Charlie Moore, Quentin Grimes and others have aided the cause, as well.
"I feel like that's how we're going to start improving, on the defensive end," KU junior Mitch Lightfoot said over the weekend. "That'll translate to offense."
In addition, the faster tempo and more frantic pace almost guarantees that the Jayhawks will have to bring good energy, something that has been an issue during their 1-6 stretch in true road games this season.
"To have a chance to win, we have to be tougher and more together and have positive energy, which we did today," Self said after the Oklahoma State victory on Saturday at Allen Fieldhouse. "Much, much better. We had positive energy against Iowa State. We did not have any in Manhattan (against K-State). We have to go down there (to TCU) with a purpose and a focus. People talk about running plays and all that. It doesn't matter what you run as long as you have energy and passion. It's contagious. I think we have some guys out there we can feed off of."
The Jayhawks are coming off of their best points-per-possession effort of the season (1.33 vs. Oklahoma State), and that success being so fresh in their minds, plus the matchup, could play into the hands of the Kansas offense in this one.
2. Physicality from all 5 positions
In the first meeting between these two teams — a 77-68 victory by KU in Allen Fieldhouse on Jan. 9 — TCU coach Jamie Dixon lamented his team's inability to match the Jayhawks' physical play, which came without Udoka Azubuike in the lineup.
That game was the first in the career of surging freshman Agbaji, whose energy, effort and athleticism breathed new life into the KU lineup and gave the home fans hope that life would, in fact, go on without Azubuike.
The Jayhawks are just 5-4 since that victory and currently sit a game and a half out of first place in the Big 12 race. But if there's anything their recent wins — and losses — have shown the Jayhawks, it's that all-out effort and physical play go a long way.
Despite not being known as the most physical force, Dedric Lawson had his way with the Horned Frogs in the first meeting, dropping in 31 points and grabbing 14 rebounds in that one.
That physical presence and KU's desire to continue to pound the ball inside led to 27 free throws for the home team. Lawson made 9 of 13 and the Jayhawks, as a whole, hit 20 of 27.
Beyond that, KU forced TCU into 20 turnovers and won despite shooting just 43 percent from the floor.
"They were more physical than we were," Dixon said after the 9-point loss. "That's probably where they got it. Give them credit for just wearing us down and going inside and just being the more physical team completely."
Said Self of TCU on Saturday after KU's win over Oklahoma State: "It'll be a hard matchup for us. The biggest thing is, we need to go play with some toughness, and that's something we haven't consistently done.
3. Keep moving Lawson around
There's little doubt that TCU has learned something from the way the other Big 12 teams have defended Kansas and Lawson during the past four weeks, so don't be surprised if the Frogs look to send double teams Lawson's way whenever possible.
While that has proven to work in slowing down KU's leading scorer, Self has figured out a couple of wrinkles of his own that have helped combat that defensive strategy.
One has been moving Lawson around, letting him play in the high post, on the perimeter and down low. The other has been pairing him with another big man — Mitch Lightfoot or David McCormack — to take some of the inside burden off of Lawson.
On Saturday, KU's other two forwards combined for 14 rebounds in 32 minutes from the 5 position and Lawson delivered 25 points, 7 rebounds and 5 assists, with them helping the KU cause on the inside.
Moving Lawson around opens up passing lanes, where he can utilize those skills that Self has been so complimentary of, and also allows him to find more of a rhythm when stepping into his 3-point attempts.
Lawson has hit 12 3-pointers (of 18 on the season) in KU's past 6 games, including a 3-of-6 shooting clip on Saturday against OSU.
"I think the fact that we played him away from the basket," said Self when asked why Lawson had so much success setting up others last weekend. "It's hard to play him away from the basket all the time when you play four guards. And, also, Oklahoma State played some zone, and the guy who should lead your team in assists is the high post guy against the zone, and that's where we played him."
Marquee Matchup
KU freshman Dotson vs. TCU senior Alex Robinson
The veteran-rookie showdown is set for Round 2 and the KU freshman is the reigning champ.
In the first meeting, Dotson got the better of Robinson, who had had his way with KU during the past couple of years, on both ends of the floor, forcing the TCU leader into 4-of-12 shooting — many of the misses weren't close — and, more importantly, into 4 turnovers in 35 minutes.
Frustrating Robinson made things hard for TCU's entire offense, which so often looks to him to both generate the team's sets and get to the bucket when plays break down.
Robinson also finished with 4 fouls, with a couple of those fouls being the product of his frustration.
Dotson's numbers weren't stellar by any means. In fact, he missed all 6 shots he attempted — including 3 from 3-point range — but he did get to the free-throw line 6 times, where he hit 5 freebies and also had a memorable block on Robinson during a drive to the rim late in the game.
It might not be Mayweather-Pacquiao or even Sugar Ray Leonard-Roberto Duran, but this point guard clash is definitely worth keeping an eye on tonight.

Jayhawk Pulse
After another get-well session in friendly Allen Fieldhouse over the weekend, it's back to the road for the Jayhawks, who will look to pick up their second road win of the season by reversing their misfortunes and improving their 1-6 record in true road games.
There aren't many more tougher places to try to get it done than Fort Worth, Texas, where TCU is 11-1 this season and has won 11 in a row since dropping a shocking 9-point loss to Lipscomb back on Nov. 20.
The Jayhawks have won away from home this season, but mostly in neutral court settings.
With Big Monday being in Fort Worth — it's not a four-times-a-year thing everywhere — that figures to turn up the noise and the atmosphere, and the Jayhawks have not always fared well in those settings this season.

Kansas leads the all-time series with TCU, 17-2, including a 13-2 mark with both being members of the Big 12 Conference. Kansas leads the meetings in Fort Worth, 6-1, including a 4-1 record in Schollmaier Arena.
Bill Self is 21-5 all-time against TCU, including 14-2 while at Kansas. TCU coach Dixon is 1-5 all-time against Kansas.
KU's lone losses in the series came in the quarterfinals of the 2017 Big 12 tournament, without Josh Jackson, and in the infamous Topeka YMCA game in Fort Worth, Texas, where KU was outplayed from start to finish in a 62-55 loss in 2013.
After the game, Self criticized his team's play with one of the most memorable quotes of his career.
"It's the worst team Kansas has ever put on the floor since Dr. Naismith was here," Self said that night. "I think he had some bad teams when he lost to Topeka YMCA in his first couple years."
The Jayhawks have won 13 of 14 games against TCU since that 2013 loss, but are considered 2-point underdogs in Las Vegas.
Probable Starters
Kansas
G – Devon Dotson, 6-2, 185, Fr.
G – Quentin Grimes, 6-5, 210, Fr.
G – Ochai Agbaji, 6-5, 210, Fr.
F – Mitch Lightfoot, 6-8, 225, Jr.
F – Dedric Lawson, 6-9, 235, Jr.
TCU
G – Alex Robinson, 6-1, 180, Sr.
G – R.J. Nembhard, 6-4, 195, Fr.
F – Desmond Bane, 6-5, 215, Jr.
F – JD Miller, 6-8, 235, Sr.
F – Kevin Samuel, 6-11, 250, Fr.