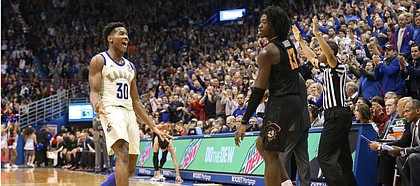 Ochai Agbaji wasn't supposed to play this season. The Kansas basketball team, it appeared, didn't need the freshman guard from Kansas City, Mo.
Sure, KU's coaches loved his long-term potential. But Agbaji could take a redshirt year and the Jayhawks would be just fine without him, what with their McDonald's All-Americans and returning players with Final Four experience.
That was the line of thinking three months ago, at least, when none of us knew what we know now.
Think about where the Jayhawks would be without Agbaji, the 6-foot-5, high-flying, energy producer extraordinaire. It's not something KU head coach Bill Self is interested in visualizing.
Playing in the 10th game of his college career Saturday at Allen Fieldhouse, Agbaji, the would-be redshirt, once again played far more like a veteran in the Jayhawks' victory over Oklahoma State, and went for 23 points, 6 rebounds and 2 assists in a turnover-free 36 minutes.
Following a must-win for Kansas that was no sure thing before the midway point of the second half, Self fielded several questions about Agbaji, whose fast-tracked first year has exceeded even the head coach's wildest dreams.
Photo Gallery
Kansas basketball v. Oklahoma State
View a gallery of images from Saturday's game between the Jayhawks and Cowboys at Allen Fieldhouse.
"Yeah, it's unbelievable. It's incredible to me," Self began. "You know, it just goes to show you what a bad decision I made initially in misreading the situation, because he is beyond his years."
The coach, of course, had to alter his initial plan to redshirt Agbaji once Udoka Azubuike suffered a season-ending wrist injury the first week of January.
Other than a scoreless trip to West Virginia for KU's rising star, the past 10 games have been eye-opening.
"I didn't think he would get 23 in Big 12 games, no," Self admitted. "I didn't think that. But I thought, eventually he would be one of our best five players. Of course, it took about one game to figure that out."
A reporter asked Agbaji after KU's 84-72 win against the Cowboys whether he had to pinch himself sometimes.
"A little bit," Agbaji replied, flashing his signature smile. "It's definitely crazy to think that, last month, I wasn't even playing. It's just surreal. But I'm enjoying it."
The Jayhawks (18-6 overall, 7-4 Big 12) are appreciating Agbaji's contributions more by the day. They may have found themselves in a dicy situation versus OSU (9-14, 2-8) had Agbaji not drained three 3-pointers in the last 5:05 of the first half, allowing KU to hit the locker room tied with the Cowboys at 36.
The freshman's long-range display wasn't done there, either. Agbaji knocked down two more 3s in the second half to finish 5 for 7 from deep. His stroke had looked good enough in previous games, but he never had made more than 2 from distance in one game until Saturday.
The timing of his upsurge seemed significant, given that KU's best 3-point shooter, senior Lagerald Vick, just took an indefinite leave of absence.
KU, currently shooting 36.3 percent from 3-point range as a team, has been looking for shooters to emerge all season. And now that Vick is officially out of the mix, the Jayhawks need a 3-point shooter more than ever.
Can Agbaji be someone they can trust from here on out in that role?
"Well, we will," Self said. "We need to. But he's had some really good games shooting the ball behind the arc."
When Agbaji scored a career-high 24 points at Texas, he made 2 of 4 from deep, the same 3-point results he posted in a home win over Iowa State. Agbaji's currently shooting 41.9 percent on the season (13 for 31).
It's not quite Vick's 45.5 percent (66 for 145), but it may have to suffice.
"There's not too many freshmen doing things like that, so, yeah, I have as much confidence with him shooting it as anybody," Self said following Agbaji's fourth double-digit scoring outing of his young career.
Agbaji said the Jayhawks hadn't really discussed of late the need for someone to become a go-to shooter.
"Just step up and be aggressive is really what coach is saying," Agbaji said, adding that KU obviously needs players stepping up "in any way" possible.
But when he finds the ball swinging his way around the perimeter or kicked back out from Dedric Lawson inside, Agbaji will fill that shooting role the best way he knows how.
Related document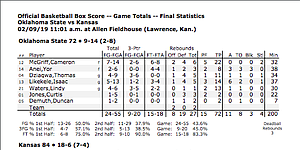 "If we have the confidence to shoot it, we shoot it like we're going to make it every single time, then we have a better chance of making it, obviously," Agbaji said of his mindset on his best 3-point showing to date. "That's what I just kept in my mind. Didn't really think too much. Just kind of shot it."
His teammates trust Agbaji as a 3-point threat, too. When asked whether the freshman could replace Vick as a go-to option from distance, Lawson said he thought Quentin Grimes (2 for 6 versus OSU, 34.8 percent on the season) could fill that role, too.
"Both of those guys have great shots, great-looking shots," Lawson said. "It's all about them shooting with confidence. And we trust those guys to make those shots when the pass is delivered to them."
He's played 251 minutes of college basketball and he's averaging 9.9 points and 4.8 rebounds, and Agbaji, somehow, is as dependable as any player on the KU roster.
On a team constantly looking for improvements, the best above-the-rim finisher on the team also becoming KU's best 3-point option would be a promising development as the Jayhawks try to stay in the hunt for the Big 12 title.